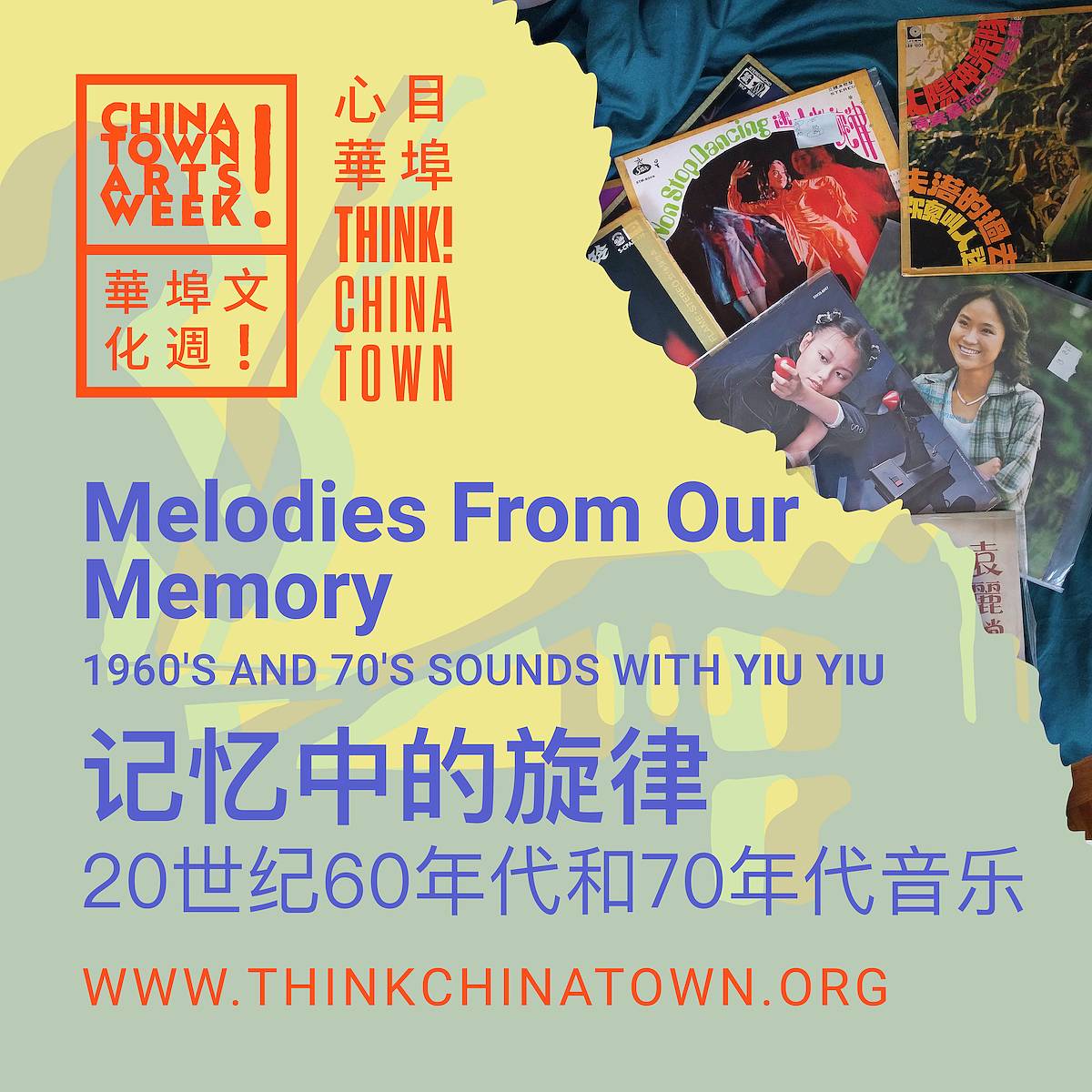 Screening
Melodies From Our Memory: 1960's and 70's Sounds with YiuYiu 记忆中的旋律:20世纪60年代和70年代的音乐
Monday, October 19, 2020
9 – 10PM
Three years ago, while packing to move to NYC, YiuYiu stumbled upon three boxes of vinyl records hidden in her family home. Over the past few months, she has been working with folks in Chinatown to dig up and digitize their family collections of records and tapes. From Cantonese opera to Taiwanese pop, these melodies orchestrate the soundtrack to our memories of home and family. Now, these records and the stories they hold fill her own home in Chinatown. In this special listening hour, YiuYiu pays homage not only to her own parents, but also to the families who have held onto these musical memories of home for decades.
YiuYiu says: Special thanks to Dad, Vic Huey, Amy Chin, Ping & Betty Chong for trusting me to listen and sway to these melodies with as much love as you all did with your families.
This program will be held on Zoom. Please register for this event to receive the link. We'll send out the link an hour prior to the event. Slots are limited, so please register ahead of time.
---
CHINATOWN ARTS WEEK is a festival celebrating the cultural richness of Manhattan's Chinatown.T!C has produced several cultural events throughout the week, all of them are free to the public. By presenting grassroots Chinatown artists and emerging Asian American artists in the same context, we hope to bring the generations together and connect with a wider arts audience. ChAW also highlights cultural happenings presented by our neighbors, to increase awareness of Chinatown's cultural assets. Beyond this week, we hope that visitors and neighbors alike will recognize and engage more in Chinatown's cultural offerings.
Think!Chinatown is a 501©(3) non-profit based in Manhattan's Chinatown. Our mission is to build intergenerational community through neighborhood engagement, storytelling & the arts. We amplify the voices of our neighbors & advocate for equity in resources for Chinatown, honor histories that represent us & value intergenerational learning, and present grassroots arts of Chinatown & emerging Asian-American artists in context of each other. Think!Chinatown is here to listen, to respond, and to build Chinatown's capacities as a strong & vibrant immigrant neighborhood of NYC. Find more about T!C and Chinatown Arts Week at: https://www.thinkchinatown.org/
Chinatown Arts Week 2020 is made possible in part with public funds from Creative Engagement, supported by the New York State Council on the Arts with the support of Governor Andrew Cuomo and administered by LMCC. It is also funded, in part, by a grant from the NYC & Company Foundation, Con Edison, and contributions from many generous business and individual supporters like you!