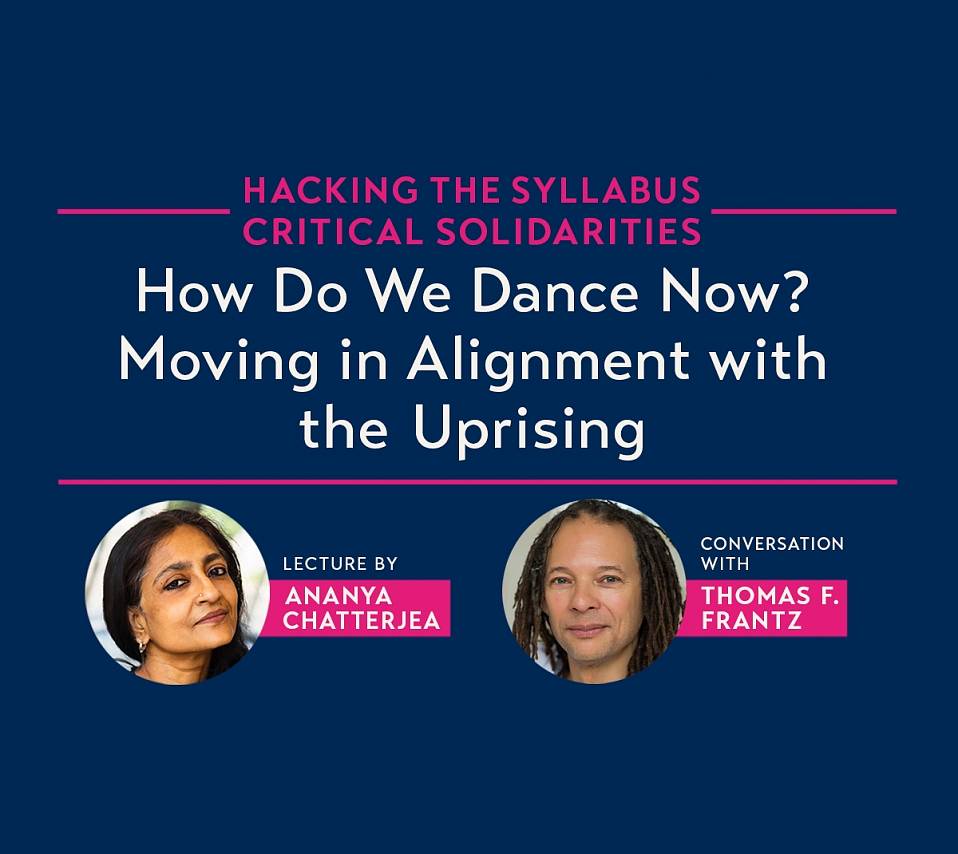 Panel Discussion/Talk
Hacking the Syllabus: Critical Solidarities with Ananya Chatterjea and Thomas F. DeFrantz
Monday, October 19, 2020
6:30 – 7:45PM
Join Dr. Ananya Chatterjea, choreographer, dancer, and professor of theatre arts and dance at the University of Minnesota, for her lecture How Do We Dance Now? Moving in Alignment with the Uprising. Following the lecture, Dr. Chatterjea will be in conversation with Dr. Thomas F. DeFrantz, professor in the department of African and African American studies and the dance program at Duke University.
The three-part series Hacking the Syllabus: Critical Solidarities shares powerful perspectives of educator-activists and resources they've created, syllabi, to equalize access to knowledge and disseminate paths for learning. The series explores building solidarities, including Asian and Black racial alliances, through an intersectional lens and covers various disciplines, including dance, feminism, and Asian American studies. Professors will illuminate a key concept from their syllabus through a brief lecture, followed by a conversation with a fellow leader in their respective field.
We invite you to explore the syllabus from Ananya Chatterjea's class Minneapolis Uprising 2020: Lessons From the Field & Practices for Solidarity-Building via Artistic Practice.
Join us on October 19 for Dr. Chatterjea's lecture entitled How Do We Dance Now? Moving in Alignment with the Uprising. She describes her lecture: "In this talk, I will share the process of embedding critical analysis and self-reflexivity into the creative process such that we can begin to peel away the systemic hierarchies of race, gender, caste, class, sexuality, and other 'identifiers' that have lodged themselves in our bodies. I will speak specifically from my practice of working with traditional Indian movement practices, to bend and reimagine them in service of liberatory movements that hold Black, Indigenous, and communities of color at the center. I will refer to my choreographic process where I draw on transnational feminist movements of justice to understand how the lens of social justice completely shifts how we make dance, how we approach bodies and sacred geometries, and articulate solidarities. This humbling, granularly engaged methodology is my entry into the syllabus I offer and the dances I imagine."
The event is free and registration is required to join the Zoom webinar. The event will also be live-streamed on Asia Society's Facebook and YouTube page.
Learn more: https://asiasociety.org/triennial/events/hacking-syllabus-critical-solidarities-ananya-chatterjea-and-thomas-f-defrantz