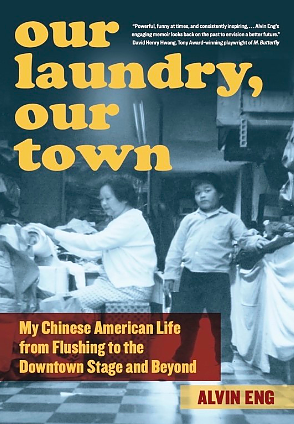 Panel Discussion/Talk
Virtual and In-Person NYPL Author Talk
Saturday, June 25, 2022
2 – 3PM
Author Talk with Alvin Eng on the Memoir Our Laundry, Our Town: My Chinese American Life from Flushing to the Downtown Stage and Beyond. Hybrid event (in-person and online via Zoom)
From behind the counter of his parents' laundry and a household rooted in a different century and culture to the turbulent, exciting streets of 1970s New York City, playwright Alvin Eng shares his riveting, tender story of finding voice, identity and community through the transformative power of Asian American arts, activism, punk rock and theater. Fordham University Press.
Praise for the book includes:
"Powerful, funny at times, and consistently inspiring, Our Laundry, Our Town turns one artist's journey into the story of AAPI communities and emergence of a movement over the past half-century. Alvin Eng's engaging memoir looks back on the past to envision a better future." DAVID HENRY HWANG, screenwriter and Tony Award–winning playwright of M. Butterfly
"If you wept while reading the memoir Crying in H Mart, ached at the injustice in Minor Feelings, and laughed during graphic novel Messy Roots, then Our Laundry, Our Town is the sweet spot between these three." From GoodReads book review by@the_pundlit
"Alvin Eng's fascinating, funny, aching, searching, loving memoir derives its power from that key element of New York City's dynamism and magic: that behind every apartment door and scrappy storefront, in every far-flung outer-borough neighborhood, lie vast worlds, sweeping histories, and epic tales of questing souls melding the old ways into something meaningful and new." LISA KRON, the Tony Award-winning playwright and lyricist of Fun Home (based on Alison Bechdel's graphic novel
"Alvin Eng's masterful, sweeping memoir about growing up with his five siblings in a dysfunctional family in the back of the Foo J. Chin Chinese Hand Laundry in Flushing, Queens is laced with his marvelous humor, family anecdotes and metaphors that bring a century of the Chinese American Experience to life. I was deeply touched, especially by the spirits parallels between the folks in Thornton Wilder's Our Town and the laundry­­ and the beautiful idea that his parents didn't really see each other either––like the characters in the play. Just a beautiful book." STEVE ZEITLIN, folklorist, author of Poetry of Everyday Life and Founding Director of City Lore
Alvin Eng
Alvin Eng is a native NYC playwright, performer and educator. His plays and performances have been seen Off-Broadway, throughout the U.S., as well as in Paris, Hong Kong and Guangzhou, China. His memoir, Our Laundry, Our Town: My Chinese American Life from Flushing to the Downtown Stage and Beyond, was published in May 2022 by Fordham University Press. Eng is the author and editor of the oral history/play anthology, Tokens? The NYC Asian American Experience on Stage. No Passport Press recently published Three Trees, the first of his Portrait Plays series of historical dramas about artists. He was awarded a 2022 LMCC Creative Engagement grant for a "Hong Kong Handover: 25 Years Later" symposium in conjunction with his acoustic punk raconteur solo show, Here Comes Johnny Yen Again (or How I Kicked Punk). www.alvineng.com
*Space is limited. Walkups will be permitted as space accommodates.