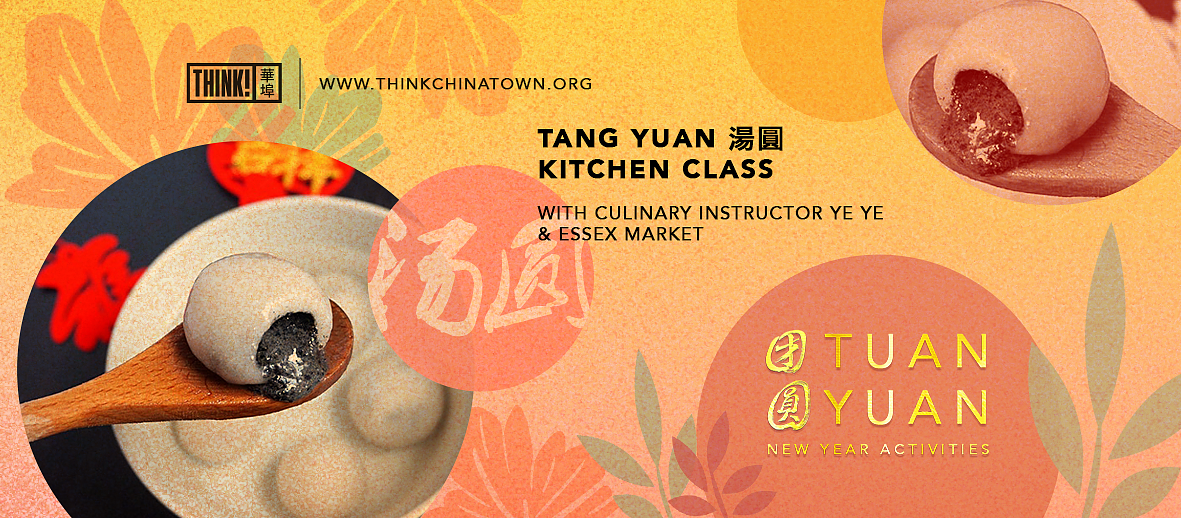 Workshop
Tang Yuan 湯圓 Kitchen Class
Thursday, February 25, 2021
6 – 7PM
Let's celebrate the upcoming Lunar New Year with a virtual tang yuan 湯圓 kitchen class, led by culinary instructor Ye Ye, in collaboration with Essex Market.
Glutinous rice balls often stuffed with varying flavors of paste filling, tang yuan is a traditional Chinese treat enjoyed by all during the Spring Festival. It represents harmony and togetherness because their name sounds like the word "reunion" in Chinese and its round shape symbolizes unity.
In this workshop, you'll learn the basics of making tang yuan with red bean and black sesame fillings, while hearing Ye Ye talk about the soul of Chinese cuisine and the cultural significance of this food. Ye Ye will be cooking from her own kitchen at her home, with Yin from Think!Chinatown and Lauren from Essex Market following along from Essex Market Kitchen.
You'll receive the list of ingredients and instructions when you register. This workshop is free/pay-as-you-wish, but please consider purchasing our Tuan Yuan 團圓 Homecoming Box, which includes the ingredients for this class, materials for our other virtual T!C Lunar New Year events, and additional goodies from our partners. Available through Pearl River Mart for a limited time. www.thinkchinatown.org/tuanyuan-box
Everyone is welcome to join the event. If you'd like to attend but you cannot donate, please send an email to hello@thinkchinatown.org to register at least a day in advance of the event.
---
Ye Ye is a New York-based culinary instructor who was born and raised in Suzhou, a beautiful city in eastern China. She currently hosts virtual cooking events and specializes in authentic Chinese recipes from her hometown and spicy dishes from the Sichuan region.
Think!Chinatown, a 501©(3) non-profit based in Manhattan's Chinatown, is here to listen, to respond, and to build Chinatown's capacities as a strong & vibrant immigrant neighborhood of NYC. Our mission is to foster inter-generational community through neighborhood engagement, storytelling & the arts. We believe the process of listening, reflecting & celebrating develops the community cohesion and trust necessary to take on larger neighborhood issues. Our aim is to overcome barriers of community organizing where socio-economic factors, language, and cultural barriers create challenges for immigrant communities' autonomy to make decisions in their own neighborhood. We've built Think!Chinatown to push from within our neighborhood to shape better policies and programs that define our public spaces, to celebrate our cultural heritage, and to innovate how our collective memories are represented.