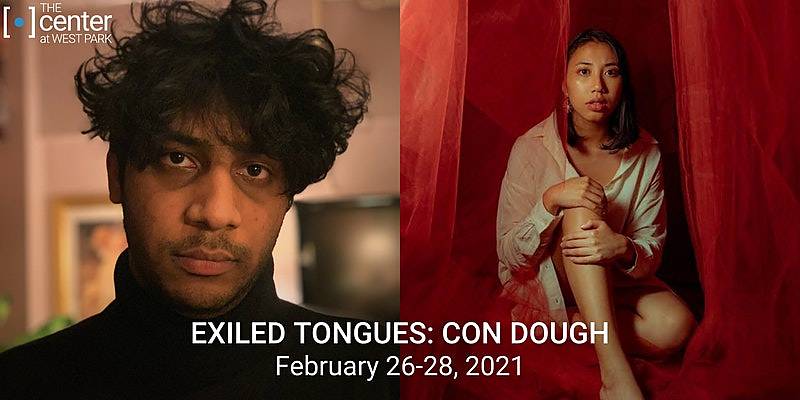 Performance
Exiled Tongues: Con Dough
February 26 – February 28, 2021
12AM
CON DOUGH: Stories of 1 in 5 Gentrified is a new documentary theater piece that captures the violence gentrification has done to low income communities and communities of color across NYC. It uses a culmination of interviews from residents, students, organizers, and educators that have grown up in the NYC for over a decade as well as Igusti and Achan's personal experiences as born and raised New Yorkers that have been traumatized by gentrification. The production highlights the way the constant fear of displacement affects New York identity, and what it means to call a place that neglects your livelihood "home."
By bringing community awareness around the issues of gentrification and how it is inextricably linked to racial and class politics, Achan and Igusti strive to give marginalized communities a voice and motivate individuals to demand accountability from their elected leaders.
ABOUT THE ARTISTS
RAY JORDAN ACHAN (he/him/his) is a Guyanese American, Brooklyn based actor, director, writer and producer. Ray is the Founding Artistic Director of EXILED TONGUES, a performance collective that provides financial, artistic and collaborative support to BIPOC artists who center diasporic consciousness. Ray is part of the pilot A4 Virtual Residency hosted by Asian American Arts Alliance. He currently is developing his documentary theater piece, "CON DOUGH" at the sanctuary space at the Center at West Park set to premiere virtually in February 2021. Ray is an Associate Member of the Stage Directors and Choreographers Foundation. He is the recipient of the Pet Project Grant sponsored by Jeremy O'Harris and the Bushwick Starr for his play, Free Fallin'. He recently was the Artistic Fellow at Ars Nova as part of the Emerging Leaders Group. He has worked at the Park Avenue Armory as a Production Assistant and has helped advance shows such as Antigone and Judgment Day as well as events such as The Black Artists Retreat and Armory Iridescent and Culture in a Changing America: 100 Years/100 Women. He also worked as a Producing Intern at the Public Theater. Ray directed the World Premiere Off-Broadway production of SHARUM written by Mohammad Murtaza and Dena Igusti at the Player's Theater. Recently, Ray directed CUT WOMAN, written by Dena Igusti which premiered at the Prelude NYC 2020 Festival. Future projects: Ray is directing his original play Free Fallin' which is set to premiere at the Hudson Guild Theater in June 2021. Additionally, Ray is directing La Violecion of My PapiYon, an original play written by Arline Pierre- Louis. Ray is a graduate of Wesleyan University with a BA in Government and Theater with Honors.
*DENA IGUSTI *(they/he) is a queer Indonesian Muslim poet, playwright, and producer born and raised in Queens, New York. They are the author of CUT WOMAN (Game Over Books). They are the co-founder of Asian multidisciplinary arts collective UNCOMMON;YOU and literary press Short Line Review. They are a 2018 NYC Youth Poet Laureate Ambassador and 2017 Urban Word Federal Hall Fellow. They are a 2019 Player's Theatre Resident Playwright for their co-written Off-Broadway production SHARUM. Their choreopoem, CUT WOMAN was featured at Prelude Festival 2020. They are a 2020 Seventh Wave Editorial Resident, 2020 Ars Nova Emerging Leaders Fellow and part of Spotify Sound Up's 2020 cohort. They are a Converse All Stars Artist. Their work has been featured in BOAAT Press, Peregrine Journal, and several other publications. They have performed at The Brooklyn Museum, The Apollo Theater, the 2018 Teen Vogue Summit, and several venues internationally.