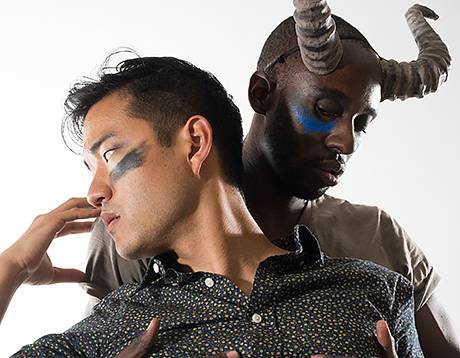 PILLOWTALK
Saturday, September 26, 2015
7:30 – 9PM
Kyoung's Pacific Beat presents PILLOWTALK.
PILLOWTALK is an intimate two-character drama centered around Sam and Buck, a newlywed interracial gay couple. Using inventive staging incorporating elements of ballet's pas de deux, the play looks at the evolving values of gay marriage through the shifting priorities of a young couple.
PILLOWTALK humanizes the embodied, lived experience of marginalized individuals within our society, while problematizing gay marriage and its implications that full progress has been made. As we can see in our continuing struggles against employment discrimination and LGBT-friendly healthcare, the rising number of public gay bashing, and the alarming murder rate of transgender women, especially trans women of color, the backlash and social intolerance of our differences still affects the lives of gay people in quite significant ways. PILLOWTALK is written and directed by Kyoung H. Park, performed by Daniel K. Isaac (Kyoung's Pacific Beat's TALA, Anna Nicole: The Opera, BAM) and Raja Feather Kelly (Fist and Heel's Moses(es), BAM). Our workshop production will also feature original, installation art by Wade Kramm, original music by Helen Yee, lighting design by Chuan Chi-Chan, costume design by Andrew Jordan, sound design by Lawrence Schober and set design by Marie Yokoyama. Tickets are available for purchase online ($10 in Advance, $14 at the door).
Tags
Organized by
a4 - Network Admin