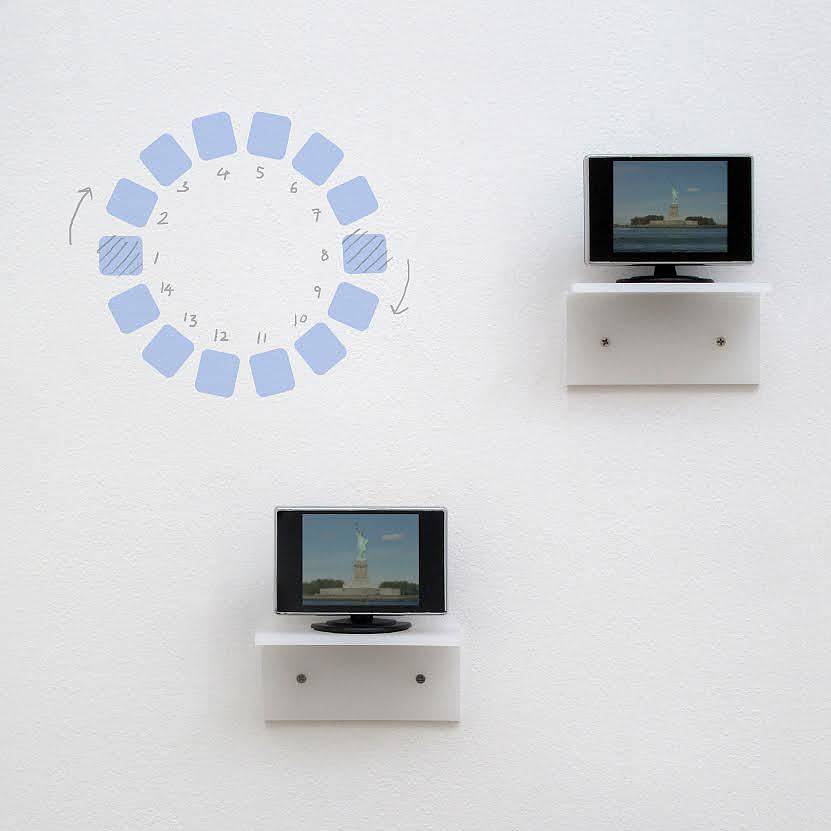 Memory, Market and Migratory Transition
September 28 – October 18, 2015
6 – 7PM
Opening Reception: September 18, 2015, 6-8pm
Exhibition Dates: September 19 – October 18, 2015Gallery Hours: Tuesday through Sunday, 12-6pm
Cuchifritos Gallery + Project Space is pleased to present Memory, Market, and Migratory Transition, a multimedia exhibition by Bundith Phunsombatlert.
Based on the mechanic system of View-Master stereoscopes and reels, in addition to the design features and function of baggage carousels,Memory, Market, and Migratory Transition explores the dominance of mediated experience in contemporary culture as seen through a journey into imagined and physical spaces. The moving images of the project, displayed in the form of a three-dimensional View-Master reel built of small television monitors, are recorded from the vantage points of three different topics: landmark scenery in memory; transportation of commodities in the market; and the transition of migration.
The installation is initially inspired by Phunsombatlert's childhood memories of playing with a View-Master and the various reels that his family collected. Growing up in a middle class family in Bangkok, Thailand, the handheld machine was a way for Phunsombatlert to see the world, from the Seven Wonders of the World to the Tulip season in Holland. Although the slides of the binocular toy are limited in their potential to understand the complexities of each place, and perpetuate Western notions of consumerism, the View-Master's rotating mechanics and 3-D small color photographs simulate a transition in themselves between still and moving images, and momentarily suspend our perception of imagined versus real or physical places. The implied journey from one slide to another is also meaningful for Phunsombatlert as a media artist who focuses on interactive site-specific projects that use the concept of imaginative space to disrupt various social contexts.
Drawing from the Essex Street Market, the artist will also explore how products are transported from their local sources to international marketplaces using the metaphoric representation of a baggage carousel's circular movement, which is similar to that of the View Master's system.
Organized by
a4 - Network Admin