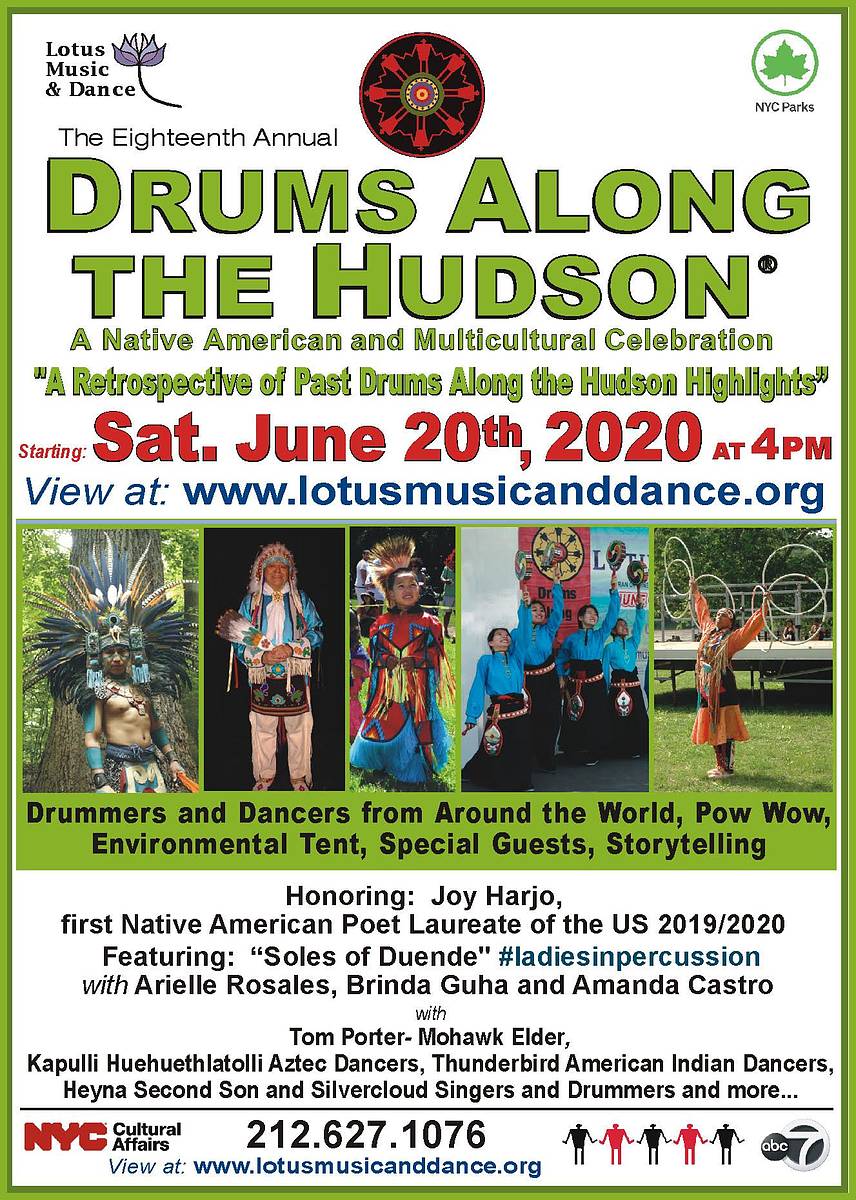 Performance
ONLINE EVENT: DRUMS ALONG THE HUDSON
Saturday, June 20, 2020
4 – 6PM
The 18th Annual DRUMS ALONG THE HUDSON®: A Native American Festival and Multicultural Celebration will take place ONLINE Saturday, June 20th, 2020 at 4pm at
www.lotusmusicanddance.org
. This event is presented by Lotus Music & Dance in collaboration with the New York City Department of Parks & Recreation, sponsored in part by the New York City Department of Cultural Affairs and the New York City Council. This year we will honor Joy Harjo, the first Native American Poet Laureate of the year.
DRUMS ALONG THE HUDSON® features an open air pow wow, which is a celebratory gathering of Native American people that will be led by Louis Mofsie and the Thunderbird American Indian Dancers with Host Drums Heyna Second Sons and Silver Cloud. This multicultural family-oriented festival combines Native American heritage with the diversity of New York City with performances of world dance and drumming tradition.
This year we will feature a retrospective of the past seventeen years, as well as featuring Soles of Duende (Kathak, Tap and Flamenco Collaboration), three women soloist who have developed a cross cultural percussive trio. The retrospective with include native performers from past events including Kasibahagua Taino Singers and Drummers, the Seneca Nation Alleghany River Singers and Dancers, the Onondaga Haudenosauee Singers and Dancers, the Akwesasne Mohawk Singers and Dancers, St. David's Island Natives from Bermuda, the Maori Singers and Dancers of New Zealand and Kapulli Huehuethlatolli Aztec Dancers. Special guest performers on stage include Saung Budaya West Sumatran Indonesian Dance, Songh Hee Lee Korean Dancers and Drummers, Danza Espana Flamenco, Lei Pasifika Polynesian Dance and Seema Iyer Bollywood Dance Ensemble. Our past honorees have included Winona La Duke, Elizabeth Sackler, Oren Lyons, Jake Swamp, Xernona Clayton, Tonya Frichner, Tom Porter, Joanne Shenandoah, Doug George, Congressman John Lewis, Mayor David Dinkins, Ronda Ross, Jane Schachat, as well as others.