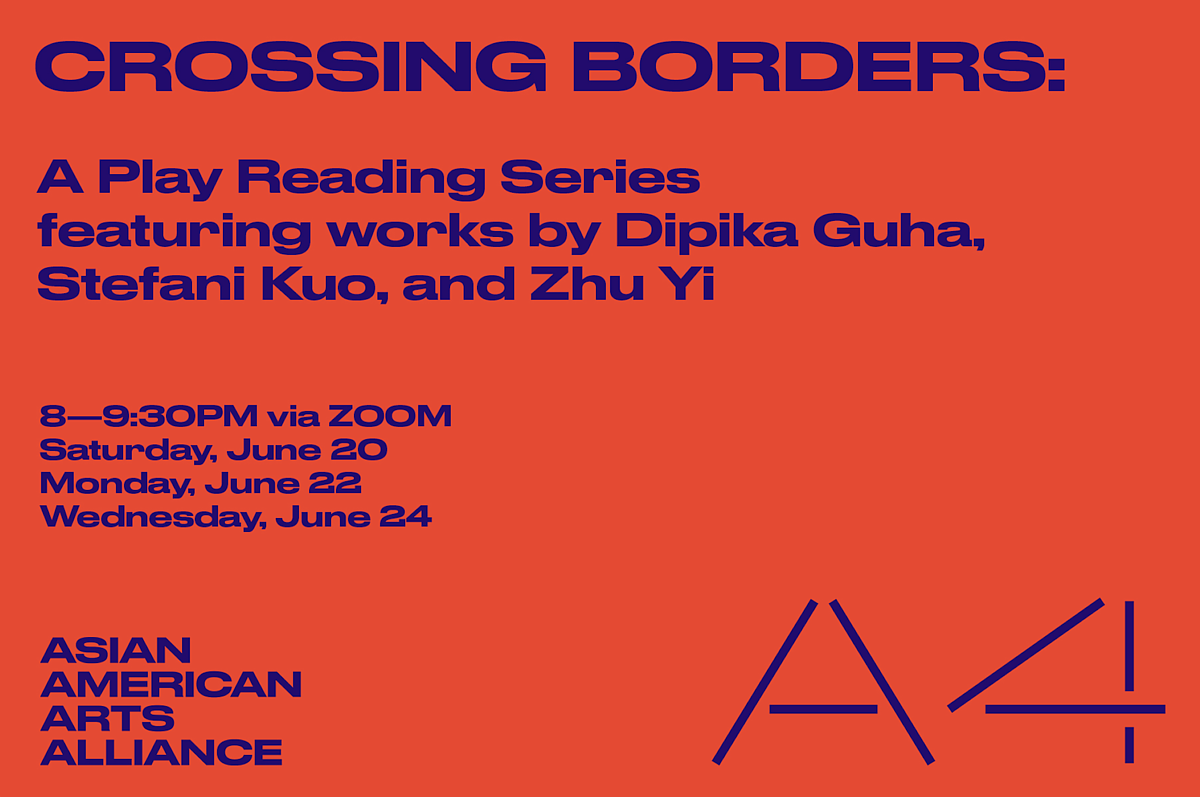 ConversAAtions
Crossing Borders: A Play Reading Series Featuring Work By Zhu Yi
Saturday, June 20, 2020
8 – 9:30PM
Over the past decade, more immigrants have migrated to the United States from Asia than from any other region in the world, making Asians the country's fastest-growing immigrant population. In celebration of the Immigrant Heritage Month, American Dream Redux and Asian American Arts Alliance (A4) co-present Crossing Borders, a play-reading series dedicated to showcasing the works of Asian immigrant playwrights in New York City.
Crossing Borders showcases the work of three Asian immigrant playwrights, Dipika Guha, Stefani Kuo, and Zhu Yi, whose work explores the shared yet complex immigrant experiences through theater. The plays are directed by Seonjae Kim, Ryan Dobrin, and Nicholas Polonio.
This event is free and open to the public. RSVP required. We'll send the Zoom meeting link to all registered attendees.
---
ABOUT THIS PLAY
Crossing Borders presents two short plays, Crash and A Play For Your Bedroom, written by Zhu Yi and directed by Seonjae Kim. Please be advised that this playreading event contains sexual content and may not be suitable for all audiences.
In Crash, two strangers fall in love by imagining the deaths of two other strangers.
How many lovers do you need to prepare you for the love of your life? Two people spend their entire lives finding out in A Play For Your Bedroom.
---
ZHU YI
Originally from China, Zhu Yi is a New York-based writer who received the First Prize at the 2015 World Sinophone Drama Competition. She is an alumna of EST/Youngblood and a member of Ma-Yi Writers Lab and Royal Court Theatre's International Playwrights Programme; and she has been selected for the New York Theatre Workshop's Emerging Artist Fellowship.
SEONJAE KIM
Seonjae Kim is a New York-based director and writer from Seoul, South Korea who received her BA at Northwestern University. She is the creator and director of Riot Antigone, an original Riot Grrrl musical adaptation of Sophocles' tragedy, which premiered at La MaMa Experimental Theatre Club in 2017. She currently serves as the Associate Director for the Broadway-bound musical, KPOP.
AMERICAN DREAM REDUX
American Dream Redux is an innovative event series dedicated to celebrating and showcasing the works of Asian immigrant artists, in reflection of America's history as a country of immigrants. The series pays homage to the contributions of Asian immigrants in America's communities and vibrant diversity while encouraging greater cross-cultural understanding and community-building.