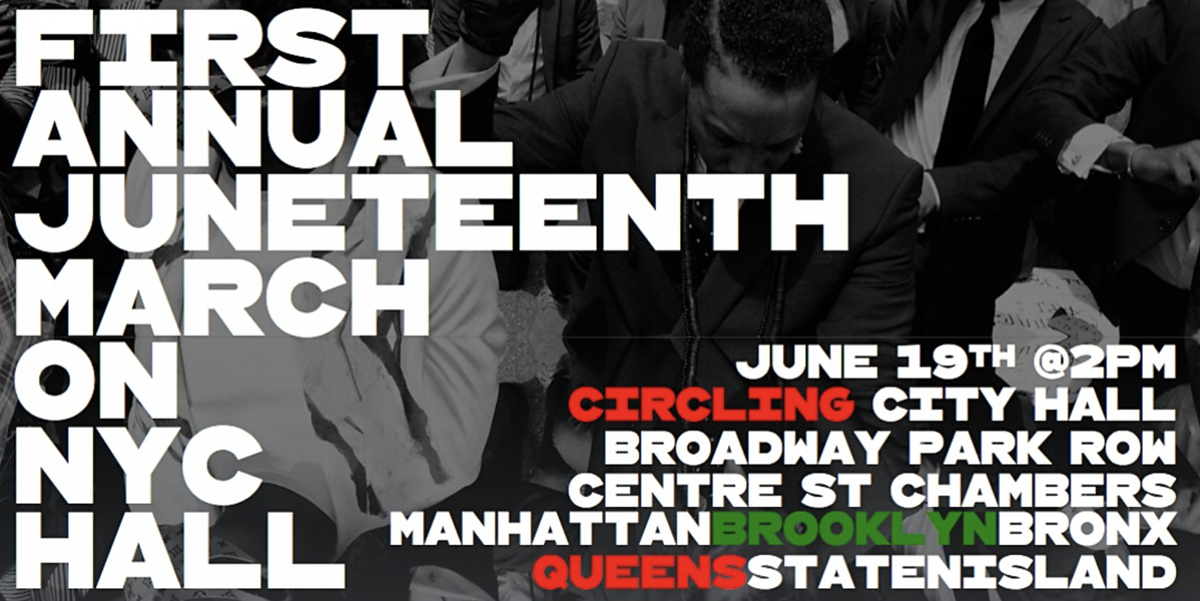 Community Event
Juneteenth March on NYC
Friday, June 19, 2020
2 – 5PM
Join the coalition of activists across Manhattan, Brooklyn, The Bronx, Staten Island, & Queen to protest for the justice dignity and equity that Black Lives are owed. #WeOweUS
Travel to City Hall or near it. Take a Train, Ferry, Car, or walk. We are marching around City Hall, not only For Justice but For Power! Where there is No Power, there is No Justice, and No Peace. Our most immediate priority For Power is Voting. We're going to vote as a force!
STARTING POINT: Broadway and Park Place, marching Southwest
STARTING TIME: 2PM, we want to allow other regional marches time to make it to City Hall to add their agenda's to ours.
STARTING AGENDA: THE ANDREW KEARSE ACT
A camera on every cop
Prosecute officers who falsify information during an investigation
Mandatory and immediate medical response for suspects/subjects who complain of illness or injury
Reinstate American incarcerated and formerly incarcerated citizens right to vote
Establish national day of remembrance for victims of police violence
Create a comprehensive national database of shootings, including police shootings
Establish an independent unit of investigators and prosecutors for all police shootings of civilians
We are due, more than Justice, we are due real political power to name our streets and make all places as safe as possible. We must paint the streets with Black Lives Matter and remind everyone that #BlackVotesMatter.
*** This march will have a Sign Language Interpreter during speeches.
* To volunteer please email Peter Willumsen Peter@KeithInstitute.com**
Organized by
Peter Willumsen
Contact
Peter@KeithInstitute.com