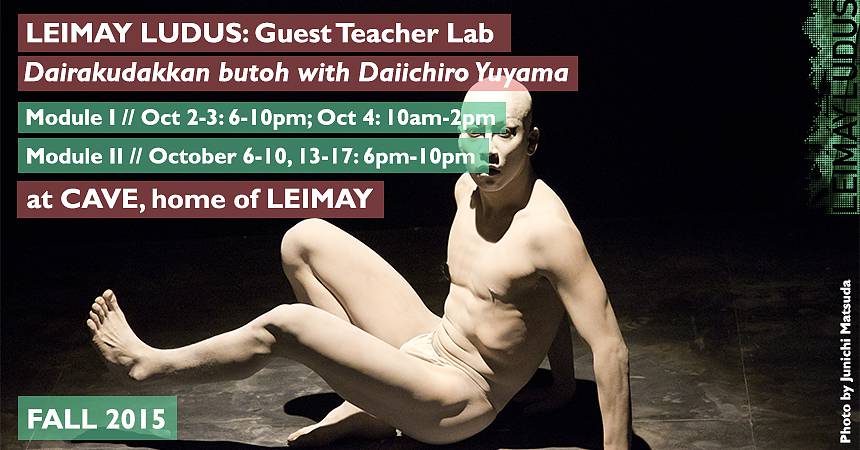 LEIMAY LUDUS: Guest Teacher Lab - Dairakudakan butoh with Daiichiro Yuyama
October 2 – October 17, 2015
6 – 10PM
Take this unique opportunity to learn from and perform with Dairakudakan's Daiichiro Yuyama
Module I // Introduction: Dairakudakan Philosophy & Approach
Oct 2-3, 6pm - 10pm; Oct 4, 10am - 12pm
In this module, participants will be introduced to Dairakudakan's basic philosophy and approach to body and butoh. Some ideas include becoming "empty" - uninstalling our selves from our body, being one "thing" which is not a human being; and unusual darkness - emptiness in mindset to encounter and coagulate moments within the quotidian estranged from the conditioned mind.
Module II // Performance Collaboration & Public Presentation
Oct 6-17, 6pm - 10pm (Days off: Oct 11-12 // Public presentation: Oct 16&17)
Over the span of 2 weeks, Daiichiro aims to create a new collaborative work based on the Dairakudakan body theory, together with all participants. Participants will be exposed to all aspects of making a piece, culminating in a public presentation at CAVE. The theme of this collaborative piece is "Gap". Daiichiro wishes to explore the potential that exists at the cusp of un-fitting, of a perpetual in between; an abundance springs from a crowd of bodies which prevails within this state of existence.
Dairakudakan will soon be setting up a satellite company here in the United States, and this is a unique opportunity for the company to preview dancers here in New York. (207 words)
DETAILS
Module I: Oct 2-3, 6-10pm, and Oct 4, 10am - 12PM
Module II: Oct 6 - 17, 6PM - 10PM (Days off: Oct 11-12 // Public presentation: Oct 16&17)
TUITION: Module I: $180.54 // Module II: $597.62 // Module I & II: $721.22
DISCOUNT CODE: LUDUS1509
Use this code to get 15% off. Valid until October 5.
Click here to go to LEIMAY LUDUS's Guest Teacher Lab - butoh with Yukio Suzuki.
Organized by
LEIMAY
Contact
management@leimay.org