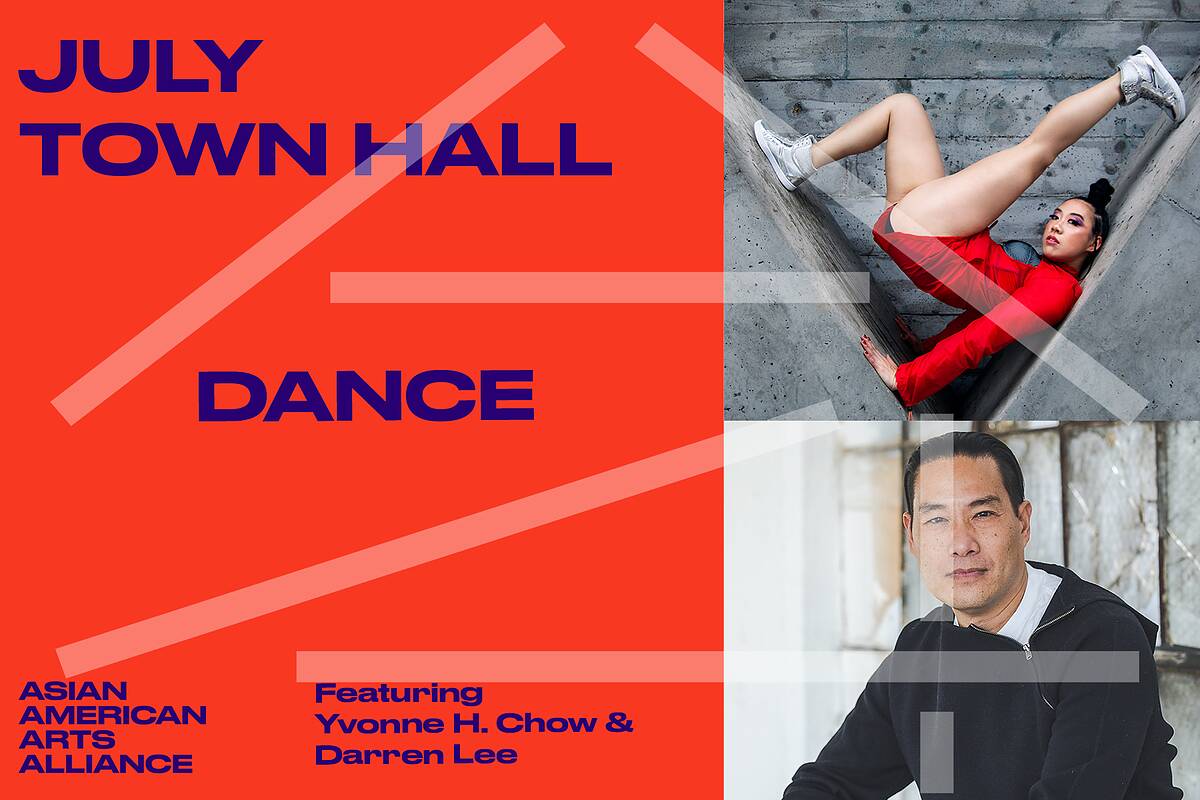 Town Hall
July Town Hall: Dance
Tuesday, July 26, 2022
6:30 – 8:15PM
The Asian American Arts Alliance (A4) welcomes you to attend and participate in our July Town Hall, focusing on everything dance related!
Featured Presenters:
Yvonne H. Chow will share about her artistry and training in hip-hop dance highlighting advocacy work she has done around showcasing #UnapologeticallyAsian dancers in the hip-hop space, and leadership work as an educator and curator for H+ | The Hip-Hop Dance Conservatory.

Darren Lee will share about his career in theatrical dance in Broadway productions as well as his work as a choreographer and director.
Movement often expresses and heals what words cannot. The AAPI community has been hard at work, directing innovative projects, creating sustainable organizations, and choreographing and performing powerful works of dance.
Learn about the diverse and exciting creative arts projects and opportunities coming out of the Asian American dance community during Town Hall's rapid-fire line-up of 60-second pitches, and meet our featured presenters!
Sign up to pitch and share an upcoming project or exhibition, promote an event, ask for help, find collaborators and venues for your work, inform others about an opportunity or residency, or simply introduce yourselves and your work to the community. Bring something to share for our post-pitch potluck where we will network and converse in Zoom breakout rooms with fellow attendees!
This event is FREE and open to the public. RSVP is required to pitch and/or attend. You don't have to pitch to attend—RSVP to enjoy the presentations, idea exchange, and the virtual company of fellow artists and organizers! We'll send the Zoom meeting link to all registered attendees. RSVP here.
If you need ASL interpretation for this event, please email jlee@aaartsalliance.org at least one week before this event.
About A4's Towns Hall
Town Hall is A4's bi-monthly community gathering event that features presentations, pitches, and a potluck! We welcome artists of all disciplines (musicians, actors, filmmakers, poets, visual artists—anyone with a creative fire and joy for the arts), as well as arts organizations, to pitch upcoming projects, find collaborators, or discover new opportunities in a lively space. The catch? You have 60 seconds to deliver your pitch!
About Yvonne H. Chow
Yvonne H. Chow (she/her/hers) is a 1st generation, Chinese American woman from the Bay Area (Ohlone Land) and currently working/residing in New York City (Lenape Land). She has been training in Hip-Hop Dance (Foundations: Popping, Boogaloo, Locking, Rocking, Breaking, & Party Dance) via The BLADE Dance Technique® (S. Thomas, 1995) for over a decade at the dance NGO, H+ | The Hip-Hop Dance Conservatory. She currently serves as the Director of Operations and Education Director of H+ and the Curator of Works and Principal Dancer of H+ | Theatre of the Mind® Repertory Company. In 2015, she founded House of Chow®, the Asian Division of H+, to honor her family lineage by providing purposeful guidance, mentorship, and leadership to the next generation of Asians in Hip-Hop Dance at H+ and beyond. #UnapologeticallyAsian, the premier advocacy campaign of House of Chow®, has been featured on Sinovision TV, Asian Americans in 2018 Conference, East Coast Asian American Student Union Conference 2019, Afro-Asian Solidarity Event 2021, and more! Yvonne has cultivated a strong voice, a powerful presence, and a deep purpose as a guest of Hip-Hop Dance and representative of arts and culture on a global scale. Learn more here.
About Darren Lee
Broadway: Pacific Overtures (associate choreographer) Other NY Dir/Chor credits:Orchard Project, 24 Hour Musicals, Asia Society, Fringe, Wagner College, NYMF, Prospect Theatre, Vision Series. Regional: Ogunquit, Oregon Shakespeare, Utah Shakespeare, Olney, MUNY, Paper Mill, MTWicita, Glimmerglass Opera, La Jolla, McCarter, Williamstown Shakespeare, Kennedy Center, Diamond Head, Riverside, UNLV, Westchester Broadway, North Shore, Cincinnati Playhouse, Atlanta Alliance, Trinity University, Lyric Theatre, La Comedia, Casa Manana, Omaha Symphony, SD Symphony. Cruise Line: Holland America, Disney. Takarazuka, Japan. As a performer: Broadway: Chicago, Guys and Dolls, Allegiance, Shogun, Miss Saigon, Victor/Victoria, Kiss Me Kate, On the Town, Seussical, Pacific Overtures, and Millie. UK Tour: The K&I as The King of Siam. Learn more here.
Pitches:
Lil Rhee
Website: http://lilrhee.com
FB: @lilrheeworldwide
TW: @azn10013
IG: @lilrhee
Mai Lê Hô
LayeRhythm Productions, Inc.
Website: http://www.layerhythm.org
FB: @LayeRhythm
TW: @LayeRhythm
IG: @layerhythm
Brian Lu
Website: https://vimeo.com/730393225
Jenn Chen
Brooklyn FAM
Website: https://linktr.ee/brooklynfam
FB: @bklynfam
IG: @bklyn_fam
Super Smack
Super Smack & The P.O.P.
Website: https://supersmackpop.com
FB: @supersmackpop
TikTok: @supersmackpop
IG: @supersmackpop
Ishita Mili
IMGE Dance
Website: www.imgedance.com
FB: @imgedance
TW: @imgedance
IG: @imgedance
Yasuyo Tanaka
LayeRhythm Productions, Inc.
Website: http://yasuyoart.blogspot.com/
IG: @key4yoyo
More soon…