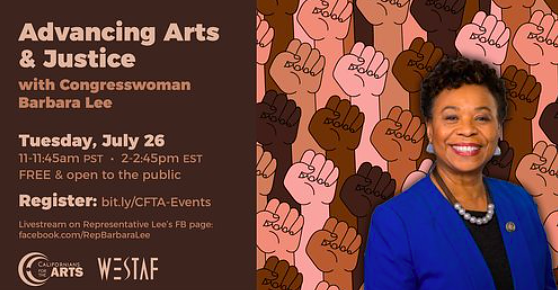 Panel Discussion/Talk
Advancing Arts & Justice with Congresswoman Barbara Lee
Tuesday, July 26, 2022
11 – 11:45AM
Join us in an informational webinar on the arts justice legislation introduced by Congresswoman Barbara Lee (CA-13), Advancing Equity Through the Arts and Humanities Act, H.R. 7627. Learn how this bill uplifts the role the arts and humanities have in addressing and dismantling systemic racism in the United States. Meet the artists, cultural bearers and arts and social justice leaders in the field supporting the bill and learn how you can engage to help advance equity through the arts and humanities at the federal level.
Stream from Barbara Lee's Facebook page on the day of the event: https://www.facebook.com/RepBarbaraLee
Featuring:
Congresswoman Barbara Lee (CA-13)
Congresswoman Barbara Lee is a forceful and progressive voice in Congress, dedicated to social and economic justice, international peace, and civil and human rights.
First elected in 1998 to represent California's 9th Congressional District, the Democratic lawmaker has a reputation for principled and independent stands, unafraid to take on the tough issues and speak her mind for her constituents, for a more just America, and for a safer world. A social worker by profession, she has been a life-long advocate for constituents, families and others accessing government services.
Congresswoman Lee has been a strong proponent of safe communities, addressing hunger, environmental justice, universal health care, just immigration policies, the establishment of a living wage, reproductive health care rights and affordable housing, including creation of a National Housing Trust Fund.
Her accomplishments include authoring or co-authoring every major piece of legislation dealing with global HIV/AIDS issues since she was elected to Congress.
After the Sept. 11, 2001 terrorist attacks, the congresswoman was the lone vote against a resolution that gave the President virtually unlimited authority to use force against unspecified organizations, individuals or nations for an unlimited period of time. She has consistently fought to stop endless wars and to reduce conditions that produce conflict and injustice.
Julie Baker, CEO, Californians for the Arts
As CEO of California's statewide arts advocacy organizations since 2018, Julie has worked to increase the legislative clout and visibility of the arts and culture communities by building coalition across the for and non-profit sectors of California's creative industries, producing a month long arts awareness and advocacy campaign every April, and fighting for resources and legislation to serve and protect artists and cultural workers. She serves as the California State Captain to Americans for the Arts' National Arts Action Summit and on the State Arts Action Network Council and as the co-chair of the Western Arts Advocacy network for WESTAF. She is on the board of California Heritage: Indigenous Research Project, a founding member of the Nevada County Relief Fund advisory council and was elected to the Nevada County school board in November of 2020.
Over the years, Julie has owned a fine arts gallery for emerging artists, co-founded Flow art fair — a satellite to Art Basel Miami Beach — opened a consulting firm Julie Baker Projects and curated an annual music series at the Crocker Art Museum. Earlier in her career she was President of her family's arts marketing firm in New York City and worked at Christie's Auction house before moving to California in 1998. Julie also served for eight years as the Executive Director of The Center for the Arts, a non-profit performing arts venue and California WorldFest, an annual music and camping festival located in Grass Valley, CA. She is the recipient of the inaugural Peggy Levine Arts & Community Service Award from the Nevada County Arts Council. And the 2021 Alene Valkanas State Arts Advocacy Award from Americans for the Arts, which honors an individual at the state level whose arts advocacy efforts have dramatically affected the political landscape.
David Holland, Deputy Director, WESTAF
David Holland joined WESTAF in 2019 as director of public policy to lead its advocacy and public policy programs and services and serve as the primary liaison with federal agencies, regional arts organizations, state and local arts agencies, and state arts advocacy groups. His role has evolved to also drive the impact of WESTAF's leadership and professional development programming, grantmaking, and technical assistance and consulting services across teams as deputy director. He is leading a new Bay Area Arts Policy and Leadership Seminar and co-directing the development of the state of Washington's Creative Economy Strategic Plan, chaired the redesign of the National Endowment for the Arts' Performing Arts Discovery program working with regional and national partners, and more.
Sabra Williams, Executive Director, Co-Founder, Creative Acts
Sabra Williams has received international acclaim for her work as an actor and founder of The Actors' Gang Prison Project, including being named by President Obama a, "Champion of Change" in 2016, and being honored with a British Empire Medal for services to the Arts & Prison Reform by Queen Elizabeth in 2018. As former Director of The Prison Project for thirteen years, and in partnership with students and teaching artists, she oversaw the program's growth from one California State Prison to thirteen, as well as programs in two Reentry facilities, girls Juveniles Camps and a Correctional & Probation Officer program.
Mystic, Artist
Mystic is a Grammy-nominated hip hop artist who is also an activist, scholar, community educator, and beloved daughter of Oakland, California. Having released her debut album, Cuts For Luck And Scars For Freedom, in 2001 and Beautiful Resistance in 2014, she includes themes of healing, community, and justice in her music. She is also known as a member of Digital Underground and called the DU Goddess. As a scholar, Mystic's research has focused on the use of policymaking for equity in elementary education in an international context and the use of culturally relevant arts education by educators of color with elementary students of color. She has been recognized for her work by the City of Oakland, the City of Los Angeles, and the California Senate. Mystic currently serves as a Governor on the Recording Academy's San Francisco Chapter Board, where she is a strong advocate for creators and diversity, equity, and inclusion. Additionally, she is preparing to release a new album in August of 2022 and a short film that uplifts Black love later in the year. Find Mystic on Twitter and IG @thatgirlmystic.
Kristina Wong: Artist, local representative, activist
Kristina Wong is a Pulitzer Prize finalist in Drama. She's a performance artist, comedian, writer and elected representative who has been presented internationally across North America, the UK, Hong Kong and Africa. She's been a guest on late night shows on NBC, Comedy Central and FX. Her recent "Kristina Wong for Public Office" is simultaneously a real life stint as the elected Sub-district 5 representative of Wilshire Center Koreatown Neighborhood Council and rally campaign show. Kristina founded Auntie Sewing Squad, a national mutual aid network of volunteers that sewed cloth masks for vulnerable communities during the Covid pandemic.
Don Lacy, founder and owner of LoveLife Foundation
The LoveLife Foundation is an Oakland-based community building organization committed to promoting life and saving lives through community revitalization, leadership and development. The mission of the LoveLife Foundation is to provide a supportive and empowering environment for at-risk youth, and to mobilize community support to change economic and social conditions that lead to violence. The LoveLife Foundation was founded in November of 1997 by Donald Lacy in memory of his daughter, LoEshe Adanma Lacy. LoEshe's name in English means "Love Life." Sixteen year-old LoEshe was an innocent bystander when she was senselessly murdered.
Major Bunton, III Director of Programs, Creative Acts: is an alumni Teaching Artist for Creative Acts and sits on the Advisory Board. As a Teaching Artist he goes back into the prisons he spent more than 28 years in to teach. He also oversees all curricula for Creative Acts programs and runs the Alumni Laboratory where we develop all our curricula. On paroling from prison, Major co-founded a Reentry program in the community called Inglewood Wrapping Arms Around the Community. Major's life experience and experience creating and running programming is second to none. He has been doing this work both inside and as he returned, for more than six years.