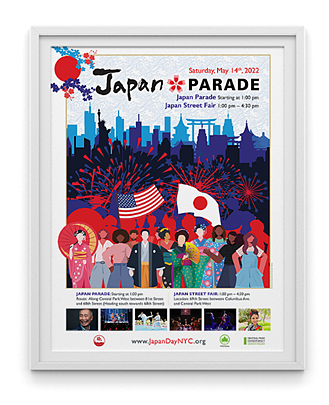 Fair or Festival
Japan Parade NYC
Saturday, May 14, 2022
12:30 – 4:30PM
The Japan Parade will show the New Yorkers the comprehensive appeal of Japan. Everything from drums, dance, and martial arts to animation. This event will also further strengthen Japan-US exchanges.
We organized this street fair near the end of the Parade route to showcase the delicious Japanese cuisine. The theme will be "Festival Yatai (Outdoor) gourmet" and will introduce various Japanese street foods such as Ramen, Soba, Okonomiyaki, and more with the cooperation of local restaurant officials. In addition, Japanese tea will be provided by a donation from a company that supports the Japan Parade.
Furthermore, we will have a few activity tents including a tote bag charity tent. In conjunction with the Central Park Conservancy, we have put special effort into various initiatives to help maintain our beautiful home park, including planting cherry trees in the park. This year, we are collecting donations that will go toward supporting Ukraine.
George Takei will serve as the parade's Grand Marshal and Sandra Endo currently with Fox 11 News Los Angeles will MC the event.
Opening Ceremony at 12:30 p.m.
Location: Central Park West between 70th and 71st street (Grand Stand area VIP only)
Japan Parade starts at 1:00 p.m.
Route: Central Park West from 81st street heading south towards 68th street
JAPAN STREET FAIR (SATURDAY, MAY 14, 2022)
Japan Street Fair is open from 1:00 p.m. to 4:30 p.m.
Location: 69th street between Central Park West and Columbus Ave.
FOOD TENTS
BBQ Chashu bowl by Nakamura INC
Hojicha panna cotta by Abe's kitchen and Mt.FUJI Japanese Steakhouse
Japanese Fried Chicken by TORI-BIEN
Japanese Ramen by Ramen Kings
Mochi donuts by Kai Sweets and Mt.FUJI Japanese Steakhouse
Okonomiyaki by Otafuku Foods inc.
Onigiriby TORI-BIEN
SOBA-YA
Tea by ITO EN (North America) INC.
ACTIVITY TENTS
Hello Kitty Photo Booth
Mikoshi, the portable shrine by Samukawa Jinja
Origamiby Origami Therapy Association
SERVICE TENTS
Charity Supporting the Ukrainian National Women's League of America
Introducing Local Japan by The Japan Local Government Center
Japan Street Fair HQ
Tourist Information by Japan National Tourism Organization