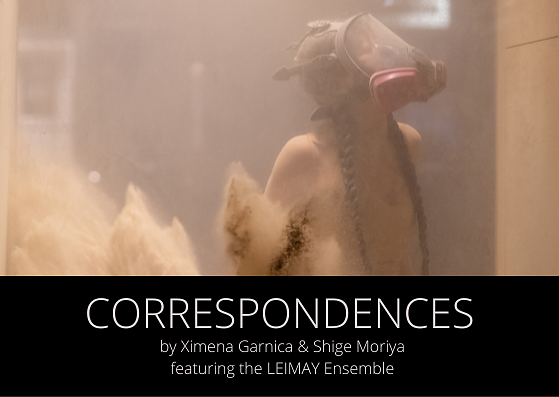 Performance
Correspondences
June 4 – June 5, 2022
12 – 5:35PM
LEIMAY, continues its multi-borough project with the Staten Island premiere of Correspondences, a free, outdoor, performance-based, public-art installation at Snug Harbor Cultural Center & Botanical Garden as part of FIGMENT NYC 2022,
Correspondences is a sculptural installation-performance by multidisciplinary artist duo Ximena Garnica and Shige Moriya offering multiple entry points to engage with questions of being, interdependence, and coexistence. In Correspondences, performer, observer, machines, natural elements, and the urban environment mingle in an entangled poetic microcosm while opening inquiries into animate life and environmental ethics. Audiences can engage with the installation at any time and also witness 35-minute activations performed by members of the LEIMAY Ensemble.
As part of Correspondences, single bodies are enclosed inside transparent chambers partially filled with sand. Bodies are donned with gas masks as they try, time and again, to rise to standing. At intervals, machines attached to the chambers trigger a blast of sand causing the performers to lose their footing, sinking them back down into the ground. This seemingly perpetual eruption repeats throughout daily performance activation periods of Correspondences, both with and without performers.
How do we cope with uncertainty? How can we reconcile existential tensions between the flow and currents of the animate life of environments in contrast to the individual-centered occupation of the world? What happens to our bodies when we encounter the unknown? How are we reshaping environmental ethics? Why are existential questions of being, interdependence, and coexistence, vital in these pandemic times and in these times of readjustment of powers and values? These are some of the questions Ximena and Shige are asking as New Yorkers, as immigrant people of color from eastern and western hemispheres, as a couple who share a life and artistic partnership, and through the poetic entangled microcosm of Correspondences.
Correspondences is performed by the LEIMAY Ensemble which includes core members Masanori Asahara, Krystel Copper, and Ximena Garnica
In addition to live outdoor performances, Correspondences at Snug Harbor includes:
Interstitial Family Workshops A mini LUDUS offering for all ages, utilizing gravity and other natural principles in correspondence with natural elements, to activate and discover interconnectivity through embodied movement. Family workshops will happen between Correspondences performance activations (see schedule below).
Correspondences Audience Files: A growing oral and written interactive archive for audiences to engage with over conversation by sharing their responses to questions of being, interdependence, connectivity, and environmental ethics. QR codes located on the grounds guide audiences to participate both on-site and on-line. Correspondences Audience Files will be open to the public to engage for 30 days starting a week prior to the installation launch. (May 27, 2021 | www.correspondencesfiles.leimay.org)
Correspondences On-Demand: For a limited period of time, two different art films capturing the meditative nature of Correspondences will be available for on-demand access during the month of June at www.ondemand.leimay.org)
Schedule:
Activation periods* with performers:
June 4, 2022, Saturday:
12 pm Activation 1
12:50-1:05 Mini-workshop 1 (Bilingual English/Spanish)
2 pm Activation 2
2:50-3:05 Mini-workshop 2 (Bilingual English/Spanish)
4pm Activation 3
4:50-5:05 Mini-workshop 3 (Bilingual English/Spanish)
8pm Activation 4
June 5, 2022, Sunday:
11am Activation 1
11:50-12:05 Mini-workshop 1 (Bilingual English/Spanish)
1pm Activation 2
1:50-2:05 Mini-workshop 2 (Bilingual English/Spanish)
3pm Activation 3
3:50-4:05 Mini-workshop 3 (Bilingual English/Spanish)
5pm Activation 3
*Activation periods with performers are 35 minutes long
RSVP and be entered in a raffle to receive a Postcard Collection Set: Selection of 3 images from Correspondences Series!