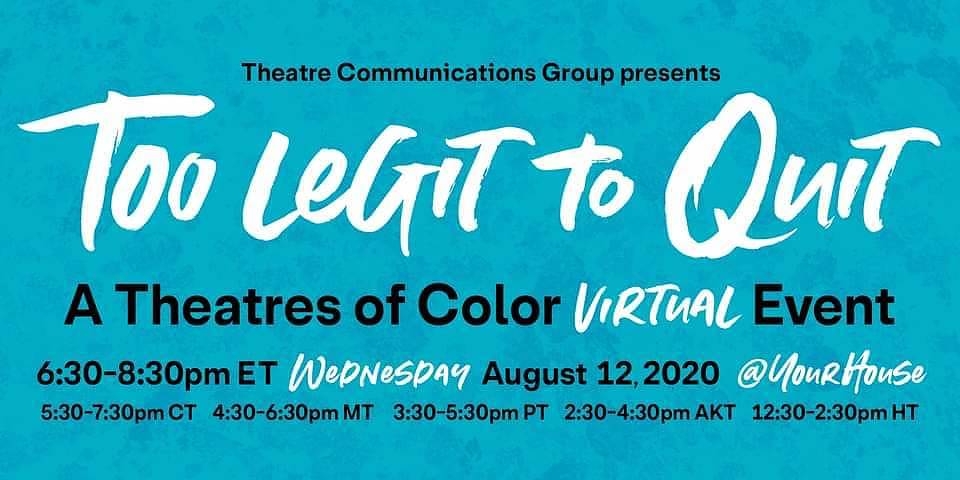 Performance
3rd Annual Theatres of Color Celebration
Wednesday, August 12, 2020
6:30 – 8:30PM
On Wednesday, August 12th, our 3rd Annual Theatres of Color celebration goes virtual - after our inaugural gathering and event set the bar high in St. Louis, and last year's outdoor Block Party in Miami brought the heat (literally).
Though we will not be together in person, we will not miss the opportunity to honor Theatres of Color across the country, who amidst the numerous challenges we now face, are Too Legit To Quit.
We have some incredible artists lined up and some throwbacks to our previous celebrations (welcoming back a favorite, African Heritage Youth Theatre), music by Sri Lankan born, Thailand raised activist, and cultural organizer DJ Ushka, and showcase performances and interactive breakout sessions that will allow us to fellowship together throughout the evening. Some highlights include:
Art2Action Showcase
Curated by Andrea Asaaf, these powerful calls to action include writing, multimedia, performance, and reflections on the moment. Art2Action features Charlotte Braithwaite, Sunder Ganglani, Ifrah Mansour, Spirit McIntyre, Kristina Wong, Anu Yadav, and William S. Yellowrobe Jr.
Act Two
In our interactive breakout rooms, we're spotlighting shows by theatres of color with productions interrupted by current pandemic. Explore works from: The Sống Collective, The Eagle Project, Teatro Luna, KC Melting Pot Theatre, and Golden Thread Productions.