Jadin Wong Fellowship
Upcoming Event
AAPI Dance Festival at APAP (Day 1)
---
The Jadin Wong Fellowship recognizes an emerging Asian American dance artist whose work shows strong potential for greater achievement and who hopes to make a significant impact on the Asian American and New York City artistic community as a whole. The fellowship aims to recognize exemplary work that will continue to inspire young artists and the Asian American community for years to come.
This award is a tribute to the life and work of renowned Chinese American actress, dancer, and comedienne Jadin Wong (1913–2010), a pioneer and innovator of Asian American performing arts. The award is made possible by the Jadin Wong Educational Fund at the New York Community Trust, established to continue her dream of supporting aspiring artists, musicians, and dancers of Asian descent.
The Jadin Wong Fellowship is awarded to an early-career Asian American dancer/choreographer, age 30 or younger, whose work shows outstanding promise and who may benefit from further professional artistic development. The fellow receives a cash stipend of $6,000 and an eight-month fellowship tailored to respond to the unique needs of their practice. The fellowship includes artistic mentorship with an established mid-career dance professional, career coaching, and a range of technical support.
View other Fellowships & Awards:
Shannon Yu
Jadin Wong Fellow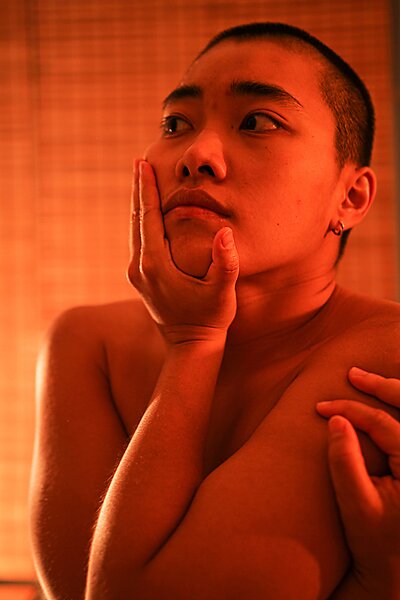 Shannon Yu (余香儒) is a Brooklyn-based artist from Taiwan. Yu holds an MFA in Performance and Performance Studies from Pratt Institute and a Bachelor's Degree in Civil Engineering from National Taiwan University. Yu identifies as a multi-disciplinary artist, dancer-choreographer, and queer creator. Yu is the founder and Artistic Director of multimedia dance company SHA Creative Outlet. Yu has shown work at La MaMa, Movement Research in Judson Memorial Church, Dixon Place, Triskelion Arts, Abrons Art Center, The Landmark Loew's Theater, and has been awarded residencies with Dance in Bushwick, Spoke the Hub, Chen Dance Center, The Creators Collective, New Dance Alliance, and The Center at West Park. Yu was a recipient of City Artist Corp Grant, and has been in festivals such as Performance Mix Festival, the Evolution Festival, YES! Dance Festival, Your Moves Dance Festival, and WOW Festival.
shannonyu.smugmug.com
Ishita Mili
Artist of Exceptional Merit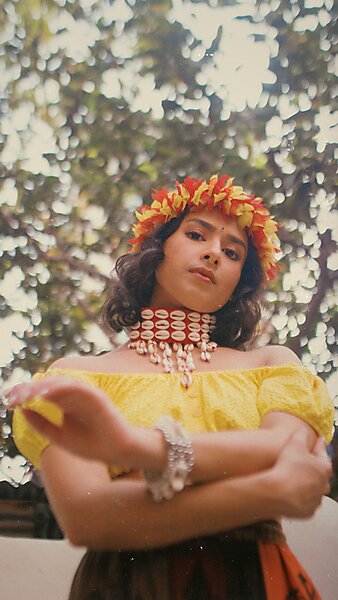 Ishita Mili is a Bengali American director and choreographer based in NY/NJ. She is earliest captured dancing at the age of 2, twirling with a yellow blanket in her living room. Ishita soon began formal training in bharatanatyam under Smt. Sudha Devulapalli and Indian contemporary fusion under Kolkata-based Sukalyann Bhattacharya. She won various awards throughout her childhood as a bharatanatyam soloist and performed internationally for movies, music videos, and shows through Sukalyann Dance Entourage. After becoming established in Indian dance forms, she broke out of the boundaries of traditional dance and auditioned for UFP Hip Hop Dance Co., performing and choreographing with them from 2014-2018. She was awarded the Folk Arts Apprenticeship grant in 2021 from NJ State Council of the Arts to study Mayurbhanj chhau under Sri Rakesh Sai Babu, world-renowned performer.
After extensively studying a variety of dance styles, Ishita ventured into creating and directing as a holistic multidisciplinary artist. In 2017, Ishita founded IMGE Dance as a performance company based in dance, film, and music that uses mixed cultural roots to share global stories with artists of diverse backgrounds. She has since has worked across commercial, concert, and independent industries to bridge gaps, challenge traditions, and make sense of this hybridized world. IMGE has been highlighted at the Kala Ghoda Arts Festival (Mumbai), New Victory Theater (NYC), Seattle International Dance Festival, and recently sold out 4 shows of their debut evening length production, "(no)man," co-produced by The Tank NYC. Ishita was also Co-Choreographer for "HAIR," directed by Josh Rhodes at Asolo Rep (FL), and is currently an associate choreographer for Broadway Bares.
Headshot credit: Pri Misra
imgedance.com
Keerati Jinakunwiphat
Artist of Exceptional Merit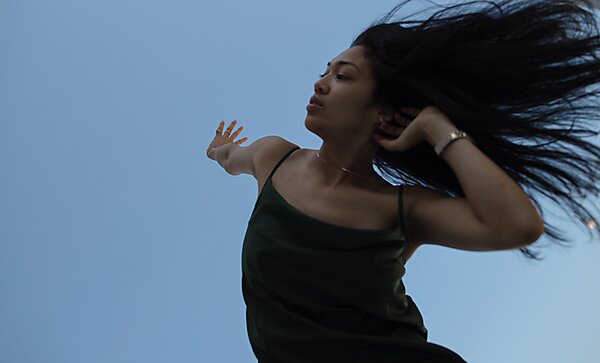 Keerati Jinakunwiphat, originally from Chicago, IL, received her BFA from the Conservatory of Dance at SUNY Purchase and was a recipient of the Adopt-A-Dancer Scholarship. She has additionally studied at the Western Australian Academy of Performing Arts, San Francisco Conservatory of Dance, and Springboard Danse Montreal. She has worked with and performed works of artists such as Kyle Abraham, Nicole von Arx, Trisha Brown, Jasmine Ellis, Hannah Garner, Shannon Gillen, Andrea Miller, Kevin Wynn, and Doug Varone. Keerati began working with A.I.M. by Kyle Abraham in 2016. She has additionally assisted Kyle Abraham in new commissioned work for New York City Ballet and Paul Taylor Dance Company. As a freelance choreographer, Keerati has presented her own choreographic works at the American Dance Guild Festival, Battery Dance Festival, Dance Gallery Festival, the Joyce Theater, New Victory Theater, Lincoln Center and more. She has been commissioned to set and create works on the Evanston Dance Ensemble, the Martha Graham School, SUNY Purchase College Conservatory of Dance, A.I.M. by Kyle Abraham, Houston Contemporary Dance Company, New England Ballet Theatre, Ririe-Woodbury Dance Company, Bang On A Can, Princeton University, PARA.MAR Dance Theatre, Whim W'him Seattle Contemporary Dance, and the New York Choreographic Institute. She has graced the cover as one of Dance Magazine's '25 to Watch' in 2021. In 2023, Keerati became the first Asian American woman to be commissioned to choreograph for the New York City Ballet.
Headshot credit: Alice Chacon
keeratijinakunwiphat.com
Marie Lloyd Paspe
Jadin Wong Fellow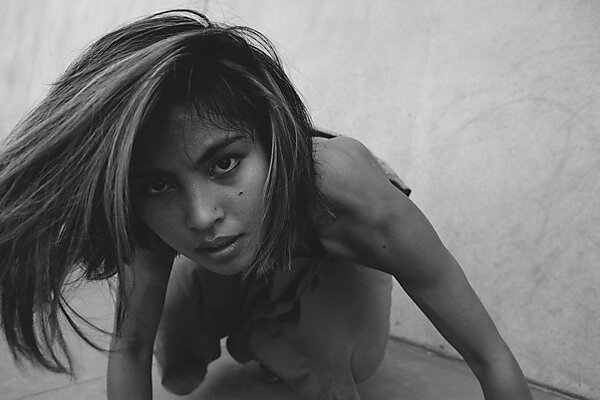 Marie Lloyd Paspe is a dance and vocal performer, choreographer, movement director, and movement and pilates educator based in lenapehoking/Brooklyn, NY. Of Filipina descent, she was born in Singapore, grew up in Mississauga, Canada, migrated to Bellingham, MA in 2000, and received U.S. Citizenship in June 2019. She graduated summa cum laude from the Ailey/Fordham BFA Program in 2016 and studied abroad in Israel with Kibbutz Contemporary Dance Company and Springboard Danse Montreal. Her choreographic interests are rooted in Filipinx-American diasporic identity work and somatic-based healing. She is interested in creating site-specific bodies of live and filmed work within accessible, experiential, and white-dominated spaces.
Performance highlights include performing and touring with the Bill T. Jones/Arnie Zane Company, with special mention in The New York Times and The Philadelphia Inquirer. Choreography highlights include film premieres in Philippines, Berlin, Los Angeles, and New York City funded by the Queens Arts Council and NYS DanceForce, and live works presented in New York City, Israel, and the tri-state area. Residency highlights include movement direction and lead choreography for Treya Lam's artist-in-residence at MASS MoCA within sculpture artist Ledelle Moe's exhibit When, and Artist-in-Residence at TOPAZ Arts.
marielloydpaspe.com
Jiemin Yang
Artist of Exceptional Merit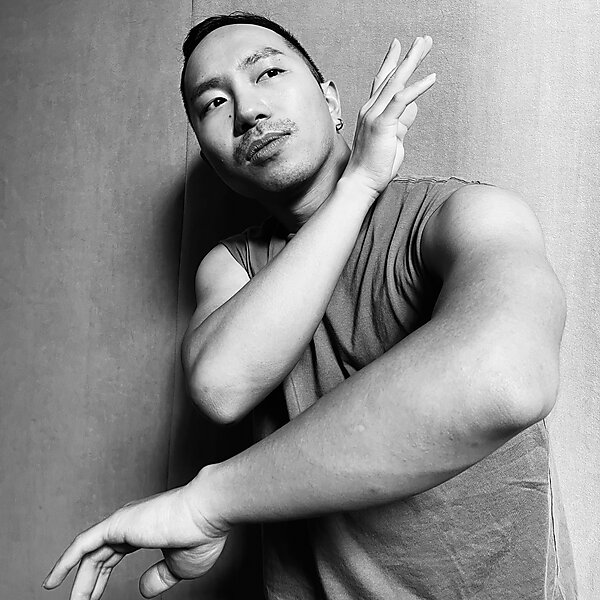 Jiemin Yang is a cross-disciplinary artist who combines movement, text, visuals, and sound to create works that are inspired by Chinese culture, the immigrant experience, and LGBTQ stories. He is a professional graphic designer/art director/illustrator and also teaches Yoga & Pilates.
jieminyang.art
Annie Heath
Emerging Asian American Dance Artist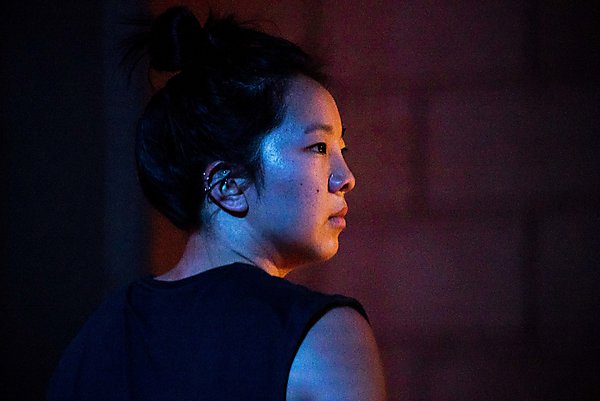 Annie Heath is a choreographer and dancer based in Brooklyn, New York. She received a BA in Dance and BS in Environmental Science at University of Massachusetts Amherst. Her work has been presented at New York Live Arts, ISSUE Project Room, New Dance Alliance, Laguardia Performing Arts Center, Movement Research at the Judson Church, Chen Dance Center, Access Theater, Center for Performance Research, Dixon Place, TADA! Youth Theater, Triskelion Arts, Brooklyn Arts Exchange, West End Theater, and Alchemical Laboratory. She has performed original works by RoseAnne Spradlin, Doug LeCours, Gabriella Carmichael, and Pavel Machuca-Zavarzin. Heath was a resident artist at La Escuela Profesional de Danza de Mazatlán (Mazatlán, Mexico) and is currently a 2019-2021 Fresh Tracks resident artist at New York Live Arts.
heathinprogress.com
Rohan Bhargava
Emerging Asian American Dance Artist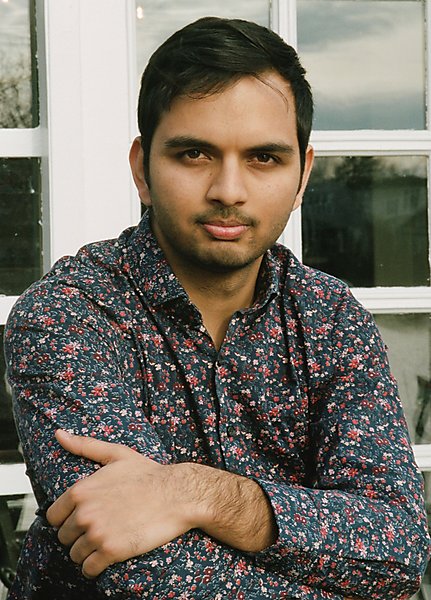 Rohan Bhargava was born and raised in New Delhi, India where he trained at the Danceworx Academy of Performing Arts before relocating to New York City for his BFA degree in Dance from NYU's Tisch School of the Arts in 2012. Featured as one of Dance Magazine's "Immigrants Who've Inspired Us," Rohan founded Rovaco Dance Company in 2015, with which he has showcased work at reputed venues such as Ailey Citigroup Theater (New York), Gaertner Center for Performing Arts (Texas), DeBaun Performing Arts Center (New Jersey), Truro Center for the Arts (Massachusetts), Brattleboro School of Dance (Vermont), and the Southern Theater (Minnesota).
Rovaco Dance Company has won "Outstanding Choreography" at Tamasha NYC, and the company has been commissioned by Mare Nostrum Elements, Rhythmically Speaking Dance, the Dance Gallery Festival, and the Alsop Entrepreneurship Award, which paired the company with composition students at Mannes School of Music. Additionally, Rohan has been a resident artist for the James Jay Dudley Luce Foundation, Dancewave, Sam Houston State University, and the CUNY Dance Initiative at LaGuardia Performing Arts Center. He currently works for Greater Ridgewood Youth Council, Kizuna Dance, Notes in Motion Outreach Dance Theater, and Peter and Co.
rovacodance.com
Shoey Sun
Emerging Asian American Choreographer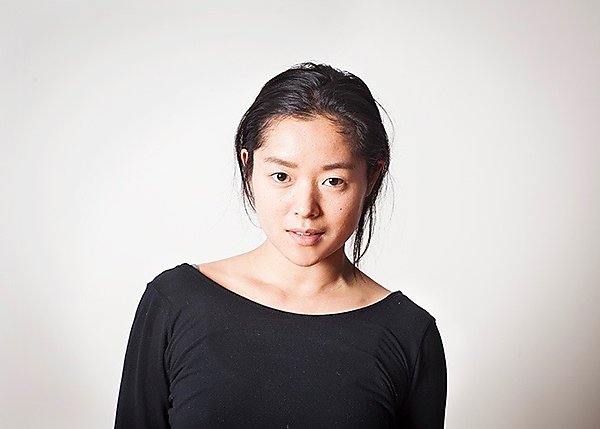 Shoey Sun was born in China and started piano lessons at the age of 4. She moved to Houston, TX when she was 8, where her parents encouraged her take dance lessons with renowned Chinese dancer/actress, Zhou Jie at J&L Dance School. Falling in love with dance, she continued her studies at Princeton Ballet School and Pennsylvania School of Performing Arts when her family moved to the East Coast.
Going against the grain, Shoey decided to pursue a major in Political Science with a minor in Chinese Language at New York University. During her time at NYU, she co-founded EPIC Motion Dance, an extracurricular hip hop dance team that has evolved to an artist-run entity now celebrating its 10th year, and has been a nurturing home to over 150 dancers. After graduation, Shoey pursued her dance/choreography career full-time. She is featured in shows for Icona Pop, Pharrell, McQ by Alexander McQueen, APAP Dance Festival, and has studied and worked with choreographers Rhapsody James, Fatima Robinson, Brice Mousset, Dana Foglia, Nadine Bommer, and others.
In 2015, she co-founded | vessels |–a project based movement-theatre company–with long-time collaborator Kris Seto. Their work has been featured in Mare Nostrum Element's Emerging Choreographers Series, White Wave Dance Festival, Idaco NYC dance festival, New York Fashion Week, and INSITU Dance Festival. | vessels | is a recipient of the 2018 CUNY Dance Initiative grant. Shoey is a dance lecturer at LaGuardia Community College.
vesselsmove.com
Jesse Obremski
Emerging Asian American Dancer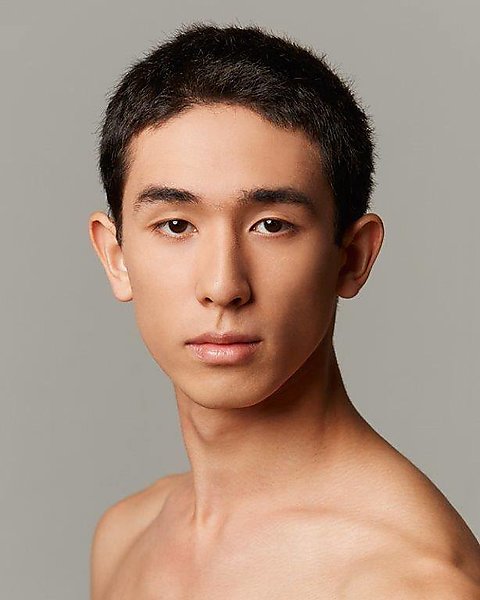 Jesse Obremski, a native New Yorker, has been described by DanceTabs as one who dances "with fluent simplicity" and "quiet understanding." He started training at The Ailey School and graduated from Fiorello H. LaGuardia High School. In 2016, Jesse graduated from The Juilliard School, under the direction of Lawrence Rhodes, where he earned his Bachelor of Fine Arts. Jesse is an Eagle Scout Rank recipient (2010), a Father Fame Awardee (2012), and a "Dancer to Watch" by Interview En L'air (2017). He has also attended Springboard Danse Montreal, Earl Mosley's Institute of the Arts (EMIA), and Jacob's Pillow's Contemporary Program. Jesse has been Diversity of Dance Inc.'s lighting designer and stage manager for multiple events as well as stage manager for MOVE(NYC) events since 2016. He has been featured in Dance Mogul magazine (2014), The Dance Enthusiast *(2018), *The Juilliard Journal (2019), Dance Magazine's March Dancer "On The Rise" (2019), featured in Terese Capucilli's film Lawrence 'Reed' Hansen: The Sacrosanct Accompanist, and Jesse is also a Board Member of Diversity of Dance Inc. He enjoys photography, arts administration, stagecraft, and cooking.
jesseobremski.com
Takehiro Ueyama
Emerging Asian American Choreographer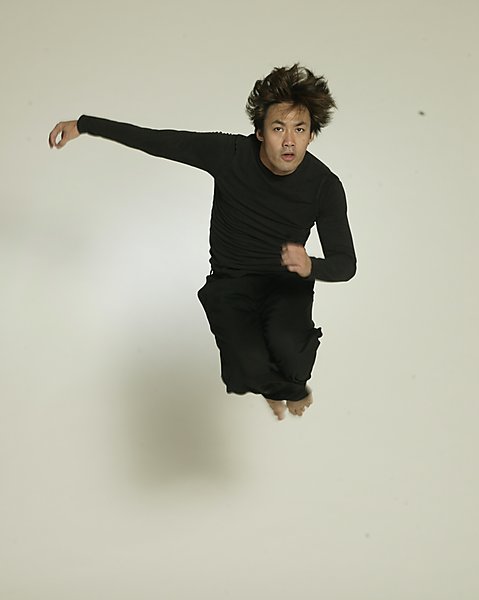 Born and raised in Tokyo, Japan, Takehiro "Take" Ueyama moved to the United States in 1991 to study dance at the Juilliard School in New York City. Upon graduation, he was invited to join the Paul Taylor Dance Company, touring the world with them for eight years.
In 2003, Ueyama debuted his first choreographic work, Tsubasa, performed with fellow Taylor dancers at the McKenna Theatre at SUNY New Paltz, NY, and in 2005 founded TAKE Dance. He has performed repeatedly as a guest artist with Kazuko Hirabayashi Dance Theatre. His television and film credits include PBS's Dance in America series (with the Taylor Company), Acts of Ardor, and Dancemaker, a film by dancer/choreographer Matthew Diamond.
Having been a baseball player in Japan before fully committing to dance, Ueyama's work blends both eastern and western sensibilities. Containing both powerful athleticism, as well as traces of his Japanese heritage by employing delicate gestures, his repertoire has been inspired by the beauty in nature, the duality of darkness and light in the universal human condition, and the humanity and compassion in day-to-day living. These elements, combined with his various partnerships and collaborations with artists of other genres, lend diversity to movement, music, and subject matter. Described as both sensitive and exciting, Ueyama's choreography ensures a place for the heart on any stage it appears, a feast for the eyes, mind and soul; it is uniquely, "TAKE."
takedance.org
Daisuke Omiya
Emerging Asian American Dancer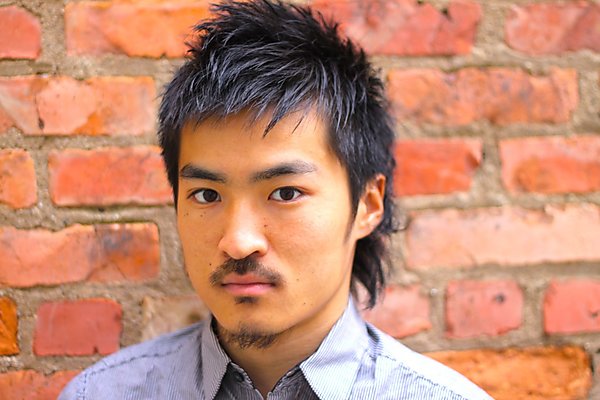 Daisuke Omiya, New York based Dancer, has been performing, teaching, and choreographing for over 7 years. Born in Gifu, Japan, Daisuke started tap dancing when he was 16 years old. After graduating from high school, he moved to New York City to become a professional tap dancer.
He studied with master teachers, including Savion Glover, Derick K Grant, Barbara Duffy, Dianne Walker, Jason Samuels Smith, Dormeshia Sumbry - Edwards, Omar Edwards, Chole Arnold, and Kazunori Kumagai, and immersed himself among tap jams which helped him to polish his craft.
His extraordinary tap skills were soon recognized and he was recruited to work with Derick K Grant as part of the member "ZEN" from March 2007 to September 2008, and continued to work with Grant in many performances. He has spent much of his time pursuing his tap career. He started studying contemporary dance and modern dance in 2009. He trained with Max Stone, Nathan Trice, and Karen Gayle. In 2011, he joined Maija Garcia's company, Organic Magnetics, and performed at The Kitchen. Daisuke has been part of the creation and performance of works by Maija Garcia, Nathan Trice, Bran Arias, and many others. In 2016, Daisuke began performing with the New National Theatre Tokyo.