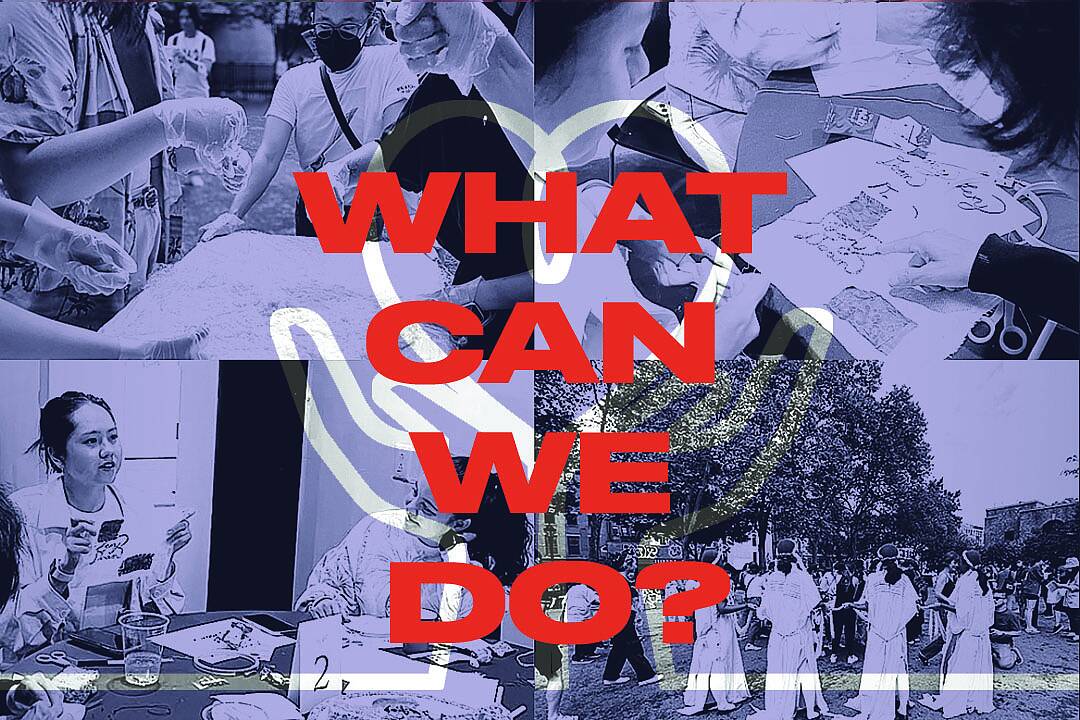 Community Event
What Can We Do?: AAPI Community Care Project Share Out
Thursday, October 6, 2022
6:30 – 8PM
The Asian American Arts Alliance (A4) is excited to showcase the projects of our inaugural What Can We Do? micro-grant awardees. In August and September, 30 artists carried out creative projects showing care to the AAPI community in New York City.
Join us as we celebrate these artists, their projects, and their contributions to the community!
The artists include:
Karesia Batan • Audrey Thao Berger • Rob Chen • Annika Cheng • Prisca Choe • Esther Choi • Anjali Deshmukh • Carolina Do • Paul Jochico • Karen Kang • EunHea Kim • Alison Kuo • Dana Leong • Laura Li • Nancy Ma • Janggo Mahmud • Beata Moon • Mischelle Moy • Tati Nguyen • Philip Poon • Melisa Tien • Cindy Trinh • Noah Wang • Hong-Ling Wee • Ryan Lee Wong • Wynton Wong • Xiaoyin Xie • Jing (Ellen) Xu • Jennifer Betit Yen • Sammy Yuen
Their projects varied widely in scope, discipline, and location. Examples include:
Sewing circle for Chinatown, Manhattan community members led by Karen Kang
Filipino folk dance demonstration and workshop with live music in Little Manila, Queens, led by Karesia Batan
Zen meditation workshops in conjunction with Communities Resist!, led by Ryan Lee Wong
Each artist will have five minutes to present their project, its impact, and photographs from the community engagement. We will also announce details for our next WCWD? cohort. Following the presentations, there will be time to mingle. Pizza and drinks will be served.
This event is FREE and open to the public.
We're excited to see you in-person and welcome you back to our space in DUMBO after a long hiatus due to COVID-19. To keep everyone safe and healthy, we ask that you respect the following COVID-19 Guidelines in our space:
RSVPs are required to help us prepare and ensure spaciousness and safety;
We require that attendees are fully vaccinated, and remain masked indoors at all times. If you are presenting or pitching work, you may remove your mask for the duration of your presentation;

We encourage attendees to take a rapid test before attending the event, and to stay home if you are feeling unwell, experiencing symptoms of COVID-19, or have been exposed to anyone who has tested positive within 7 days of the event.

A4 Staff will be monitoring COVID rates in New York City leading up to the event and will confirm and communicate to all registrants whether or not the event will take place in-person at least three days before the event. If COVID rates are high, we will shift our program online to Zoom.
Note: The building is completely ADA accessible. If you need ASL interpretation, large print, or any other accommodations for this event, please email jlee@aaartsalliance.org at least one week before this event.
About What Can We Do?
The WCWD? program was created in response to the sharp increase in anti-Asian hate and violence during the pandemic that has caused many people to experience grief, anxiety, and fear. WCWD? not only empowers artists who may themselves feel helpless against the swelling tide of anti-Asian sentiment against the AAPI community, but also gives them a chance to find their place in the ecosystem of care through their talents and community connections while creating a circle of resilience. WCWD? was made possible with funding support from the Asian American Federation.
For a complete list of projects with dates and locations, or to learn more about the artists and the WCWD? program, click here.