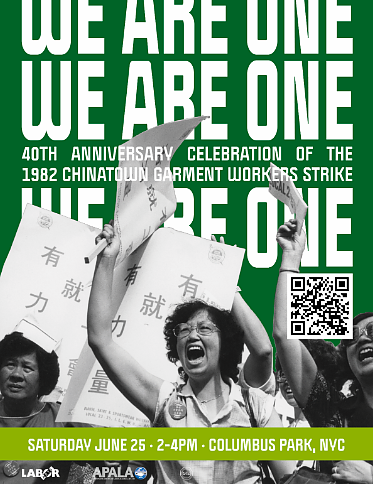 Community Event
We Are One: 40th Anniversary Celebration of the 1982 Chinatown Garment Workers Rallies
Saturday, June 25, 2022
2 – 4PM
Join us on Saturday, June 25th from 2-4pm for a commemoration of the 1982 Chinatown Workers Garment Union rallies.
A landmark moment in labor history occurred when 20,000 Chinese immigrant women workers from the garment factories of Chinatown went on strike for their union contract. This commemoration event in Columbus Park (South Basketball court on the corner of Mulberry and Worth Street), New York Chinatown (the location of the 1982 rallies) will include music, dance, children's activities and veterans speaking about the strike.
Organized by Local 23-25 Workers United, the WOW Project, LaborArts, City Lore, the NYC Central Labor Council, and the Asian Pacific American Labor Alliance, with support from the New York Labor History Association and the NYS AFL-CIO.