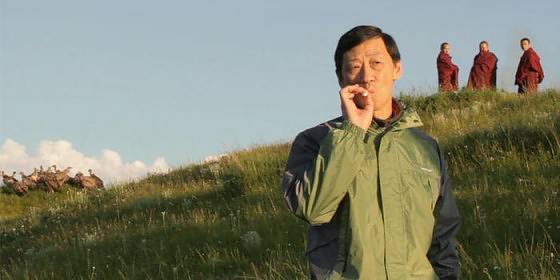 Vultures of Tibet & Tender (Double-Bill) -- Margaret Mead Film Festival Presentation
Saturday, October 25, 2014
7:30 – 9:30PM
Part of the 2014 Margaret Mead Film FestivalCo-presented by Margaret Mead Film Festival and Asia Society
Linder TheaterAmerican Museum of Natural HistoryCentral Park West at 79th StreetNew York, NY
Double-bill presentation:
Vultures of TibetDir. Russell Bushès | 2013 | 21 min. | U.S., Tibet, ChinaDirector in attendance
This deeply affecting film illustrates the ideological issues facing modern Tibet through the sacred funeral tradition of sky burial, in which Tibetans ritually feed their dead to wild Griffon vultures. Rampant commercialization of culture has led to visitors photographing and filming private ceremonies against families' wishes; a portrait emerges of a country caught in the crossfire of tradition and tourism.
TenderDir. Lynette Wallworth | 2014 | 73 min. | AustraliaU.S. premiere | Director in attendance
An hour south of Sydney in the industrial town of Port Kembla, the local community center embarks on a noble and atypical quest: to serve the townspeople with a not-for-profit funeral service. Disillusioned by costly and impersonal funerals that don't always embrace the wishes of grieving families, the vision was to bring the process of honoring the dead back to the community level. Flowers are hand-picked, coffins are hand-painted, and just as plans begin to proceed, the funeral home is unexpectedly confronted with the illness of one of their own. Featuring music from Nick Cave and Warren Ellis, Tender is a funny, beautiful, and life-affirming film that delves into the rituals of death with heartbreaking delicacy. DirectorLynette Wallworth returns to the museum after her 2011 premiere of Corals: Rekindling Venus, in which she transformed the Hayden Planetarium into an immersive undersea environment.
*Asia Society member discount: Call American Museum of Natural History box office at 212-769-5200 and mention Asia Society for tickets at member rate ($10).
Tickets are available at: http://asiasociety.org/new-york/events/vultures-tibet-tender-double-bill
Organized by
Museum of Natural History, Asia Society
Contact
printern@asiasociety.org