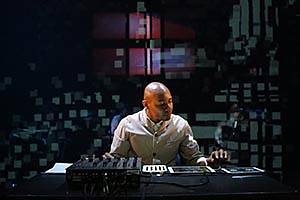 Electric Imaginary, with Paul D. Miller aka DJ Spooky
Saturday, October 25, 2014
8 – 9:30PM
Composer, multimedia artist, and writer Paul D. Miller aka DJ Spooky, and guest artists perform Electric Imaginary, a virtual cello quartet/installation based on Charlotte Moorman's collaborations with Nam June Paik in his early multimedia experiments. This new interpretation of Nam June Paik's work includes live and pre-recorded video footage. The evening will also feature selections from Seoul Counterpoint. Commissioned by Seoul Institute of the Arts in 2014, Seoul Counterpoint is a composition that explores the resonance of the new urban landscape of Seoul in juxtaposition with New York. Equally inspired by Nam Jun Paik in this work, Miller collaborates with New York-based technology and art collective CultureHub to juxtapose a new urban landscape in sound and image.
Nam June Paik once said "the future is now." His work has been highly influential on many artists over the last decade and for the Asia Society Museum exhibition Nam Jun Paik: Becoming Robot (on view September 5, 2014 through January 4, 2015), Miller pays homage to the work of this important artist with a group of digital media compositions that reflect the complex connections of modern, 21st-century art and music.
Featuring:
Paul D. Miller aka DJ Spooky, Composer/iPadAshley Bathgate, celloRami Seo, kayagŭmMiriam Parker, danceMr. Reed, poetryCultureHub, video
Seoul Counterpoint was originally produced by La MaMa in association with CultureHub, and created with the support of the Seoul Institute of the Arts.
Tickets are available at: http://asiasociety.org/new-york/events/live-disruptions-nam-june-paik
Organized by
Asia Society
Contact
printern@asiasociety.org