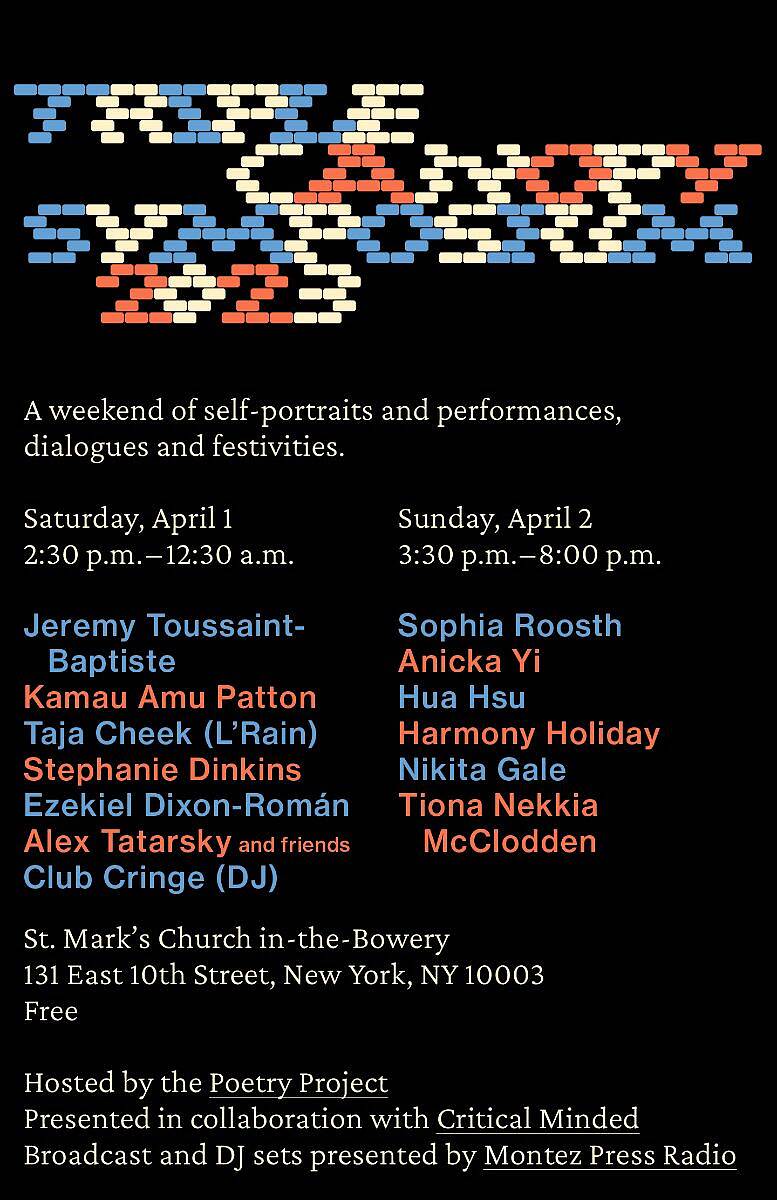 Community Event
Triple Canopy Symposium
April 1 – April 2, 2023

Triple Canopy Symposium hosts a weekend of self-portraits and performances, dialogues and festivities, hosted by the Poetry Project and presented in collaboration with Critical Minded.
Montez Press Radio will broadcast the symposium, and Bạn Bè will sell baked goods.
Saturday, April 1
2:30 p.m.: Unmarked Car, Part 1, with Jeremy Toussaint-Baptiste
A brief performance for … and Drive Far Away (2022), Toussaint-Baptiste's mobile sculpture in the form of an unmarked police car outfitted with ultra-low-frequency subwoofers. (Toussaint-Baptiste will perform in front of St. Mark's Church.)
3:00 p.m.: Crowd Control, with Jeremy Toussaint-Baptiste, Kamau Amu Patton, and Taja Cheek
A conversation about turning an unmarked cop car into a mobile sound system, musical instrument, and personal history—and about sound as a means of repulsion or protection.
5:00 p.m.: Algorithmic Apparitions, with Stephanie Dinkins and Ezekiel Dixon-Román
A conversation about the expressions and perspectives that haunt generative AI tools—and what to do with uncanny simulations of humanity, whether in art or governance.
6:30 p.m.: Unmarked Car, Part 2, with Jeremy Toussaint-Baptiste and Kamau Amu Patton
Performances of compositions for … and Drive Far Away (2022) in front of St. Mark's Church.
8:00 p.m.: How to Be Yourselves, with Alex Tatarsky, Emily Allan, The Illustrious Pearl, Spike Einbinder, and Shane Riley
An evening of drag, music, comedy, and conversation devoted to alter egos.
9:30 p.m.–12:30 a.m.: 2023 Symposium Party
DJ sets and piano interludes by Club Cringe, presented by Montez Press Radio.
Sunday, April 2
3:30 p.m.: Liquid Assets, with Sophia Roosth and Anicka Yi
A primer on sperm shopping and conversation about biotech-fueled "procreative fantasies."
5:00 p.m.: Ticket Master, with Hua Hsu
A monologue and listening session about formative concerts, from San Jose house shows to Lollapalooza to bootlegs traded on primitive online forums.
6:00 p.m. The Grift Machine, with Harmony Holiday, Nikita Gale, and Tiona Nekkia McClodden
A conversation and listening session led by Holiday about grief and grift in Black music, and the pressures and payoffs of performing one's supposed identity.