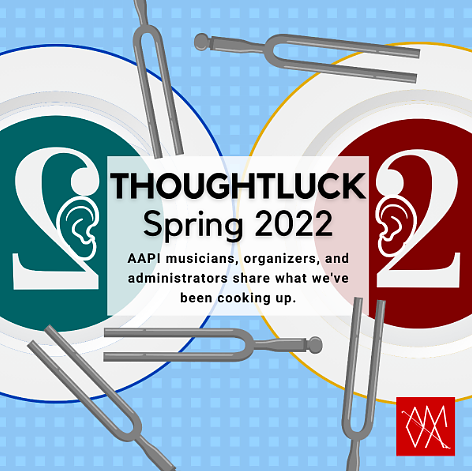 Panel Discussion/Talk
Thoughtluck
Monday, May 23, 2022
6 – 8PM
YOU'RE INVITED TO THOUGHTLUCK!
March 11 at 7 PM EST (6CT/5MT/4PT) on Zoom
April 11 at 7 PM EST (6CT/5MT/4PT) on Zoom
May 23 at 7 PM EST (6CT/5MT/4PT) on Zoom
You're invited to AMVA's Last ThoughtLuck of the Season!
Come as you are or bring a dish to share with others. This spring, we're doing something a little different for our gatherings–we're framing and grounding our discussions on race, identity, classical music, and the arts, in creative acts engaged by AAPI musicians, artists, arts administrators, and scholars.
It will feature two to three works being done on the ground by AAPI creatives. We're so excited to have Keiko Tokunaga share on the upcoming ThoughtLuck about Interwoven, a multi-cultural ensemble whose mission is to integrate the sounds of East and West, as well as Old and New.
Sign up to get a taste of the amazing things people are doing or to share your work which can be a talk, video, audio, live performance, and more. These works can be related to the AAPI experience or not. We would just love them to be shared from an AAPI/BIPOC perspective. It will be followed by a discussion that includes exchanging resources and ideas, networking, and making connections. Pour a drink for yourself and join us!