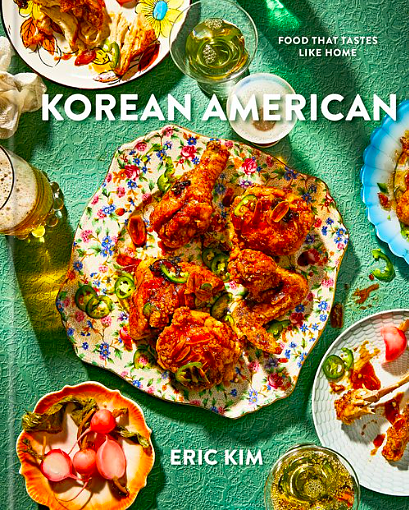 Panel Discussion/Talk
Shooting and Styling a Korean American Cookbook
Monday, May 23, 2022
7 – 8:30PM
How do you shoot and style a cookbook that accurately reflects the author's writing and story, especially when that story is an intimate expression of the author's connection to food, family and heritage? What goes into making a shot list, sourcing props and cooking 100 recipes for a cookbook shoot?
Cookbook writing is a beast, but creating the art is a carefully orchestrated symphony of moving parts.
Join us for an evening with New York Times columnist and cookbook author Eric Kim as he moderates a panel with his creative team, Jenny Huang (photographer), Beatrice Chastka (prop stylist) and Tyna Hoang (food stylist) on what it took to make the NY Times bestselling Korean American: Food That Tastes Like Home.
Tickets include a soju cocktail featuring West 32 Soju and tastes of the Fried Chicken, Crispy Smashed Potatoes with Sour Cream, and Black Sesame Rice Cake from Korean American.
This is an in-person event. Tickets must be purchased online in advance. Tickets will not be available for purchase at the door.
You must show photo ID and proof of COVID vaccine to attend this event.
Doors open at 6:30pm ET. Program begins promptly at 7:00pm ET. 21+.
Korean American: Food That Tastes Like Home by Eric Kim is available for order with your ticket. Your book can be redeemed and signed by the author at the event. You can also purchase a book at the event from our partners, Kitchen Arts & Letters.
ERIC KIM
ERIC KIM is a New York Times staff writer born and raised in Atlanta, Georgia, and the author of Korean American: Food That Tastes Like Home (Clarkson Potter, 2022). He worked his way through the literary and culinary world to eventually become a digital manager at Food Network and a senior editor at Food52, where he amassed a devoted readership for his "Table for One" column. He now hosts regular videos on NYT Cooking's YouTube channel and writes a monthly column for The New York Times Magazine. A former contributing editor at Saveur, Eric taught writing and literature at Columbia University, and his work has been featured in The Washington Post, Bon Appétit, and Food & Wine. He lives with his rescue pup, Quentin Compson, in New York City.
BEATRICE CHASTKA
Beatrice Chastka is a prop stylist and set designer based in Brooklyn and Bedford, New York. When not on set, Bea enjoys traveling, spending time in the great outdoors, puttering around in her greenhouse and garden, and losing herself in the black hole that is Live Auctioneers. Her clients include Allure, Amazon, Bon Appetit, Dior, Elle Decor, Harper's Bazaar, Moda Operandi, Sephora, The New York Times, and The Wall Street Journal.
TYNA HOANG
Tyna Hoang is a Vietnamese-Texan food stylist splitting time between New York and L.A. Her background is in graphic design and has many years in kitchens as well. Beyond being on set, she develops recipes for selected clients and enjoys exploring her heritage by way of hosting Em Oi, a curated Vietnamese culinary experience.
Tyna's work spans the spectrum from commercial and print, to broadcast and commissioned conceptual projects. Her work has been featured in Bon Appetit, Wall Street Journal and Saveur among many others. She's worked on several best seller cookbooks for Chrissy Tiegan, Pepper Thai, Julia Turshen, and of course, Eric Kim's Korean American.
JENNY HUANG
Jenny Huang is a NYC based photographer whose work spans lifestyle, food, still life, and travel. Her photography has been featured prominently in The New York Times, Food and Wine, Bon Appétit, The Wall Street Journal, Harper's Bazaar, and many others. Jenny shot the best selling Xi'an Famous Foods cookbook, The Pepper Thai Cookbook, and Korean American, the debut book of NYTimes columnist Eric Kim. Her work is instantly recognizable for her expert use of fun colors and a visual storytelling style that brings her subjects to vibrant life. Born in Sichuan, China, Jenny immigrated to the US at the age of seven and spent her formative years in New Orleans. After college, she moved to NYC where she now lives with her partner, Tom and her three kitties.
WEST 32 SOJU
West 32 Soju is the first all natural, gluten-free soju in the U.S. West 32 Reserve is the first and only U.S. made barrel-aged soju. West 32 Soju is a take on the traditional Korean spirit that is true heritage, but with a modern American craft influence.
DEMO KITCHEN BY ACE HOTEL BROOKLYN
A well-appointed canvas for culinary and community engagement, Demo Kitchen by Ace Hotel is a locus of epicurean culture — dedicated to cooking, connection and above all, community. A light-filled space with floor to ceiling windows, Demo Kitchen features an induction cooking station from Kaliber Innovations, an array of state-of-the-art audiovisual production equipment, and is furnished with custom oak classroom and dining tables crafted by Finnish furniture design collective Made By Choice. Demo Kitchen has capacity for 96 people and is also available for private rental.
WANT TO STAY AT THE ACE HOTEL BROOKLYN?
Use the code "MOFAD" to receive approximately 10% off the Hotel's best available rate, only at the Ace Hotel Brooklyn. Book here.
KITCHEN ARTS & LETTERS
Kitchen Arts & Letters is a bookstore devoted to food and drink, with titles imported from around the world. They emphasize works on food culture and innovation.