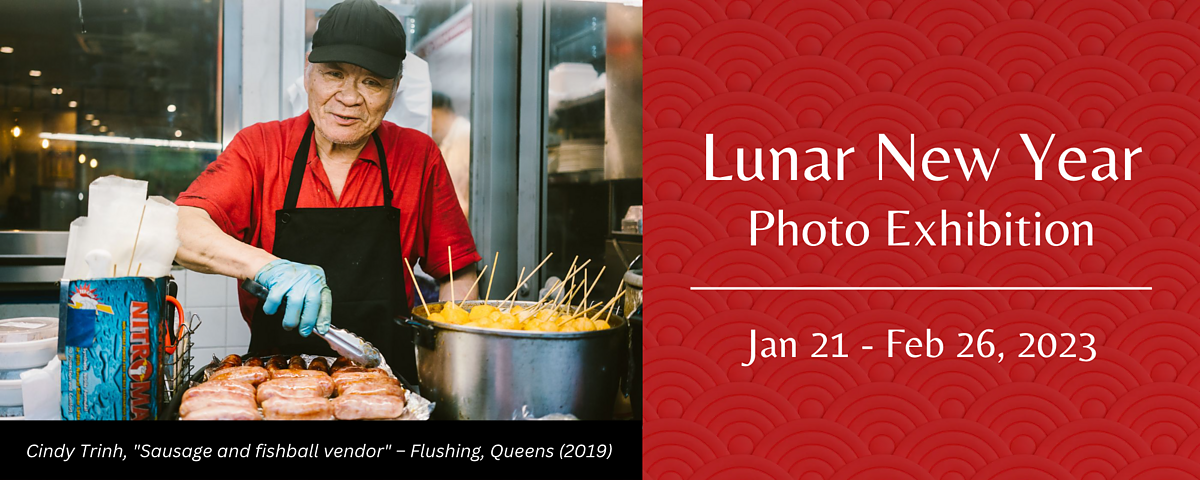 Exhibition
"This is Home": Lunar New Year 2023 Photo Exhibition
January 21 – February 26, 2023
12 – 5PM
This Is Home tells stories of the AAPI community in New York City and abroad: how they live, work, love, and when needed, stand up for what they believe.
While the Lunar New Year is a celebration of renewal with hearts full of hope for health and prosperity in the year ahead, the photographers exhibited here show there is also beauty in the daily lives of this community, in the city they call home.
Flushing-born Janice Chung crafts a love letter to her home neighborhood in her series "Han in Town," celebrating the community that has raised and supported her, making sacrifices for the next generation of Korean Americans. NYC-based photographer and activist Cindy Trinh is a child of Vietnamese refugees, and uses her photos to show life in Manhattan Chinatown and Flushing: vendors and shopkeepers at work, as well as to highlight the protests over the past few years, where Asians and Asian Americans have organized to stand up against the violence and racism their community have faced.
Photographer and director An Rong Xu was born in China and raised in Manhattan Chinatown. His series "My Americans" tells the stories of Chinese Americans who have fought to keep their culture, hopes and dreams alive while building a new life in a foreign land. Selections from Xu's "New Romantics" creates emotional narratives to reflect on our relationship to this world, and what we've learned through love, loss, and the human connection.
The past few years have been difficult with increased violence and racism against Asian American in New York City during the pandemic. This exhibition celebrates the AAPI community's resiliency in the face of those challenges and to borrow from one of the protest signs pictured, We Are Stronger Together.
About The Artists
Janice Chung is a Korean American photographer born and raised in Queens, New York City. Through her work, Chung amplifies and deconstructs her Korean American heritage by capturing moments that are deeply personal. In doing so, she sheds light on the intricate details of immigrant and diasporic life while straddling the two places she calls home, New York and South Korea. Chung's work has been featured in publications such as New York Magazine's The Cut, Vogue, and Booooooom. Select clients include The New York Times and New York Magazine.
Cindy Trinh is a New York based photographer and photojournalist who is passionate about art and social justice. Her work has been exhibited by the Museum of the City of New York, Asian Americans for Equality, Amnesty International USA, .Mic, The Indypendent, Epoch Times (China) and The New York Daily News.
An Rong Xu is a New York City and Taipei based photographer and director. Born in China and raised in New York City's Chinatown, Xu explores the world around him through his unique cultural perspective. Xu's work is rooted in the beauty of the ordinary, capturing a rich cinematic stillness in his photography and a passionate ethereal journey in his films. Bringing with him a vision for creating emotional narratives, Xu shares a deeper look into the lives of his subjects with a sense of trust and candor, shown through personal moments and words unspoken. Xu has photographed and directed for publications and companies such as, The New York Times, The New Yorker, National Geographic, Rolling Stone, The History Channel, A&E, Gucci, Instagram, AirBnb, and Google.