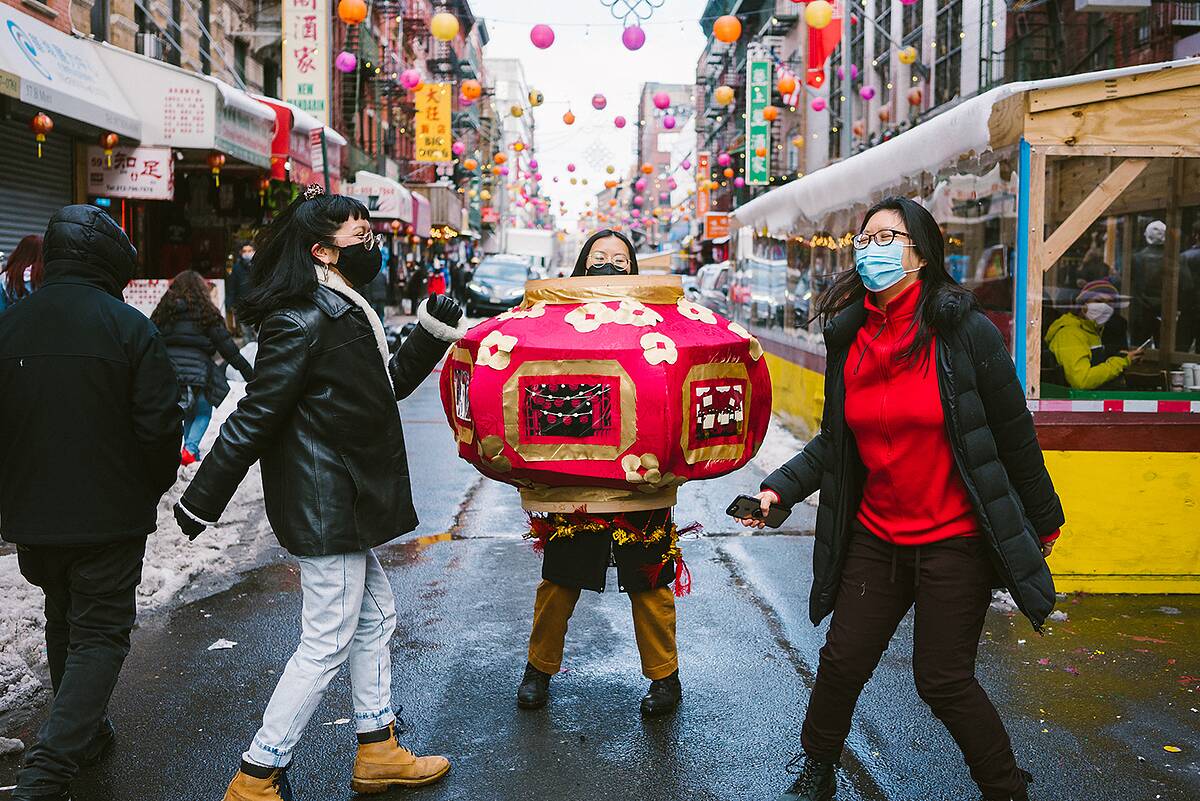 Community Event
Think!Chinatown's New Year Party at South Street Seaport
Saturday, February 5, 2022
1 – 4PM
About the event:
Think!Chinatown brings an intergenerational Lunar New Year celebration to the Seaport. YiuYiu will bring her special collection of vinyls from Chinatown to get us grooving to Canto- and Mando pop from the 60's, 70's, and 80's. Watch a master artisan demonstrate crafting traditional Chinese palm fiber decorations which will also be available for purchase. A curated collection of Lunar New Year decorations and cultural items from Grand Tea & Imports will be for sale, along with storybooks, stickers, and cards made by Think!Chinatown collaborations with API artists. Artist Rose Wong's giant lantern installation will be on the dance floor for good vibes and great photos for your New Year memories. This event is fun for the whole family, so come on by and celebrate with the Think!Chinatown family!
About Think!Chinatown:
Think!Chinatown 心目華埠 is an intergenerational non-profit based in Manhattan's Chinatown working at the intersection of arts, storytelling, and neighborhood. Join us for our free public programs such as Chinatown Arts Week, Chinatown Nights, Lantern Festival Artist Residency, API art exhibits and cultural events all through the year! For details on our free Lunar New Year events in Chinatown and all of our events, follow us at @thinkchinatown or sign up for our newsletter at www.thinkchinatown.org
About YiuYiu:
YiuYiu 瑶瑶 (aka Rochelle Hoi-Yiu Kwan) is a cultural organizer and DJ based on Lenape land in NYC's Manhattan Chinatown. Her work centers on engaging communities as our classroom and fostering intergenerational dance floors that celebrate art and history as powerful acts of resistance and resilience. @rochellehkwan
About Grand Tea & Imports:
Grand Tea & Imports 好茶水 is a retail and cultural anchor in the Chinatown community. We supply authentic Chinese teas and goods to a broad range of customers including immigrant households across the East Coast, Chinatown visitors, and recognized businesses. 298 Grand Street www.grandteaimports.com @grandteaimports
About MeiFang Shi:
The craft of palm fiber weaving 草編動物, which originated in the Three Kingdoms (220-280), has a history that spans more than 1,700 years. MeiFang Shi 使梅芳 inherited the art form from her family. She enjoys braiding animals and prices each art piece by the amount of time required to create them. Dragons can take over 2 hours while butterflies, frogs, or grasshoppers can be braided within 5 minutes by a master artisan.