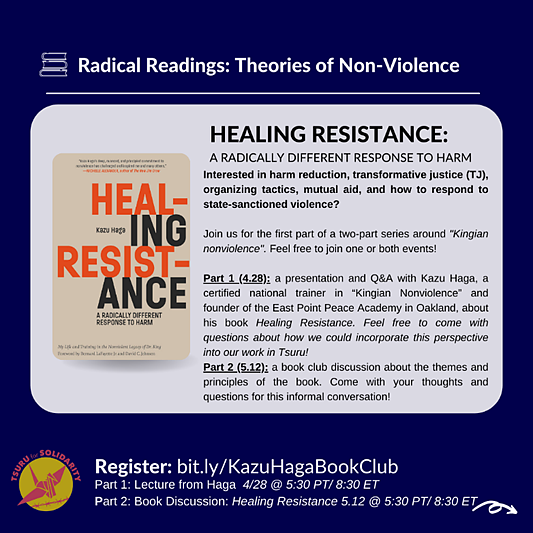 Workshop
Theories of Non-Violence, Healing Resistance -Part 2
Thursday, May 12, 2022
8:30 – 10PM
Last week, we hosted our the first part of our two part workshop series, "Theories of Non-Violence"! We were joined by the amazing movement leader, Kazu Haga. Where he gave profound insights lecture on MLK's legacy, "what is non-violence", and why these skills are so need within this current socio-political moment.
If you did not have the opportunity to join us, fret not! A recording of the lecture was uploaded to our very own Youtube Channel! You can view Haga's lecture and all of other educational program there!
Part 2 will be hosted on May 12th at 5:30 PM PT / 8:30 PM ET. We will be diving deeper into the concepts that Kazu highlight within his lecture via a book club of his book, Healing Resistance.
If are you yet to get your hand on the copy of the book, we can help!
Just fill out this form: https://bit.ly/TFSRadicalReadings