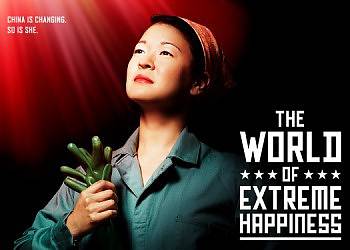 The World of Extreme Happiness
February 3 – March 29, 2015
All Day
The World Of Extreme Happiness
World premiere play by Frances Ya-Chu Cowhig Directed by Eric Ting
with Francis Jue, Telly Leung, Jennifer Lim, Jo Mei, James Saito, Sue Jin Song
China is changing. So is she.
Unwanted from the moment she's born, Sunny is determined to escape her life in rural China and forge a new identity in the city. As naïve as she is ambitious, Sunny views her new job in a grueling factory as a stepping stone to untold opportunities. When fate casts her as a company spokeswoman at a sham PR event, Sunny's bright outlook starts to unravel in a series of harrowing and darkly comic events, as she begins to question a system enriching itself by destroying its own people.
Critically acclaimed when it debuted in a workshop production at London's National Theatre, THE WORLD OF EXTREME HAPPINESS makes its world premiere in a co-production with Chicago's Goodman Theatre. "Hard-hitting and bruisingly funny" (Time Out London), this epic new drama by Frances Ya-Chu Cowhig is as fierce and unflinching as the world it examines. Eric Ting directs.
Alliance Members can enjoy a special discount for Wednesday 25th March's Alliance in Conversation Program. Use code 14930 to get discounted $30 tickets for the evening performance. You can purchase ticketshere.
Tickets may also be purchased at the theatre (131 West 55th St) or on the phone (212-581-1212) with code: COSR
Tags
Organized by
a4 - Network Admin