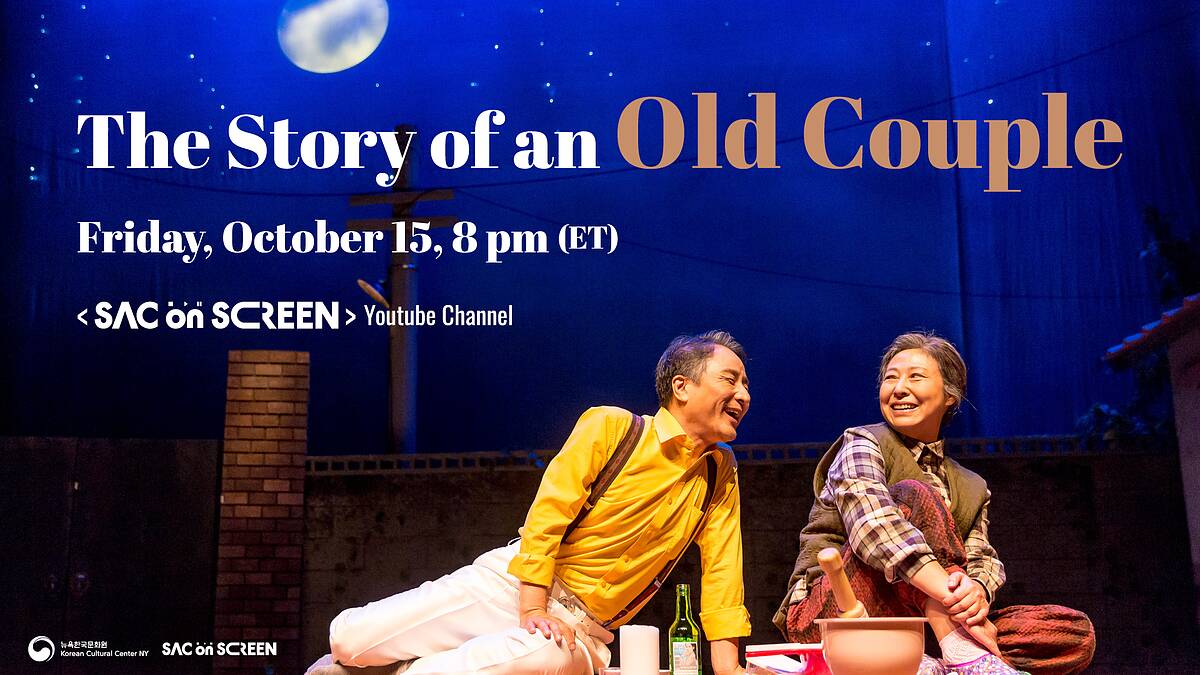 Screening
"The Story of an Old Couple" Online Streaming
Friday, October 15, 2021
8 – 9:30PM
"The Story of an Old Couple" Online Streaming presented by the Korean Cultural Center New York with the Seoul Arts Center
Friday, October 15, 2021, 8 pm (ET)
Watch HERE: https://youtu.be/-6ew_Q8fkV8
No Ticket or RSVP Necessary
Performance is in Korean with English subtitles. ** This performance is suitable for ages 12 and above
In special sponsorship by the Seoul Arts Center (SAC), the Korean Cultural Center New York presents an online streaming of the play, "The Story of an Old Couple" on October 15 at 8 pm (ET) through Youtube channel of SAC on Screen.
"The Story of an Old Couple" is a play about two elderly people, the mischievous Dong-man and foul-mouthed Jum-soon who fall in love, go on dates, and spend their days together.
The story begins with Dong-man's visit to Jum-soon's house to rent a room. Dong-man, who lost his wife two decades ago, tries to win the heart of Jum-soon, who lost her husband 30 years ago and has raised three daughters on her own – and the two eventually fall in love.
It may not be the fiery romance of a "first love," but the story of their "last love" as the two walk through their sunset years together, is certainly deeper, even sweeter.
As they share the small joys of everyday life and the pains of seeing loved ones go together, their story is not just a love story between two elderly people, but one that is relatable on a human level, across all generations. What is left behind is a lingering feeling of a gentle love that all can empathize with.