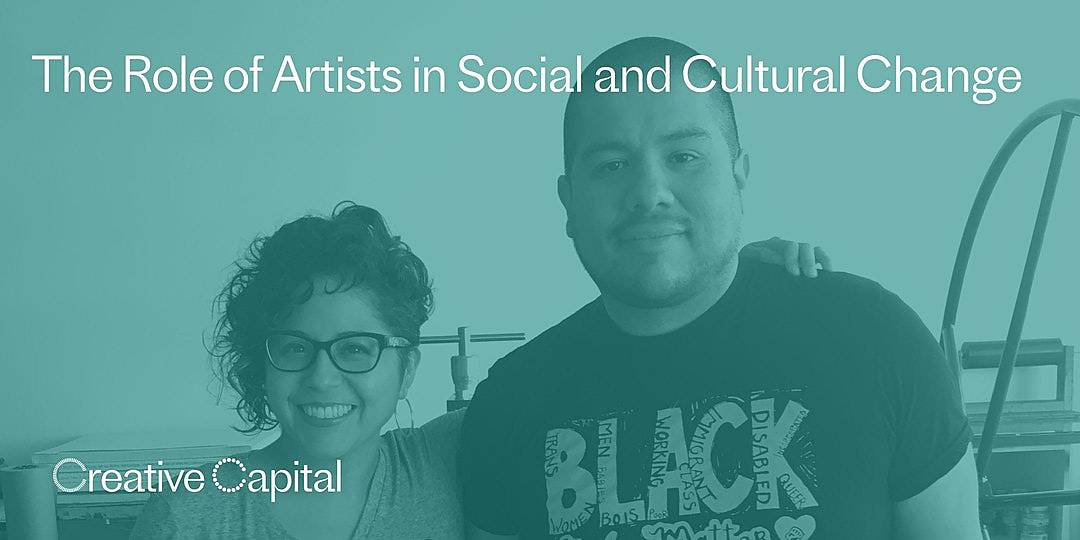 Workshop
The Role of Artists in Social and Cultural Change
Tuesday, July 14, 2020
4 – 5:30PM
Hosted by Creative Capital
In this free online workshop, artists and activists Favianna Rodriguez and Julio Salgado will provide an overview of the role of artists in powering social and cultural change. This workshop is designed to inspire artists and to let them see and recognize their superpowers to create social change while building community. This workshop provides concrete examples of how to create change through art and reveals how systemic inequities are currently reinforced by a manufacturing system that creates monoculture under the white male gaze.
Watch the video on Tuesday, July 14 at 4:00pm ET on YouTube.
Favianna Rodriguez
Favianna Rodriguez is the co-founder and president of The Center for Cultural Power, a national organization investing in artists as agents of positive social change. She is an award-winning artist, cultural strategist, and social movement leader who partners with progressive advocacy groups to design effective cultural campaigns. A strategy advisor to artists of all genres, Favianna is regarded as one of the leading thinkers uniting art, culture, and social impact. Her projects include creating art for Ben & Jerry's, partnering with Jill Solloway to create 5050by2020.com, and facilitating artist delegations to the US-Mexico border. She is a recipient of the Robert Rauschenberg Artist as Activist Fellowship, the SOROS Racial Equity Fellowship and the Atlantic Fellowship for Racial Equity.
Julio Salgado
Julio Salgado is an interdisciplinary visual artist, co-founder of DreamersAdrift.com, and is the Pop-Migrant Storytelling Manager at The Center for Cultural Power. His activist artwork has become a staple of the migrant rights movement; social justice organizations, undocumented migrants, queer communities, and allies across the country have used his artwork to demand human rights and justice. His identities as an undocumented, queer, and migrant artivist have fueled his artworks and video shorts, which depict the stories, values, and demands of a growing, youth-led immigrant movement. Salgado's creative work is an urgent call to end unjust immigrant detention and deportation, and his productions on themes of racial justice and people of color representation in media has been praised by Paper magazine, Cosmopolitan, and the Huffington Post. Salgado is currently developing a 30 minute dramedy for TV about undocumented millenials with fellow DreamersAdrift.com founder Jesus Iñiguez.