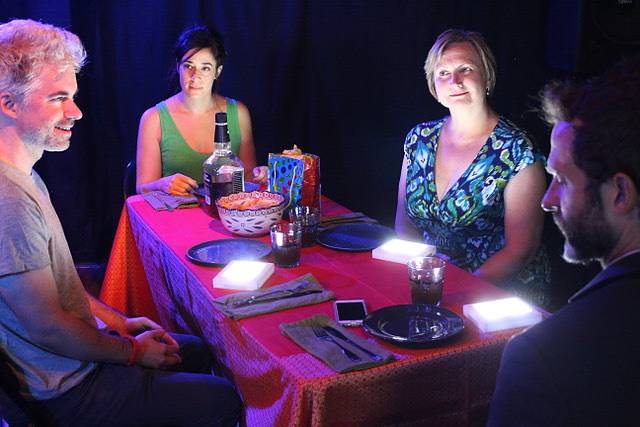 The Intimacy Effect
September 28 – October 14, 2017
8PM
Title Point in conjunction with Propinquity presents The Intimacy Effect by Jeff Tabnick at Vital Joint, 109 Meserole Street, Brooklyn, NY, from September 28 through October 14, 2017 at 8pm. Performances: Thursday, Friday, Saturday at 8pm. Doors open at 7:30pm, and there is no late seating. Tickets are $20; RSVP to info@vitaljoint.xyz.
In The Intimacy Effect, Matt Appel welcomes his brother and sister-in-law into his family's small apartment. Over his wife's objections, Matt tells them about the pregnant woman who showed up at their apartment the day before. This woman's allegations have serious ramifications for them all. The play weaves in and out of thoughts and actions, the past, the present and the future to explore the porous border between one person and another.
Directed by Eric Nightengale
With James Ball, Sarah Doudna, Jennifer O'Donnell, Richard Lovejoy and Ruth Nightengale
Jeff Tabnick's plays include I Found Her Tied to My Bed (Lightening Strikes and Strange Roads), Something Truly Monstrous (The Blank Theatre), An Idiot (Hangar Theatre), Tonight at Noon (workshops at EST, Telluride Playwright's Festival, Acme Theatre, Drilling Company) and Love in the Time of Bumblehive (workshops at Stage Left, The Blank, Stable Cable). His work has been included in collections published by BackStage Books and Smith & Kraus. His short plays have been presented in various venues across the country and in England, Spain and Japan.
Tags
Organized by
Michelle Tabnick Communications
Contact
info@vitaljoint.xyz