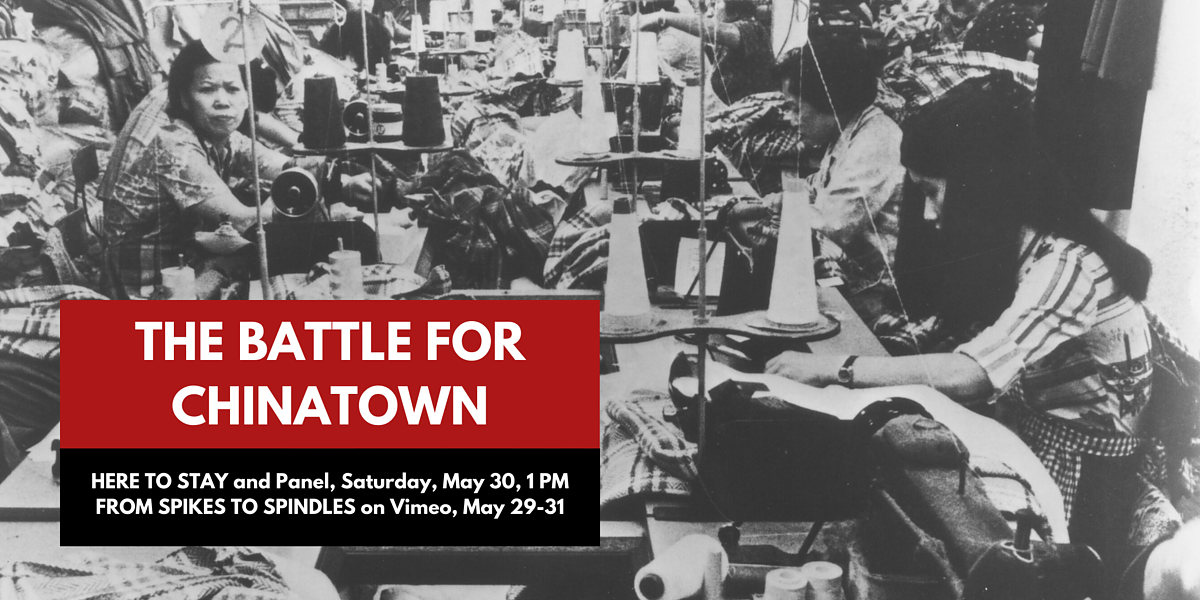 Screening
The Battle for Chinatown: Screenings and Panel
Saturday, May 30, 2020

To commemorate Asian Pacific American Heritage month and to raise awareness of the issues that continue to impact NYC's Chinatown and communities across the country, Third World Newsreel presents The Battle for Chinatown: Then and Now.
FROM SPIKES TO SPINDLES on Vimeo (May 29-31) and HERE TO STAY screening & talk with makers and Chinatown activists on Zoom (May 30, 1 PM). Links to both Vimeo and Zoom will be sent to those who RSVP for this event.
Christine Choy's film FROM SPIKES TO SPINDLES (1976) examines the history and struggles of NYC's Chinatown in the 1970s—racial discrimination, police brutality, dangerous working and living conditions and the efforts of the community to assert their rights. A Third World Newsreel production. Watch on Vimeo May 29-31.
ManSee Kong's HERE TO STAY (2008) follows the effort of an elderly resident with the Chinatown Tenant Union to fight to stay in his single room occupancy (SRO) place in the face of aggressive developers and landlords. A Third World Newsreel Workshop production. Watch on Zoom, May 30, 1 PM.
Filmmakers Christine Choy (Newsreel and Third World Newsreel) and ManSee Kong (TWN Workshop graduate and Chinatown Art Brigade co-founder), along with Kristin Chang of Wing on Wo & Co (WOW) and Emily Mock of CAAAV: Organizing Asian Communities will talk about past and present activism in Chinatown.
This event is being presented by Third World Newsreel, in collaboration with WOW, and the New York Public Library at Chatham Square, where this was originally scheduled to take place.
This series is supported in part by the National Endowment for the Arts and by public funds from the New York State Council on the Arts, and the New York City Department of Cultural Affairs in Partnership with the City Council.