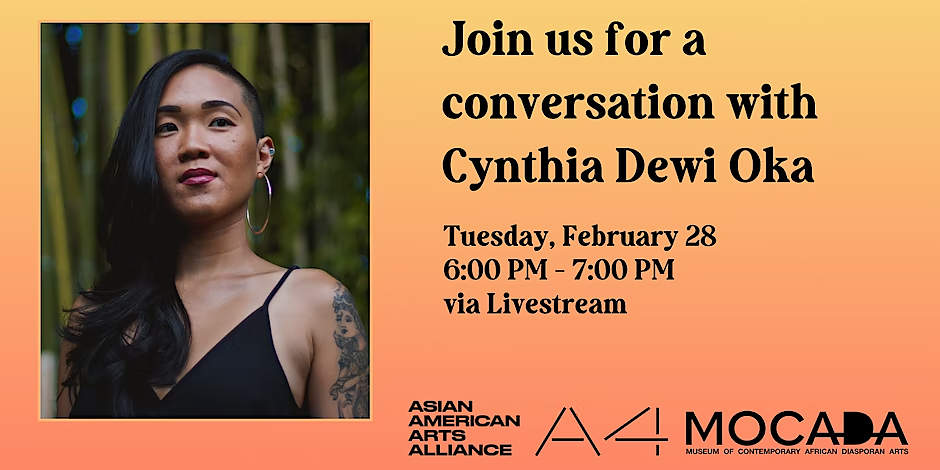 Panel Discussion/Talk
Social Justice Conversation: Cynthia Dewi Oka
Tuesday, February 28, 2023
6 – 7PM
About this Event
As part of the Bandung 2023 Residency, A4 and MoCADA will present a conversation with Cynthia Dewi Oka. She'll discuss her work in poetry, literature, and social justice.
We'll be livestreaming the event on the MoCADA website here: mocada.org/the-bandung-residency, and will post a recording of the event on A4's YouTube channel afterwards.
About Cynthia Dewi Oka
Cynthia Dewi Oka was born in Bali, Indonesia. When she was 10 years old, her family migrated to Vancouver, Unceded Coast Salish Territories. In 2012, she and her son migrated to the Greater Philadelphia Area, Lenni Lenape Land.
She is the author of A Tinderbox in Three Acts, a Blessing the Boats Selection chosen by Aracelis Girmay, published by BOA Editions in 2022; Fire Is Not a Country (2021) and Salvage (2017) published by Northwestern University Press; and Nomad of Salt and Hard Water, first published by Dinah Press in 2012, with a second edition of new and revised poems published by Thread Makes Blanket in 2016.
A 2021-2022 Poet in Residence at the Amy Clampitt House in Lenox, MA, she has been awarded the Leeway Foundation's Transformation Award, the Tupelo Quarterly Poetry Prize, and the Fifth Wednesday Journal Editor's Prize in Poetry. She is an alum of the Voices of Our Nations (VONA) Workshop and the Vermont Studio Center, and earned her MFA as a Holden Minority Scholar at Warren Wilson College. She serves as Editor-in-Chief of Adi Magazine and Poetry Editor at Kweli Journal.
Cynthia has taught creative writing at Bryn Mawr College and New Mexico State University, and literary/arts organizations including VONA, Murphy Writing of Stockton University, The Blue Stoop, and Asian Arts Initiative, with which she partnered in the aftermath of the 2016 election to offer Sanctuary: A Migrant Poetry Workshop for immigrant poets based in Philadelphia. She has served as a visiting Distinguished Writer at Widener University, and conducted workshops and readings at Babson College, Claremont McKenna College, The New School, New York University, Princeton University, University of Pennsylvania, New York University, Swarthmore College, Williams College, Vassar College, and others.