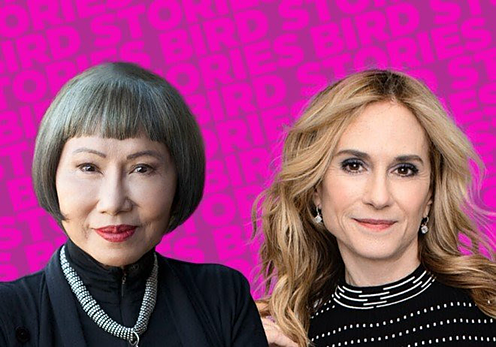 Performance
Selected Shorts: Bird Stories Hosted by Amy Tan
Wednesday, May 18, 2022
7:30 – 9PM
DATE |Wed, May 18, 2022 | 7:30pm
PRICES |Members: $29
Non-Members: $32
30 & Under: $17
THEATER | Peter Jay Sharp Theatre
Expected Run Time is 90 minutes
IN-PERSON AND LIVESTREAM TICKET OPTIONS AVAILABLE.
We are thrilled to be welcoming you to in-person events at Symphony Space! The health and safety of all are our top priorities. Symphony Space requires that all staff, artists, and patrons be fully vaccinated, and that everyone (except performers on stage) wear masks while in the building. Based on low infection rates in New York City, we are currently not requiring proof of a booster shot.
Bird is a verb and tonight we are looking at birds, not through binoculars, but on the page. Birds have influenced storytelling from the earliest folktales and fables; they are tricksters, messengers, and symbols of freedom and wildness. On this evening, actors Yetide Badaki (American Gods), Holly Hunter (Mr. Mayor), BD Wong (Awkwafina is Nora from Queens), and more perform short fiction about birds personified and birds as metaphor by authors Cristina Henríquez, Ben Loory, Heather Monley, and Mikkel Rosengaard. Author Amy Tan hosts and shares drawings of—and commentary on—the birds that inspire her to create.
Real-time captioning (CART) will be available in our theater for patrons with hearing loss, deafness, different language and learning needs, and anyone whose experience will be enhanced by CART. To access CART on your individual smartphone or tablet, please visit bit.ly/SymphonySpace_Captions.
Selected Shorts is a weekly public radio show broadcast on over 130 stations. The radio show is recorded live at the popular New York City stage show which began in 1985 and still enjoys sold-out performances in our 800 seat theater. Our greatest actors transport us through the magic of fiction, one short story at a time. Sometimes funny. Always moving. Selected Shorts connects you to the world with a rich diversity of voices from literature, film, theater, and comedy.
Recent readers include Ellen Burstyn, Kate Walsh, Bebe Neuwirth, Claire Danes, Michael Shannon, Kyle Maclachlan, LeVar Burton, Jane Curtin, Danielle Brooks, Cynthia Nixon, Rainn Wilson, Holly Hunter, Hugh Dancy, Joan Allen, Josh Radnor, Tony Shalhoub, Maggie Gyllenhaal, BD Wong and more.
Actors subject to change. Casting and special guests will be announced on our website so check for up-to-date information.
There will not be an intermission at this event.