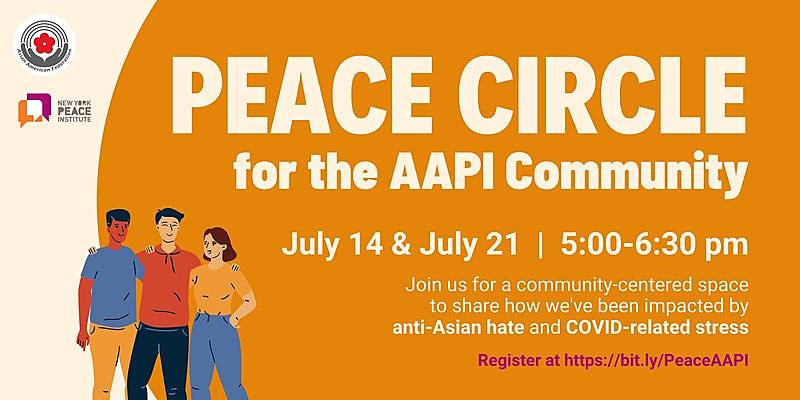 Community Event
Peace Circle for AAPI Community
Wednesday, July 14, 2021
5 – 6:30PM
Join Asian American Federation for a community-centered space to share how we've been impacted by anti-Asian hate and COVID-related stress
As the city moves towards recovery, we have more opportunities to take a pause and reflect on how we have been affected by the sustained period of stress, loss, and violence.
The Asian American Federation has partnered with the New York Peace Institute to offer a Peace Circle for the AAPI Community. Join us for a virtual, facilitated community space to share how you have been impacted by anti-Asian hate and COVID-related stress. Facilitators from the New York Peace Institute will guide an intimate group of participants through a 90-minute Talking Circle that will allow us to slow down, practice deep listening, and build community with one another.
The New York Peace Institute is an organization dedicated to helping others have difficult conversations to resolve their conflicts. In addition to Talking Circles, they provide mediation services, conflict coaching, and restorative justice processes.
To allow for more participation, each individual is limited to one ticket for one of the sessions. Registration is required.