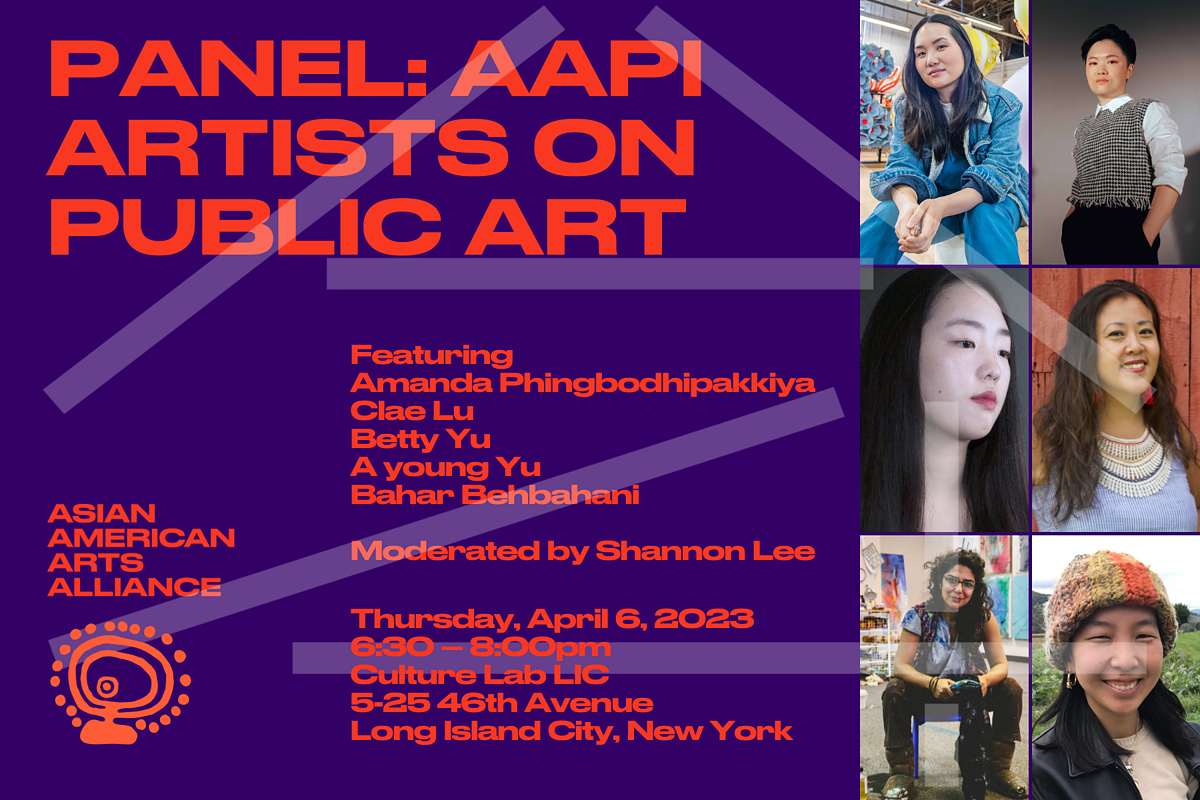 Panel Discussion/Talk
Panel: AAPI Artists on Public Art
Thursday, April 6, 2023
6:30 – 8PM
Asian American Arts Alliance (A4) is pleased to present a panel discussion among AAPI artists across disciplines and orientations towards public art to discuss their perspectives and process. The panel will include Bahar Behbahani, Clae Lu, Amanda Phingbodhipakkiya, A young Yu, and Betty Yu, moderated by Shannon Lee, editor of The Amp. There will be time for Q&A.
This is part one of a two-part series on public art. In June 2023, A4 will be organizing a professional development workshop for artists looking to pursue a public art project. Follow A4 (@aaartsalliance) or sign up for our newsletter to stay updated.
This event is FREE and open to the public. RSVP is required.
This location is ADA accessible. If you need ASL interpretation, large print, or any other accommodations for this event, please email jlee@aaartsalliance.org at least one week before the event.
Special thanks to Culture Lab LIC for donating their space for the event. We will be recording the panel discussion and posting to A4's YouTube channel afterwards.
Panelists:
A young Yu, artist
Amanda Phingbodhipakkiya, multidisciplinary artist
Bahar Behbahani, artist
Betty Yu, multimedia artist
Clae Lu, artist and musician
Moderator:
Shannon Lee, editor of The Amp
Bios:
About Amanda Phingbodhipakkiya
Amanda Phingbodhipakkiya is a multidisciplinary artist, educator, and activist based in Brooklyn, New York. Born in Atlanta to Thai and Indonesian immigrants, her practice spans sculpture, textile, large-scale murals, participatory installation, and public art campaigns. Her work examines the unseen labor of women, amplifies AAPI narratives, and affirms the depth, resilience and beauty of communities of color. Amanda's art has reclaimed space in museums and galleries, at protests and rallies, on buildings, highway tunnels, subway corridors, and on the cover of Time magazine. She was an artist-in-residence with the NYC Commission on Human Rights and created art in collaboration with the US Embassy in Thailand. She is a 2023 Jerome Hill Artist Fellow in Visual Arts and is building community archives of AAPI stories as part of civic practice residencies with the San Francisco Asian Art Museum and Poster House. Her work has been acquired by the Victoria and Albert Museum in London, the Museum of the City of New York, and the Library of Congress.
About A young Yu
A young Yu is a Korean American artist based in New York. Through performance, film, and site-specific installation, Ayoung re-imagines Korean pre-colonial spiritual practices to reflect personal and Asian American perspectives. Her work is not faithful to historical canon and transgresses older traditions, regenerating them within diasporic contexts and exploring themes of cultural heritage, race, sexuality, and migration. A young received her MFA from Columbia University and BFA from Rhode Island School of Design. She has exhibited and performed at venues including Cantor Arts Center, Stanford University; Museum of Arts and Design, NY; Christie's, NY; Canal Projects, NY; Elizabeth Foundation for the Arts, NY; Artist Alliance Inc., NY; LeRoy Neiman Gallery, NY; Time Square Space, NY; The Jewish Museum, NY; Fashion Institute of Technology, NY. She was also awarded the Artist In the Market (AIM) Fellowship by the Bronx Museum of the Arts, Individual Artist Fellowship by the Mid Atlantic Foundation of Arts, Session artist by Recess, and the Gold Prize by AHL Foundation. She has participated in artists residencies at Sculpture Space, Dongguk University, School of Visual Arts, and Catwalk Art Institute.
About Clae Lu
Clae Lu (吕皎) (they/them) is a queer, second-generation Han Chinese American from Queens, NY (unceded territory of the Lenni-Lenape). They identify as an artist, designer, cultural worker, and 古筝 (guzheng/Chinese zither) musician. Their work explores the power of arts in community to create spaces for conversation, reflection, and action. They have performed at the Metropolitan Museum of Art, MoMA PS1, Elsewhere, Brooklyn Museum, Movement Research, and Abrons Art Center. They were recently a resident at The International Studio & Curatorial Program (ISCP) as a recipient of The New York Community Trust's Edward and Sally Van Lier Fund and currently have a show on view called Playroom at ISCP through June 9, 2023.
About Betty Yu
Betty Yu is a multimedia artist, photographer, filmmaker, and activist born and raised in NYC to Chinese immigrant parents. Yu integrates documentary film, new media platforms, installation, photography, and community-infused approaches into her practice. She is also a co-founder of Chinatown Art Brigade, a cultural collective using art to advance anti-gentrification organizing. Yu has been awarded artist residencies and fellowships from The Laundromat Project, A Blade of Grass, International Studio & Curatorial Program, A4, and more. Her work has been presented at the Brooklyn Museum, Queens Museum, New York Historical Society, Tenement Museum, Artists Space/Whitney Museum ISP, Margaret Mead Film and Video Festival, Tribeca Film Festival's Interactive Showcase, 2019 BRIC Biennial, Pace University Art Gallery, Transmitter Gallery, and Squeaky Wheel Film and Media Art Center. Yu teaches video, new media, social practice, art and activism at Pratt Institute and Hunter College.
About Bahar Behbahani
Bahar Behbahani is a painter, collaborator, educator, and a hospitable instigator. Behbahani's interdisciplinary work explores the complexities of memory, erasure, adaptation, and a fundamental search for a sense of place. Her central, multitiered subject for the past decade has been the Persian garden, one that she has retooled to her personal and shared history, illuminating the parallels and dynamics at work between historiography and present socio political circumstances. In 2020, she challenged her largest public art project to date, taking it to Pakistan. She worked closely with the Lahore Irrigation Department to create a permanent artwork for the city that ties the regional history and local community to the transboundary Ravi River. Behbahani was granted a Creative Capital Award in 2019 for her proposed project for a public Persian garden in New York City, the 2020 Joan Mitchell Foundation Painters and Sculptors Grant, and the Drawing Center Fellowship in 2019, among others. Behbahani's recent work is featured as part of the Sharjah Biennial 15 (2023), conceived by late Okwui Enwezor, and curated by Hoor Al Qasimi; Garden of Desire, a sculptural installation, reflecting on the Persian garden as a paradoxical site of beauty and hospitality on the one hand and its auxiliary purpose for diplomatic and imperialistic negotiations on the other.
About Shannon Lee
Shannon Lee (she/they) is a writer and editor based in New York covering ecology, art, and AAPI culture and identity. She was previously an associate editor at Artsy and a co-founder of Silica Magazine, an experimental platform for environmental journalism. She has written for The Art Newspaper, Hyundai Artlab, Your National Parks Magazine, and Cura, among other publications, and has spoken in-depth about art on Australia National radio, as well as on Artsy's weekly Clubhouse. They have regularly volunteered with Indykids, a mentorship program fostering youth journalism, for the past two years. In addition to their editorial career, she is also a musician and artist, periodically. They are currently working on a screenplay about a Korean American crime family. She is proudly from Queens.
About Culture Lab LIC
Culture Lab LIC is a 501©(3) formed to be the arts and culture umbrella for Western Queens. We present local, national, and international art of all genres, while supporting New York artists and other nonprofits by providing space, resources and a sense of community. Operating out of a 12,000 square foot converted warehouse, Culture Lab LIC hosts two fine art galleries, an 80 seat theater, classroom space, an 18,000 square foot outdoor venue, and a robust residency program. Culture Lab LIC is dedicated to upholding, equity, diversity and inclusion across all our platforms.
Organized by
Justine Lee
Contact
jlee@aaartsalliance.org