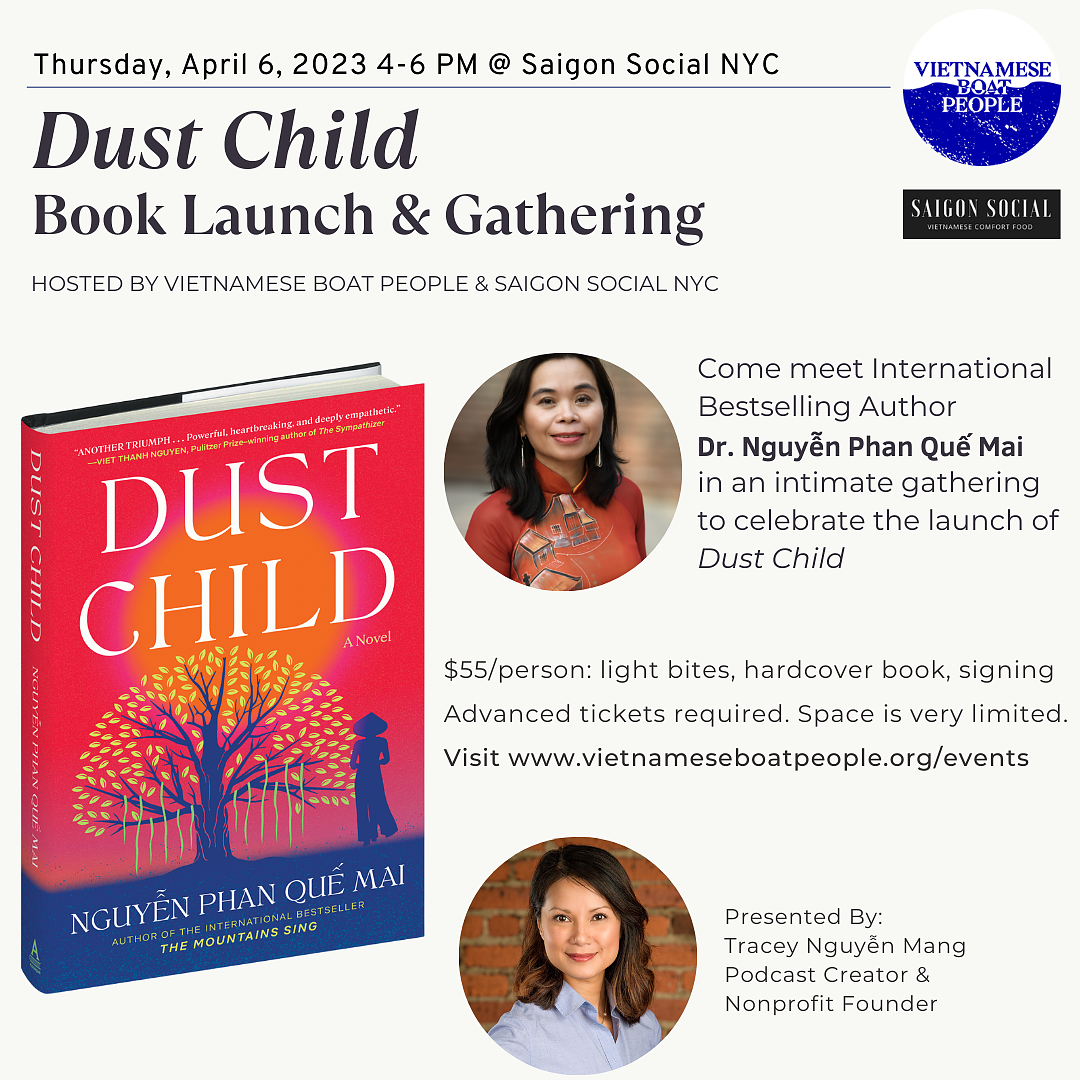 Book Signing
Book Launch: "Dust Child"
Thursday, April 6, 2023
4 – 6PM
We are excited to welcome back Việt Nam based author Dr. Nguyễn Phan Quế Mai to New York City for the debut of her second novel, Dust Child. From the internationally bestselling author of The Mountains Sing, Dust Child is a suspenseful and moving saga about family secrets, hidden trauma, and the overriding power of forgiveness, set during the war and in present-day Việt Nam. There will be a short author reading, a curated Vietnamese music playlist and lots of mingling! Introduction by Tracey Nguyễn Mang host of the Vietnamese Boat People Podcast and menu by Chef Helen Nguyễn of Saigon Social NYC.
About the Author
Born and raised in Việt Nam, Nguyễn Phan Quế Mai is the author of The Mountains Sing, runner-up for the 2021 Dayton Literary Peace Prize, winner of the 2020 BookBrowse Best Debut Award, the 2021 International Book Awards, the 2021 PEN Oakland/Josephine Miles Literary Award, and the 2020 Lannan Literary Award Fellowship for Fiction. She has published twelve books of poetry, fiction, and nonfiction and has received some of the top literary prizes in Việt Nam. Her writing has been translated into twenty languages and has appeared in major publications, including the New York Times. She has a PhD in creative writing from Lancaster University. She is an advocate for the rights of disadvantaged groups in Việt Nam and has founded several scholarship programs, and she was named by Forbes Vietnam as one of twenty inspiring women of 2021. For more information, visit: www.nguyenphanquemai.com