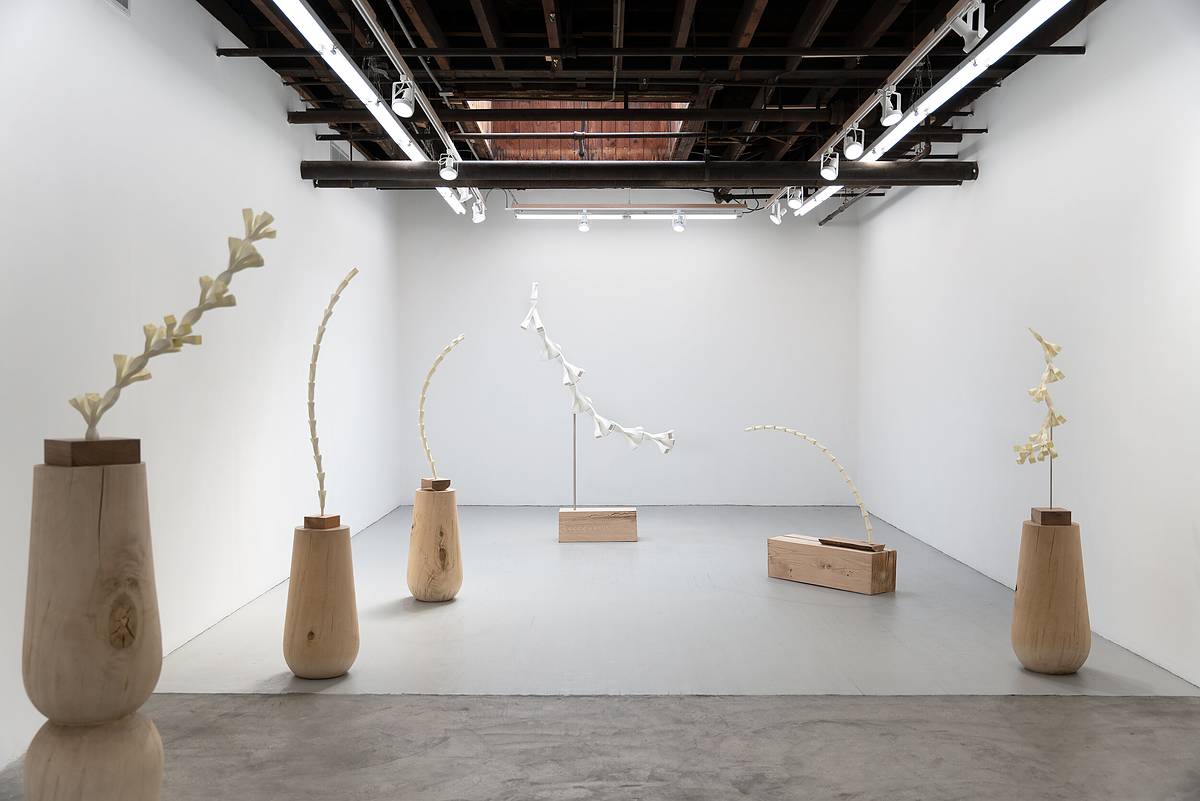 Exhibition
Of Earth and Sky
May 29 – July 24, 2021
12 – 6PM
CARVALHO PARK is thrilled to announce the opening of, Of Earth and Sky, marking Korean sculptor Se Yoon Park's first New York solo show. With the quiet air of a sanctuary, towering and intimately scaled sculptural works of 2020 – 21 compose a contemplative space. Each sculpture is catalyzed by the pursuit of light, yet anchored in fundamental dualities of light and shadow, birth and death, the immediate as a microcosm of the infinite.
As the Greeks and Romans of antiquity sought ideal symmetries in nature, Park's complex geometries take cues from the structure and abstract values of the tree – as an organism that responds most delicately to light, while simultaneously growing in darkness – to build a personal iconographic lexicon. In order to actualize a tree's visual essence, Park extracts formal elements such as the cursive line, divided mass, and fractal expansion, from the tree's complexity and proliferation of form. These geometries are distilled, emphasized in themselves, and reconstructed as a series of abstract geometrical units, lending physical form to the artist's meditations on self-growth and cycles of life – all undulating in real space.
Resembling the narrow curvilinear form of a tree branch, the contours of Endless Tree harness light and isolate shadow in an interplay of contrasts as the work spirals upward. At a height over 10 feet, its scale and suspension give the work an oracular dimension. The interchanging of light and shadow supersedes the sculpture's geometry – its composition becoming these abstract mediums itself. In this way, the artist renders the surface a tranquil and temporal site, in a repeating rhythm that simultaneously lends the concreteness of the infinite.
The component parts of Column of Crowns stem from the calyx of plants. As a flower yields fruit, each is stacked to mark an achievement. Continuum: Crossroads No. I and No. II are comprised of segmented branch-like forms, sequences that select and lead to the next possibility. In the exhibition's most monumental work, Jupiter on Earth, these same geometries are amplified, speaking to Antiquity's adherence to geometry that gave way to sweeping harmonies and new ideas of balance with nature in later periods – for Park, an ode to nature's influence on the building of civilizations.
One senses a ritualistic and laborious process in the works' obsessive refinement, of hours of casting, bonding, chiseling, and sanding, until the work arrives at visual essence. The year 2020, called for a deeper mining of fundamental dualities that fuse into one. As light and darkness are ever circulating, the life of a tree begins in soil and returns to soil. On view is a series of works catalyzed by this notion, in which Park introduces a painterly application of tar – its color a signifier for soil, or the burnt bark of a tree. In a dynamic balance of contrasts, Park's white sculptures seemingly emerge from where the artist applies this material, in a state where birth and death coexist.
Park's latest works focus on the meaning of self-growth, informed by trees' growth by constant segmentation. In his Continuum: Self series, small sculptures are made as reflections of himself that continuously repeat, created over extended periods of time. In Continuum: Self No. I, the acute curves of each component sculpture coalesce into a long arc, the self's – or soul's – trajectory. This is not meaningless repetition, but the necessary development to grow into a new self, conceived from oneself. With its elegant formal rhythm, sharpened perception, and order, the work highlights the artist's arrival at both a personal and compositional concord.
Se Yoon Park (b. 1979, South Korea) conducted his undergraduate studies in architecture at the department of Architectural Engineering at Yonsei University in Seoul and holds a Master of Architecture from Columbia University in New York. He launched his professional career in the field of architecture, working for Office for Metropolitan Architecture (OMA), Bjarke Ingels Group (BIG), Fernando Romero Enterprise (FREE), and REX. Drawing upon his architectural sensibilities, Park began his exploration of light and shadow in his own work as a sculptor, setting out in 2014 to found a design studio in Brooklyn. His work has since been shown by the European Culture Centre in Venice, in tandem with the 57th Venice Biennale, at the United Nations in the 13th UNCCD exhibition, as public art commissions in South Korea, and in two-person and solo gallery exhibitions in Seoul and New York.
Tags
Contact
info@@carvalhopark.com