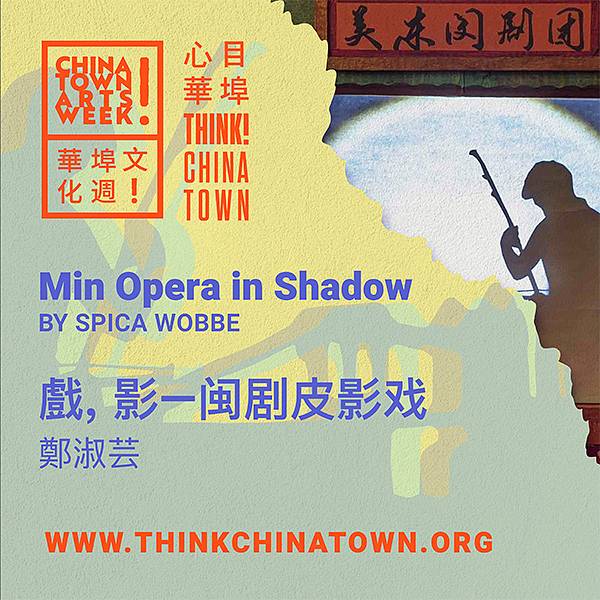 Performance
Min Opera in Shadow 戲, 影-- 闽剧皮影戏
October 16 – October 18, 2020
7 – 9PM
The show "戲 ' 影– Min Opera in Shadow" follows in the footsteps of New York's Eastern American Fuzhou Association back to Fuzhou China to explore and express the beauty and spirit of the art of Min opera through shadow puppetry.
In the show, an Erhu player's music brings the audience from New York to Fuzhou and the origins of Min opera. The characters of Sheng (main male role), Dan (female role) and Chou (male clown role) get on the stage one by one to perform their special singing and movements.
Min Opera, also known as Fuzhou Opera, is the only type of opera that sings and chants in Fuzhou dialect. It has a history dating back more than four hundred years. After interviewing Mr. Poon, a member of the Eastern American Fuzhou Association, puppetry artist Spica Wobbe learned the story of how Min opera performers immigrated from their hometown Fuzhou to New York and were able to bring their art to life by rehearsing and performing together. Inspired by their journey, Spica used the group's music and her shadow images to create the show and perform it together with Margaret Yuen, director of the Red Silk Dancers.
The piece will be displayed through a window for you to safely view outdoors. It will be played on a loop so you can stop by anytime between 7-9pm.
---
CHINATOWN ARTS WEEK is a festival celebrating the cultural richness of Manhattan's Chinatown.T!C has produced several cultural events throughout the week, all of them are free to the public. By presenting grassroots Chinatown artists and emerging Asian American artists in the same context, we hope to bring the generations together and connect with a wider arts audience. ChAW also highlights cultural happenings presented by our neighbors, to increase awareness of Chinatown's cultural assets. Beyond this week, we hope that visitors and neighbors alike will recognize and engage more in Chinatown's cultural offerings.
Think!Chinatown is a 501©(3) non-profit based in Manhattan's Chinatown. Our mission is to build intergenerational community through neighborhood engagement, storytelling & the arts. We amplify the voices of our neighbors & advocate for equity in resources for Chinatown, honor histories that represent us & value intergenerational learning, and present grassroots arts of Chinatown & emerging Asian-American artists in context of each other. Think!Chinatown is here to listen, to respond, and to build Chinatown's capacities as a strong & vibrant immigrant neighborhood of NYC. Find more about T!C and Chinatown Arts Week at: https://www.thinkchinatown.org/
Chinatown Arts Week 2020 is made possible in part with public funds from Creative Engagement, supported by the New York State Council on the Arts with the support of Governor Andrew Cuomo and administered by LMCC. It is also funded, in part, by a grant from the NYC & Company Foundation, Con Edison, and contributions from many generous business and individual supporters like you!