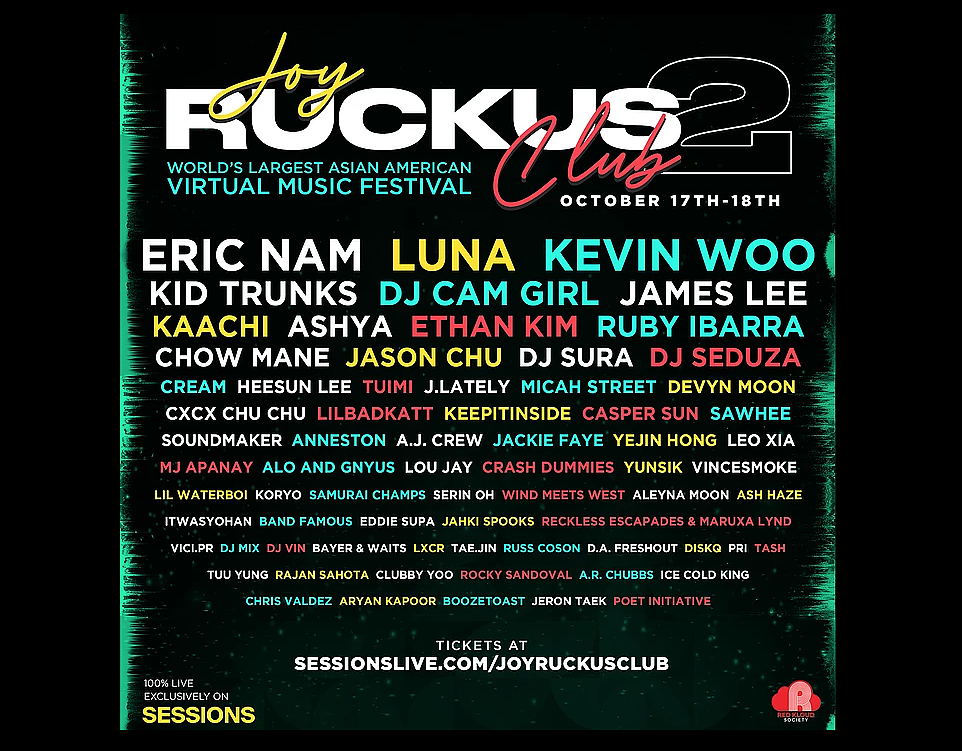 Fair or Festival
JOY RUCKUS CLUB 2-DAY FESTIVAL
October 17 – October 18, 2020
10 – 12AM
Joy Ruckus Club is the largest Asian American virtual music festival in the world. A humanitarian-oriented, online concert series led by artists of Asian descent, Joy Ruckus Club is a revolution in Asian American music. Not silent, not complacent, not foreign, Joy Ruckus Club is a society of woke Asians raised in America who are in solidarity with all truthfully progressive movements of the oppressed and conquered. This year, Joy Ruckus Club will be featuring over 24 hours of pop, r&b, edm and hip-hop music streaming globally over two days - October 17 & 18.
Tickets start at $2.99 for 2-day festival access to 70+ artists streaming live, plus, options for virtual meet and greets with your favorite artists.
2-Day Festival Access (Early Bird for $2.99)
• Festival ticket only
Premium Eric Nam Tour Pass Package ($15)
• 2-day festival access
• Ten (10) lucky fans will be randomly selected to receive a tour pass SIGNED by Eric. See below for official rules and alternate method of entry.*
• Shipping and handling included in package price. Shipping times may vary. Tour pass may arrive after the show.
More about this year's festival can be found here: https://sessionslive.com/joyruckusclub