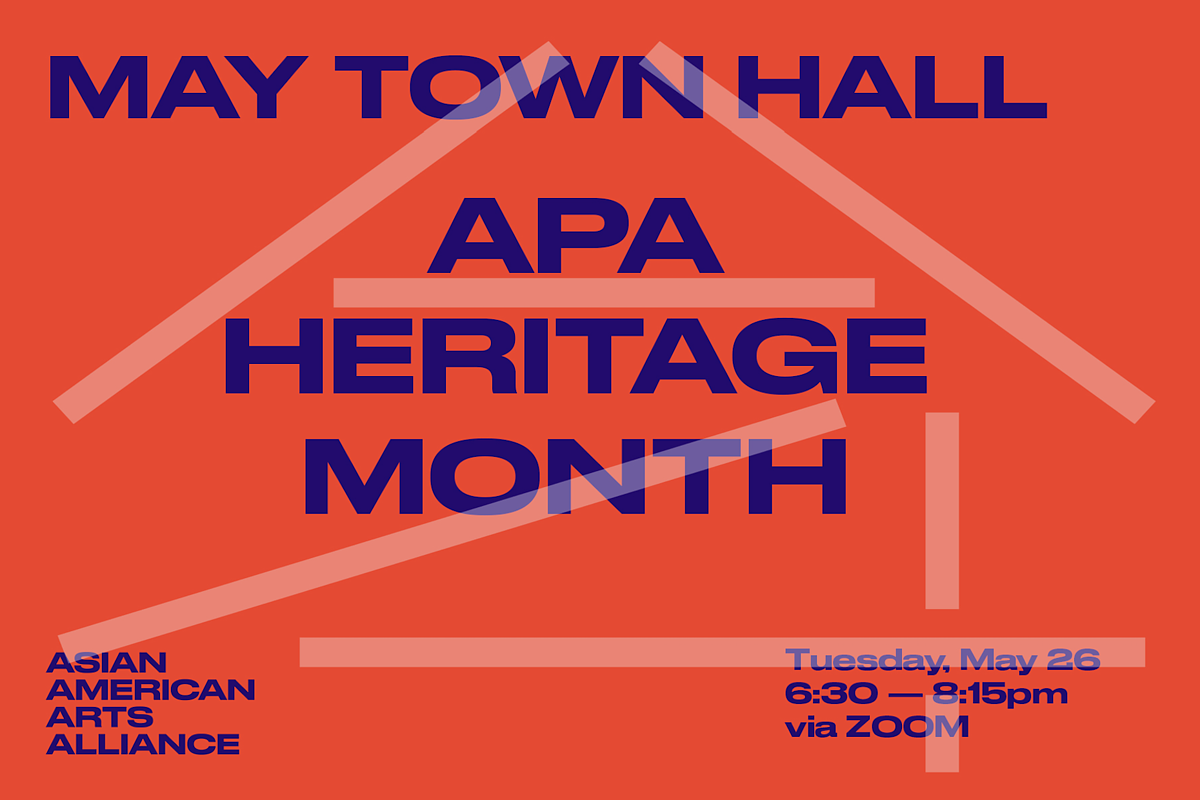 Town Hall
May Town Hall: APA Heritage Month (VIRTUAL)
Tuesday, May 26, 2020
6:30 – 8:15PM
Join the Asian American Arts Alliance (A4) for our first VIRTUAL Town Hall in May in celebration of APA Heritage Month! Learn about the diverse and exciting projects and ideas coming out of the Asian American creative community during Town Hall's rapid-fire line-up of 60-second pitches.
Our featured presenters include:
Artist and illustrator Felicia Liang, who will share how her creative practice has shifted since COVID-19 and how artmaking can be used to build communities during this uncertain time.
Pan Asian Rep's Founding Artistic Director Tisa Chang and Resident Artist Chongren Fan, who will share their upcoming programming: a re-imagining of Cambodia Agonistes, an epic music-theatre piece celebrating the resilience of the Cambodian people in the aftermath of genocide—the 1970s "killing fields;" and NuWorks 2020, Pan Asian's annual festival presenting new work from emerging artists nationwide.
6:30 - 7:30 PM Presentations and Pitches
7:30 - 8:15 PM Networking and Virtual Potluck
Sign up to pitch and share an idea or project, promote an online event, ask for advice, find collaborators and resources for your work, or simply introduce yourself to the community. Instead of our usual "potluck," we'll do a recipe exchange for quarantine cooking, or you can share a picture of your virtual potluck contribution.
This event is free and open to the public. RSVP is required to pitch and/or attend. You don't have to pitch to attend—RSVP to enjoy the presentations, idea exchange, and the virtual company of fellow artists and organizers! We'll send the Zoom meeting link to all registered attendees.
About Tisa Chang
Tisa Chang has led the company since 1977 promoting heard stories and voices. She is a theatre professional with five decades of experience as an actor, dancer, and director. Directing highlights: Sayonara; The Joy Luck Club; Rashomon, which was invited to 2003's Havana Theatre Festival and the re-envisioned epic with-music Cambodia Agonistes in fall 2020.
About Chongren Fan
Chongren Fan is a New York-based stage director who's from Shanghai, China. He is the Artistic Director of Yangtze Repertory Theatre of America and Resident Artist at Pan Asian Rep. He has been a Jonathan Alper Directing Fellow at Manhattan Theatre Club, Resident Artist at Mabou Mines, and guest lecturer at Barnard College and Yale School of Drama.
About Felicia Liang
Felicia is an artist and illustrator known for infusing her Taiwanese-American identity and storytelling into her art. Much of her works center around food, travel, Asian American culture, and her love of New York. Clients include Noma, Harvard, Pearl River Mart, Jing Fong, and The Wing. She specializes in colored pencil and digital drawings, and creates works to build community and shine a light on what mainstream media does not.
About A4's Town Hall
Town Hall is A4's bi-monthly community gathering event that features presentations, pitches, and a potluck! We welcome artists of all disciplines (musicians, actors, filmmakers, poets, visual artists—anyone with a creative fire and joy for the arts), as well as arts organizations, to pitch upcoming projects, find collaborators, or discover new opportunities in a lively space. The catch? You have 60 seconds to deliver your pitch!
This program is supported, in part, by public funds from the New York City Department of Cultural Affairs, in partnership with the City Council; the New York State Council on the Arts with the support of Governor Andrew M. Cuomo and the New York State Legislature; National Endowment for the Arts; the CJ Huang Foundation; Capital One; Con Edison; and numerous individual donors.
Organized by
Ting Y. Lin
Contact
tlin@aaartsalliance.org