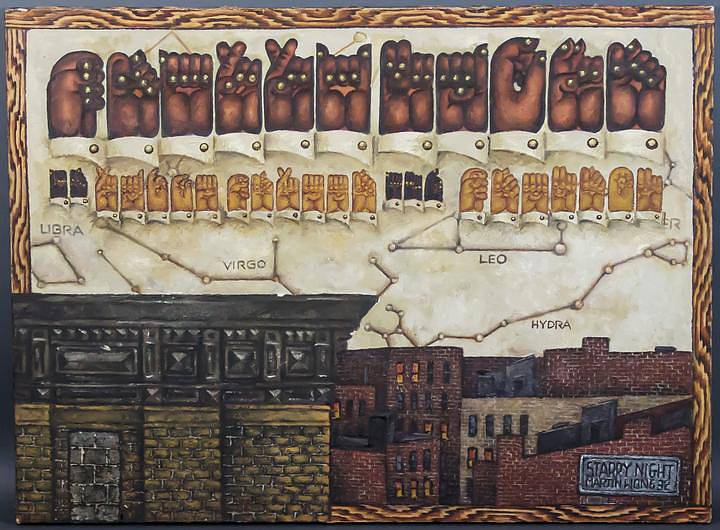 MARTIN WONG: WRITING ON THE SKY
Sunday, February 14, 2016
2 – 5PM
Kundiman presents a generative writing workshop inspired by the retrospective Martin Wong: Human Instamatic at the Bronx Museum of the Arts. Martin Wong was a visionary painter of queer erotics, mysticism, loneliness, multi-racial intimacy, and urban grit.
Wong's paintings offer rich worlds for exploration: he captured a singular view of San Francisco and New York's Lower East side from the 1970s through his untimely death, in 1999, of AIDS. His works are infused with text: he created a sign language alphabet, put Miguel Piñero's poetry to image, and rendered Loisaida graffiti with tenderness.
Participants in this workshop will receive a guided tour of the exhibition, then create on-site original work inspired by the paintings. Moderated by workshop facilitator Kelly Tsai. The workshop is open to fiction, poetry, and nonfiction writers.
2:00–3:00 Guided tour
3:00–4:30 Writing, discussion, workshop
4:30–5:00 Reading
WORKSHOP FACILITATOR
Kelly Tsai is an award-winning writer, performer, and filmmaker based in Brooklyn. Her work as a spoken word poet has been featured at over 700 venues worldwide including the White House, Lincoln Center, Kennedy Center, Apollo Theater in Harlem, BAM, MTV Iggy, HBO's "East of Main Street: Asians Aloud" and three seasons of HBO's "Russell Simmons Presents Def Poetry." Her interdisciplinary works include SAY YOU HEARD MY ECHO (Asian American Arts Alliance / HERE), FORMOSA (Ars Nova ANT Fest, Downtown Urban Theater Festival), AI WEI WEI: THE SEED (Brooklyn Museum of Art), and WE ARE FROM THE FUTURE (BRIC Arts & Media). She is an alumna of Kundiman and Hedgebrook.
Organized by
a4 - Network Admin