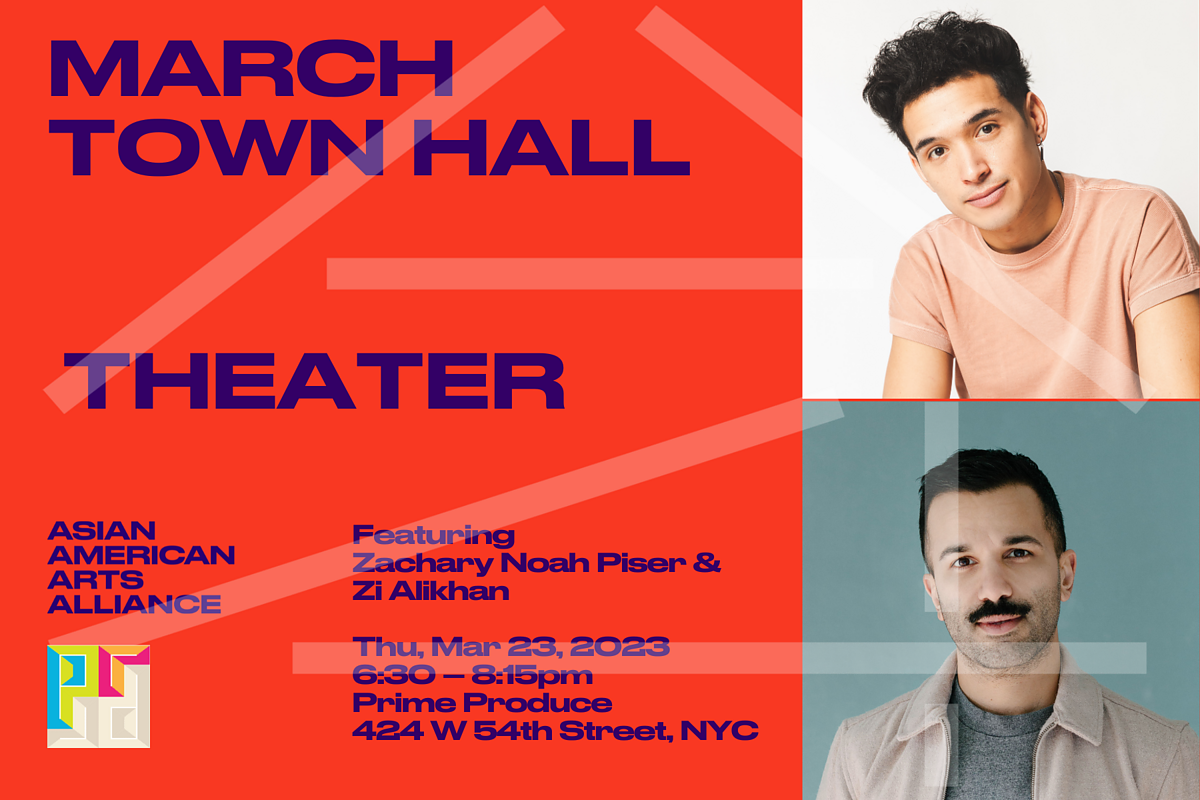 Town Hall
March Town Hall: Theater
Thursday, March 23, 2023
6:30 – 8:15PM
Asian American Arts Alliance (A4) welcomes you to attend and participate in our March Town Hall, focusing on all things theater!
The AAPI community has been hard at work, crafting stories for the stage, creating platforms and resources for theater artists, and performing for audiences across NYC.
Learn about the diverse and exciting creative arts projects and opportunities coming out of the Asian American theater community during Town Hall's rapid-fire line-up of 60-second pitches, and meet our featured presenters: director Zi Alikhan and actor Zachary Noah Piser!
Sign up to pitch and share an upcoming project or exhibition, promote an event or opportunity, find collaborators and venues for your work, or simply introduce yourselves to the community.
After the presentations, we'll be hosting a potluck, so please bring something to share with other attendees. Here is a signup list. A4 will provide drinks.
This event is FREE and open to the public. RSVP is required to pitch and/or attend, but please note you do not have to pitch to attend.
Schedule
6:30 PM: Event begins
6:45 PM: Pitches & Presentations
7:30 PM: Potluck
To keep everyone safe and healthy, we ask that you respect the following COVID-19 Guidelines in our space:
RSVPs are required to help us prepare and ensure spaciousness and safety;

We request that attendees are fully vaccinated, and remain masked indoors at all times. If you are presenting or pitching work, you may remove your mask for the duration of your presentation. You may also remove your mask while eating/drinking;

We encourage attendees to take a rapid test before attending our Town Hall, and to stay home if you are feeling unwell, experiencing symptoms of COVID-19, or have been exposed to anyone who has tested positive within 7 days of the event.
A4 Staff will be monitoring COVID rates in New York City leading up to the event and will confirm and communicate to all registrants whether or not the event will take place in-person at least three days before the event. If COVID rates are high, we will shift our program online to Zoom.
Note: The building is completely ADA accessible. If you need ASL interpretation, large print, or any other accommodations for this event, please email jlee@aaartsalliance.org at least one week before this event.
Community Safety Statement
We aim to create environments in person and online that are welcoming, inclusive, and safe – physically and emotionally – for our community members. If we observe actions or behaviors that can be interpreted as harmful or threatening, A4 retains the right to use our discretion and remove the offending party. For our community's safety, we further reserve the right to suspend an offending party's attendance at A4 events both in-person and virtual in perpetuity and removal from our online offerings (e.g. newsletter).
When you register for an A4 event, you will be asked to agree to this community statement. If you have any questions about this, please email a4@aaartsalliance.org.
About A4's Town Hall
Town Hall is A4's bi-monthly community gathering event that features presentations, pitches, and power networking! We welcome artists of all disciplines, as well as arts organizations, to pitch upcoming projects, find collaborators, or discover new opportunities in a lively space.
About Prime Produce
The Prime Produce Apprentice Cooperative operates 424 w 54 Street as a legally incorporated and wholeheartedly organized co-op supporting entrepreneurs, educators, and artists who share values of service and hospitality. They work to design experiences, build companies and organizations, practice our crafts, cultivate relationships, and grow as people. Learn More.
About Zi Alikhan
Zi Alikhan is a queer, first-generation South Asian-American, culturally Muslim theater director. DIRECTING: Sanctuary City (Pasadena Playhouse, LA Times 'Best of 2022'), On That Day in Amsterdam (Primary Stages), Snow in Midsummer (Classic Stage Company), The Great Leap (Portland Center Stage), Somewhere (Geva Theatre Center), A Nice Indian Boy (Olney Theatre Center), Ragtime (Playmakers Repertory Company). UPCOMING: RENT at Paper Mill Playhouse. Zi was named one of TCG's Rising Leaders of Color in 2021.
About Zachary Noah Piser
Zachary Noah Piser (he/him) is an Asian-American, Jewish actor based in New York City. Broadway/Off-Broadway credits include: KPOP (Brad, Original Broadway Cast), Dear Evan Hansen's first AAPI Evan both on Broadway and internationally, Wicked (Boq), Barrow Street Theatre's West End transfer of Sweeney Todd (Tobias). Bay Area native, Northwestern grad. Zach is proud to represent his intersecting identities through his art. @zach_piser
One-minute Pitches:
Zoe Kim
Seoulful Productions
Website: www.seoulfulproductions.org
FB/IG: @seoulfulproductions
Marshall Joun
(t)RUST
Website: https://thetanknyc.org/calendar-1/trust
IG: @trustplaynyc
Ja Won (Christina) Han
IG: @nyartmeier
Ariel Estrada
Leviathan Lab
Website: www.leviathanlab.org
IG: @leviathanlab
Clara Zhang
Mou Theatre
IG: @Mou_Theatre_NYU
Rob Chen
Blu Room
IG: @robchenhere
Meropi Peponides
Radical Evolution
Website: https://www.radicalevolution.org/recipes
IG: @radevolution
Anooj Bhandari & Chan Lin
The New York Neo-Futurists
Website: https://www.nyneofuturists.org/
Jessica Luu Pelletier
Queer & Trans AANPHI Arts & Entertainment Mixer
IG: @jessicaluupelletier
@carahinh
@shinnysarah
Andy & Georges
Asian American Film Lab, Inc.
Website: www.film-lab.org
IG: @AsAmFilmLab
Caroline Cao
Website: https://maximinalist.wordpress.com/
IG: @maximinalist
Sean Tecson
Website: https://about.me/seantecson
Momo Akashi
Website: www.momoakashi.com/minoru
Qingan Zhang
Cellunova Productions
Website:  https://www.cellunova.org/
IG: @cellunovaproductions
30-sec Pitches:
Marcus and Kim
www.mynameiskimyeah.com / @mynameiskimyeah
Sonya May
@thesonyaamay
Lianah
www.LianahStaana.com
Jiaying Zhang (Erica)
www.jiayingzhang.com
Tianding He
Instagram: @monalisa007
Justin Woo
Instagram: @justinwooctl
Kenjiro Lee
www.KenjiroLee.com
IG: kenjiromakestheater
Esmé Ng
@esmemariang
Kelly Lin hayes
@kellylinhayesdesigns @design_action_
###