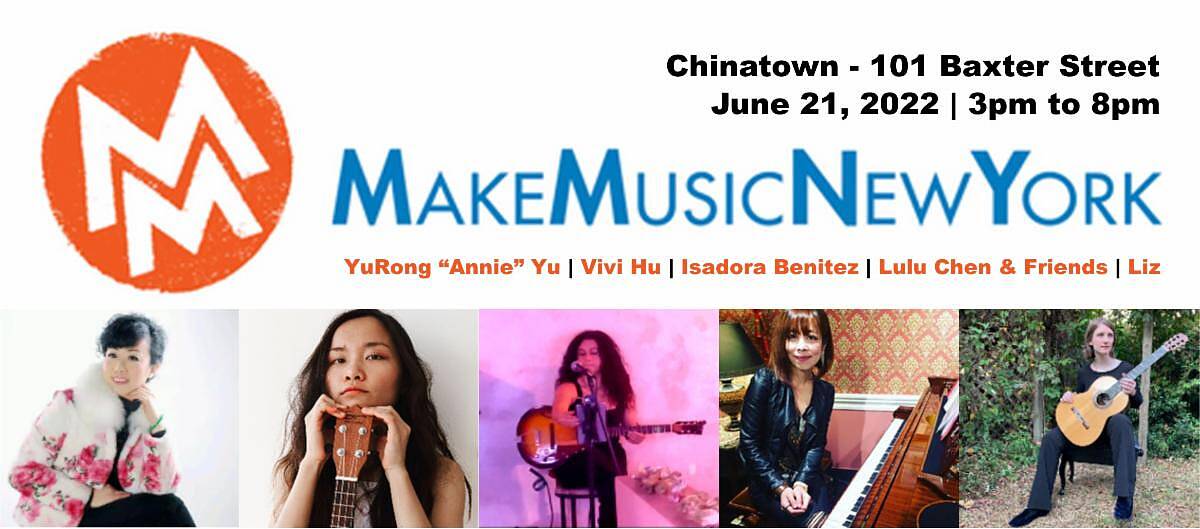 Concert
Make Music NY
Tuesday, June 21, 2022
3 – 8PM
Make Music New York is a unique festival of free concerts in public spaces throughout the five boroughs of New York City. All of the performances take place annually on June 21st, the first day of summer and longest day of the year. Completely different from a typical music festival,
Performance Schedule
3pm – YuRong Yu – "Annie" is a professional singer from China. Singing traditional and popular Chinese songs for various audiences in cities in China including Shanghai, and Huainan City in Anhui Province. In New York City, she has performed at Flushing Town Hall, Various Chinese events at Flushing Library and at the Make the Music NY celebration in Manhattan's Chinatown. She is expanding her repertoire by adding popular American songs. Annie performs traditional and popular Chinese songs.
4pm – Vivi Hu is a New York-based singer-songwriter who creates a unique sound by using traditional Chinese instruments with a blend of influences from jazz, R&B, soul, and Mandarin pop. Hu has lent her talents to several high-profile performances and festivals in both China and the United States including Real Live in Xiamen, Dust and Dawn Club in Beijing, as well as the United Nations Headquarters, Flushing Town Hall, Museum of Chinese in America, Queens Library, and Asian American & Pacific Islander Heritage Festival in New York City, among many others. In 2022, she will release a new EP including her latest single "茶香味 (Oolong Tea)."
5pm – Singer – Guitarist – Producer Isadora Benitez is a New York based vocalist-guitarist whose work shows a deep engagement in jazz inflections, sensually styled by her sassy Latin roots and her love of Brazilian music. Born into an Ecuadorian family devoted to the arts, Isadora grew up among gifted musicians, actors, and writers. Her advanced music studies let her to pursue her BA and her master's degree in Jazz Vocal Performance. She has performed over 1000 shows in South America, New York, and other cities in USA. "Swing-Brazil" is her current music project that mixes Brazilian music with Jazz manouche.
6pm – An independent producer/film composer/pianist from Taiwan, Lulu Chen has played in various venues including the tour of Cats: The Musical and Off-Broadway shows. Her music style combines elements of orchestral, acoustic, electronic, and synthesised genres to create imaginative and diverse soundscape. Lulu has also produced two singles with Hip-Hop artist C2deuxJ. For this MMNY performance, Lulu will be joined by a pipa player and drummer.
7pm – American guitarist & composer Liz Hogg has been described as "uniquely her own, writing independent music that doesn't reflect the trends" (I Heart Noise), possessing "energy, expressive dynamics and phrasing" (American Record Guide), "fantastic work" (Classical Guitar Magazine) and "playing with a more distinctive and original approach that includes quickly-strummed chords, chiming arpeggios, and rapid-fire picking" (Geoff Cabin). As a classical guitarist and performer of her own mostly-electric guitar music, Hogg has toured twelve countries playing numerous festivals and concert halls. She has won awards including the Mannes School of Music Dean's Award and a Chamber Music America grant.