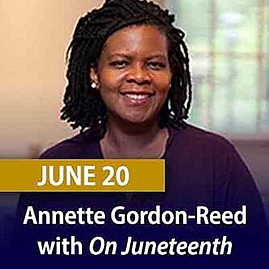 Webinar
Author: Annette Gordon-Reed with On Juneteenth
Monday, June 20, 2022
6 – 7PM
For this Pulitzer and National Book Award-winning historian, also a proud Texas native and descendant of Texas slaves, the story of Juneteenth has special resonance. "On Juneteenth" presents the saga of a frontier defined as much by the slave plantation owner as the mythic cowboy, rancher, or oilman.
Celebrated for her research and revelations in her prize-winning book "The Hemingses of Monticello", Annette Gordon-Reed now tells a tale closer to home. The Texas native combines her own scholarship with a personal and intimate reflection of an overlooked holiday that has suddenly taken on new significance. In "On Juneteenth" she writes, "it is staggering that there is no date commemorating the end of slavery in the United States." Yet Texas, the last state to free its slaves, has long acknowledged the date of June 19, 1865, when US Major General Gordon Granger proclaimed from his Galveston headquarters that slavery was no longer the law of the land. Don't miss Gordon-Reed's discussion with Lisa Baldez about her research process, her childhood in Texas, and the circuitous path to national recognition of the Juneteenth holiday.
Annette Gordon-Reed is the Carl M. Loeb University Professor at Harvard University. Author of the Pulitzer Prize–winning "The Hemingses of Monticello: An American Family", she lives in New York and in Cambridge, Massachusetts.
Lisa Baldez is Professor of Government at Dartmouth College. Her research and published works examine the prospects for finding common ground between left-wing and right-wing women in the U.S. and around the world.
This event is presented in the American Inspiration Author Series in partnership with the Boston Public Library, the State Library of Massachusetts, and GBH Forum Network.