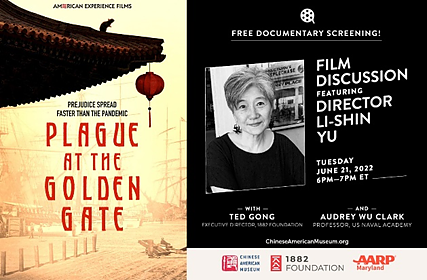 Panel Discussion/Talk
Film Panel Discussion Featuring Director, Li-Shin Yu of Plague at the Golden Gate
Tuesday, June 21, 2022
6 – 7PM
More than 100 years before the Covid-19 pandemic shut down the world and set off a wave of fear and Anti-Asian sentiment, an outbreak of bubonic plague in San Francisco's Chinatown in 1900 unleashed a similar furor.
Join the discussion of the new AMERICAN EXPERIENCE film documentary, Plague at the Golden Gate and meet the film Director, Li-Shin Yu.
1882 Foundation Executive Director, Ted Gong, and United States Naval Academy professor, Audrey Clark, will join in conversation with Li-Shin Yu to discuss her new film and cyclical histories between 1900s USA and today. This examines the documented Chinese American experience at the turn of the 20th century and the modern rise of anti-Asian hate stemming from "who's to blame" fear and rhetoric; China-virus, Kung-flu, yellow peril.