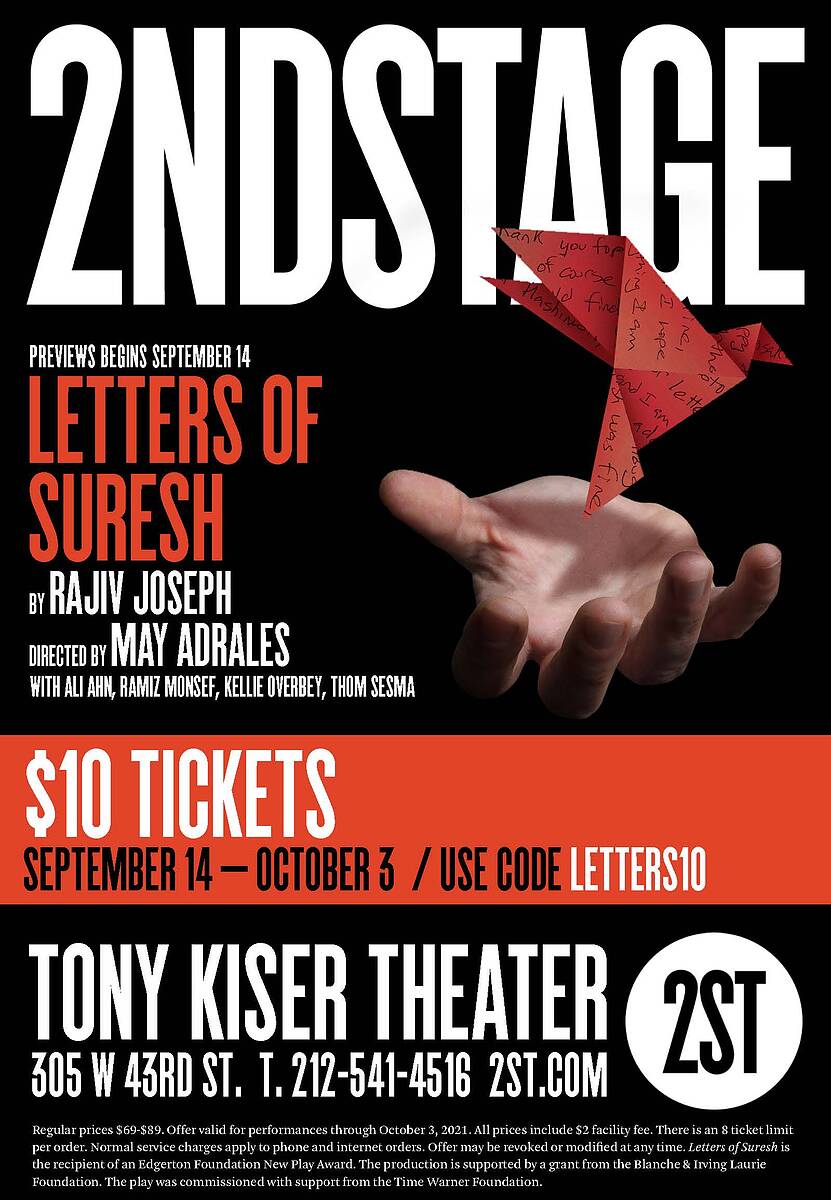 Performance
Letters of Suresh
September 14 – October 3, 2021
12AM
The A4 community is invited to join for previews, using the discount code LETTERS10 to purchase tickets at $10 each from September 14 - October 3.
In Letters of Suresh, playwright Rajiv Joseph reveals intimate mysteries through a series of letters between strangers, friends, daughters, and lovers — many with little in common but a hunger for human connection. Sending their hopes and dreams across oceans and years, they seek peace in one another while dreaming of a city once consumed by the scourge of war. A companion piece to Joseph's play Animals Out of Paper, Letters of Suresh, directed by May Adrales, is the latest work from the Pulitzer Prize-short listed playwright hailed as "wonderfully daring, imaginative, and compassionate" (The New York Times).
Letters of Suresh is the recipient of an Edgerton Foundation New Play Award. The production is supported by a grant from the Blanche & Irving Laurie Foundation. The play was commissioned with support from the Time Warner Foundation.
SCENIC DESIGN: MIKIKO SUZUKI MacADAMS
COSTUME DESIGN: AMY CLARK
LIGHTING DESIGN: JIYOUN CHANG
SOUND DESIGN AND ORIGINAL MUSIC: CHARLES COES AND NATHAN A. ROBERTS
PROJECTION DESIGN: SHAWN DUAN
PRODUCTION STAGE MANAGER: SARAH G. HARRIS
STAGE MANAGER: JENN ELYSE JACOBS
CASTING: THE TELSEY OFFICE
Tags
Organized by
Second Stage