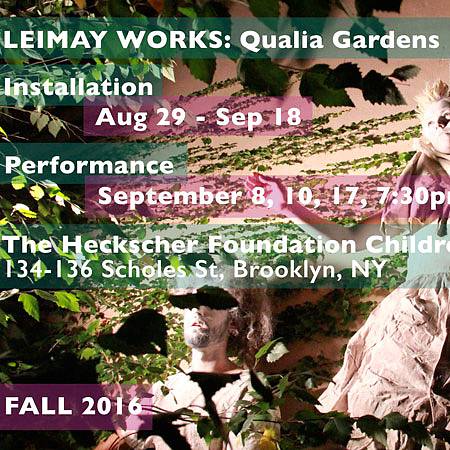 LEIMAY Works: Qualia Gardens
August 29 – September 18, 2016
6 – 7PM
LEIMAY Works: Qualia Gardens
The New York Restoration Project (NYRP) in partnership with the Brooklyn Academy of Music (BAM), and The Bronx Museum of the Artspresent new works by artists Ximena Garnica and Shige Moriya at the Heckscher Foundation Children's Garden in Williamsburg, Brooklyn.
This month long exhibition and performance mark the third annual commission by NYRP to create new public artworks with the community for the community. Every year, LEIMAY hosts weekly donation-based community classes at its Williamsburg studio. The classes are created for all skill levels and are meant to provide an entry point into LEIMAY's artistic practice. Students from LEIMAY's community class, local artists, and the LEIMAY Ensemble join to create a diverse perfomance environment.
Admission is Free & Open to the Public
—INSTALLATION"Qualia – Umbel"On view August 29 – September 18
The art installation traces the garden grounds with dozens of strings using tension and suspension to stimulate your personal sense of perception.
PERFORMANCES"In Illo Tempore Vignettes"September 8, September 10, September 17 at 7:30
A performance of bodies suspended in time, revealing the echoes of memory, alienation, and exile.
PERFORMERSArantxa Araujo, Masa Asahara*, Krystel Copper*, Derek Dimartini*, G.J. Dowding, Adi Eytan*, Mār Galeano, Gabriella Garcia, Emelie Hedvall, Lucy Kerr, Amy LeBlanc, Sonia Li, Lindsey Mandolini, Yuri Ogasawara, Grace Osborne, Polina Porras, Irena Romendik, Jeff Short*, Emily Smith*, Krishna Washburn, Raul Zbengheci
ORIGINAL COMPOSITIONJeremy Slater
* – LEIMAY Ensemble Member 2016-2017
Organized by
a4 - Network Admin