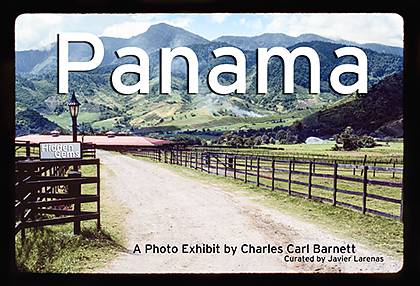 Panama: Hidden Gems
August 26 – September 30, 2016
All Day
Long Island City, NY (July 14, 2016)—On the heels of the recently opened expanded Panama Canal, and in advance of upcoming National Hispanic Heritage Month (Sept 15-Oct 15), an exhibit of photos taken in Panama by a 73-year-old photography student, Charles Carl Barnett of Rego Park, is available for viewing at LaGuardia Community College through the end of September. Carl, as he prefers to be called, is an avid world traveler – having visited more than 40 countries. He took these photos on in 1984 during a vacation from his job as a bank examiner at the Federal Reserve.
He took the photos on a film called Kodachrome, which was known to be among the best films ever made for archival purposes, but Kodak stopped manufacturing it in 2009. As a result, the colors in the photos are extremely vivid – especially the oranges and reds. Kodachrome is no longer in use.
The exhibit also features several molas – intricately hand-stitched needlepoint made in Panama by Kuna Indians, which Carl purchased on his travels in Panama.
Located in the first floor gallery of LaGuardia's "B" Bldg. – 30-20 Thomson Ave. – the exhibit is free and open to the public. And during these warm summer months, visiting the exhibit (in this air-conditioned gallery) is a great way for folks to beat the heat while looking at gorgeous artwork and learning about the history of Panama.
What: "Panama: Hidden Gems" by Charles Carl Barnett, LaGuardia commercial photography student Curator: Javier Larenas, senior college lab technician and adjunct lecturer, Commercial Photography program, LaGuardia Community College When: July 13 through the end of September 2016 Where: LaGuardia Community College LaGuardia Gallery of Photographic Arts B-building, 1st Floor Gallery​ 30-20 Thomson Avenue, L.I.C., N.Y
Artist Statement: "As a history major at Queens College, l was fascinated with the way seemingly random events inter-acted with each other. I was particularly interested in the colonial period and how the history of the Americas evolved so differently under the English, French, Dutch and Spanish models, and how the other two players, Scotland and Sweden, through poor choices and neglect, never really made it out of the gate. These images were captured on Kodachrome* film, during a cruise to Panama in 1984 aboard a small ship, that transited the canal and also visited a number of places on both the Pacific and Caribbean coasts. After the cruise ended, I drove a rental car up into the Chiriqui highlands near Costa Rica, accompanied by my stepfather, who also appears in several of these photographs. Although he has been gone for 28 years now, he gets to live again through these images. Assembling this exhibit has allowed me to relive the experience, as well. In doing the research for the narrative, I was again made aware of just how much had changed since I was there, and how much I had missed, or didn't even know about. I really have to go back and re-shoot." - Charles Carl Barnett
Organized by
a4 - Network Admin