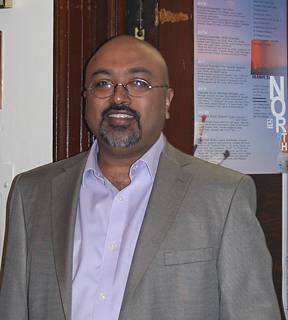 J.D. Parran premieres Menon Dwarka's Leave To Remain
Friday, March 11, 2011
8 – 10PM
Acclaimed multi-woodwind performer and master improviser J.D. Parran will display his outstanding skills as a performer, improviser and composer in "Windows of Collaboration" – a solo concert for clarinet and low clarinets, featuring works written for Parran by composers with whom he has long associations. The concert's highlight is the world premiere of Leave to Remain (2010) by composer and Greenwich House Music School's director, Menon Dwarka.
Leave to Remain for solo alto clarinet and electronics bears the artistic fruit of Parran and Dwarka's work at Harlem School of the Arts and Greenwich House Music School. The work derives its name from a British legal term for a person who has not yet become a citizen. Menon Dwarka's post-colonial approach to composition, combining spectral and serial elements in order to create a sound world that is neither eastern nor western, is, as the title suggest, written from a perspective of someone in between states.
The evening will also feature the solo version of You Have a Right To Remain Silent by Anthony Davis; "…vikings, unless…" by Douglas Anderson; and selections from Parran's latest CD release, Window Spirits (2010), including compositions by James Jabbo Ware and Parran.
This concert is presented as part of the 25th anniversary of North River Music - one of New York City's first concert series devoted to new and experimental music. The concert will be followed by a reception.
TICKETS: $15 General Admission/$10 Students/Seniors
All tickets are payable at the door from 7:30pm
INFO: (212) 242-4770,
Tags
Organized by
Greenwich House Music School
Contact
staylor@greenwichhouse.org